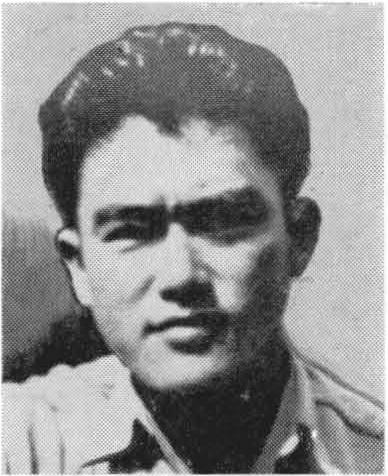 Matsuei Ajitomi
Private
100th Infantry Battalion (Separate)
Company C
Matsuei Ajitomi was born on March 4, 1915, in Lahaina, Maui, Territory of Hawaii. He was the son of Matsusuke and Kame (Ikehara) Ajitomi, who had immigrated from Okinawa Prefecture, Japan, in 1906 and 1914, respectively. Matsusuke arrived in Honolulu on the China Maru on July 2, 1906.
In 1921, Matsuei and his younger brothers, Tokio and Yoshio, were taken by their parents back to Japan. The parents, with their three boys, left Honolulu on April 25 on the Korea Maru. The family lived with Matsusuke's father, U. Ajitomi, and the boys attended school in Kinbumura, Kunigami-gun, Okinawa Prefecture. While there, Matsusuke and Kame had a daughter, Haruko. Both parents died in Okinawa; the children were raised by their grandmother.
In September 1930, Matsuei and Tokio left Okinawa and returned to live on Maui. They arrived back in Honolulu on the Asama Maru, arriving on September 24, 1930. They continued on to their uncle's home on Maui. Yoshio returned to Hawaii on the S.S. President Coolidge, arriving on June 1, 1934. Haruko remained with her grandparents in Okinawa.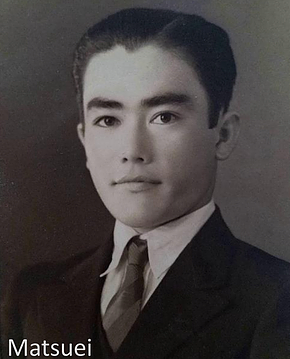 Matsuei signed his draft registration card in Lahaina on October 26, 1940. At the time he was living in Hirai Camp and employed by Pioneer Mill Company. His point of contact was his uncle, Kamasuke Ajitomi of Kiawe Camp. Matsuei was 5'2-1/4" tall and weighed 115 pounds. He was the head of the household for himself and his brothers Tokio and Yoshio. All three were employed as irrigators at the sugar plantation. He completed grammar school at Sacred Heart School in Lahaina.
Matsuei was inducted into the 299th Infantry Regiment in Lahaina on December 8, 1940.  The 299th was a Hawaii National Guard unit that was federalized in October 1940. That night he was among the 73 young men who were given a community farewell ceremony on the pier in Wailuku.  This was the first contingent of inductees to leave for a year's training at Schofield Barracks on Oahu.  Each man was presented an American flag by the Reverend Teichiro Maehara of the Puunene Japanese School and a crown lei by the Maui Junior Chamber of Commerce.  Patriotic and Hawaii music was played by the Maui County Band.  As the "all-aboard" signal was given, the men responded to a roll call given by Captain F.C. Alexander, as they boarded the ship.
Following the attack on Pearl Harbor, in May 1942, the Nisei of the 299th Infantry Regiment (men from the outer islands) were merged with the Nisei of the 298th Infantry Regiment (men from Oahu), into a new unit designated the Hawaiian Provisional Infantry Battalion.
On June 5, 1942, Matsuei was shipped to the mainland on the U.S. Army transport ship USAT Maui with the other Nisei of the Hawaiian Provisional Infantry Battalion. Upon arrival in Oakland, California, on June 12, 1942, the unit was redesignated the 100th Infantry Battalion (Separate) and sent by rail to Camp McCoy, Wisconsin, for basic training. Matsuei was assigned to 3rd Platoon, C Company.
Nearly seven months later, the battalion was transferred to Camp Shelby, Mississippi, on January 7, 1943, for additional training. On August 11, 1943, Matsuei was among the 100th soldiers who left for Camp Kilmer, New Jersey, the staging area for transport on the S.S. James Parker for the Mediterranean Theater of Operations. They traveled by train to Brooklyn, New York, and ferried to Staten Island, where their ship sailed at dusk on August 21 in a convoy of troop ships.
The 100th arrived in Oran, Algeria, on September 2, 1944, and was assigned to the already battle-tested 133rd Infantry Regiment of the 34th (Red Bull) Division. They took the place of the 133rd's 2nd Battalion. After 18 days of service in Oran, Algeria, they departed for Italy to serve in the Naples-Foggia Campaign during the Allied drive to Rome.
The 100th Infantry Battalion landed on the beachhead at Salerno in southern Italy on September 22 and began the march inland. After capturing several towns, in late October 1943 the 100th was ordered northwest toward the Volturno River. The men crossed the Volturno twice on their way to capturing several critical hills, part of the German/Italian Winter Line – a series of three lines of fortifications centered around Monte Cassino to defend against Allied attacks north, towards Rome.
After the second Volturno crossing on October 19, on the night of October 20 the 100th moved up to the flats south of Alife, which was being defended by the 29th Panzer Grenadier Regiment behind thick minefields and dug-in machine gun nests. The 100th was caught in a murderous fire from the German defense perimeter. Casualties soared and the 100th pulled back to an area that afforded more protection, where it remained for two days.
During this time, Ajitomi was wounded in action on October 21, 1943, in the vicinity of Alife. After suffering head wounds, he died in a field hospital two days later, on October 23 near Rene Le Grotto.
Pvt. Matsuei Ajitomi was buried in the U.S. Military Cemetery in Avignano just south of Alife.
His brother Tokio was killed in action in France a year later, on October 17, 1944.
For his military service, Private Matsuei Ajitomi was awarded the Bronze Star Medal, Purple Heart Medal, Good Conduct Medal, American Defense Medal, American Campaign Medal, Asiatic-Pacific Campaign Medal, European-African-Middle Eastern Campaign Medal with one bronze star, World War II Victory Medal, and Combat Infantryman Badge. He was also awarded the Congressional Gold Medal on October 5, 2010, along with the other veterans of the 100th/442nd Regimental Combat Team. This is the highest Congressional Civilian Medal.
After the war, families were given the choice to have their soldier's remains shipped to a larger military cemetery in Italy or France, or repatriated. Matsuei and Tokio Ajitomi's remains were returned to the United States at the request of their family.
On February 24, 1949, Matsuei's remains were cremated at Fresh Pond Crematory and Columbarium, at Middle Village in Queens, New York. Two months later, on April 21, Matsuei and Tokio's remains were among those of 134 war dead to arrive in Honolulu aboard the U.S. Army Transport Ship USAT Sergeant Jack Pendleton. There was a large ceremony at Pier 40-A to welcome them back home and a brief dockside service was conducted. Their brother Yoshio was listed as their next of kin. Their caskets were held at the U.S. Army Mausoleum at Schofield Barracks until burial arrangements were finalized.
The Ajitomi brothers were buried next to each other at the National Memorial Cemetery of the Pacific at Punchbowl on August 4, 1949, Section D, Sites 291 and 290, respectively. Their graveside service was held at 9:30 a.m.
On June 9, 1951, the brothers' names were inscribed by the West Maui Lions Club on the new Honor Roll plaque for West Maui's World War II dead. The plaque replaced one placed earlier in their club courtyard in Lahaina that had been demolished in a storm, and it also contains the names of Korean War dead.
Matsuei's brother Tokio Ajitomi served in the 100th/442nd Regimental Combat Team, 100th Battalion, C Company.
Researched and written by the Sons & Daughters of the 442nd Regimental Combat Team in 2020 and updated in 2021.