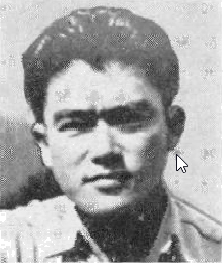 Matsuei Ajitomi, Private, Company C, 100th Battalion, was born March 4, 1915, in Lahaina, Maui, Hawaii.  He was the son of Matsusuke and Kame (Ikehara) Ajitomi, who had immigrated from Okinawa in 1906 and 1914, respectively.  Matsuei and his younger brother Tokio were taken by their parents in 1921 to live with their grandfather U. Ajitomi and attend school in Kinbumura, Kunigami-gun, Okinawa Prefecture, Japan.  While there, a daughter was born.  Their mother Kame died the following year.  The brothers arrived back in Lahaina in 1930.
Matsuei signed his WWII Draft Registration card in Lahaina on October 26, 1940. At the time he was living in Hirai Camp; employed by Pioneer Mill Company; his point of contact was his uncle Kamasuke Ajitomi of Kiawe Camp; and he 5'2-1/4", 115 lbs. He was the head of the household for himself and his brothers Tokio and Yoshio. They were employed as irrigators at the sugar plantation.
Ajitomi enlisted in Lahaina on December 8, 1940. He was among 73 Maui draftees who left on December 9 for a year's training at Schofield Barracks, Oahu, as members of the 299th Infantry Regiment. Afterwards, he was one of the men of the 100th who were sent in June 1942 to Camp McCoy, Wisconsin, for further training. After more training at Camp Shelby, Mississippi, he was among those 100th soldiers who left for Camp Kilmer, New Jersey, the staging area for transport on the S.S. James Parker for the Mediterranean Theater of Operations. After 18 days of service in Oran, Algeria, they arrived in Salerno, Italy, on September 22, 1943.
A month later Ajitomi was wounded in action on October 21, 1943, in the vicinity of Alife, during the Allied drive toward Rome. After suffering head wounds, he died in a field hospital two days later on October 23. He was posthumously awarded the Bronze Star Medal and the Purple Heart. He was buried in the U.S. Military Cemetery in Carano. His brother Tokio was killed in action in France a year later, on October 17, 1944.
After the war, families were given the choice to have their soldier's remains shipped to a larger military cemetery in Italy or France, or repatriated. Matsuei and Tokio Ajitomi's remains were sent to the United States at the request of their family.
On February 24, 1949, Matsuei's remains were cremated at Fresh Pond Crematory and Columbarium, at Middle Village in Queens, New York. Additional research on this event is ongoing as of this writing (November 2020).
On April 21, 1949, Matsuei and Tokio's remains were among those of 134 war dead to arrive in Honolulu aboard the U.S. Army Transport ship Sergeant Jack Pendleton. There was a large ceremony at Pier 40-A to welcome them back home. Their brother Yoshio was listed as their next-of-kin. The caskets were held at the U.S. Army Mausoleum until burial arrangements were finalized. They were buried next to each other at the National Memorial Cemetery of the Pacific at Punchbowl on August 4, 1949, Section D, Sites 291 and 290, respectively.
For more information, please click on the links below.
https://www.memorialcourtalliance.org/ajitomi-brothers (this site includes his photo)
https://www.100thbattalion.org/wp-content/uploads/Ajitomi-Matsuei.pdf