Michio Gerard Kimura, Private First Class, Company M, 3rd Battalion, 442nd RCT
Michio Gerard Kimura was born in Seattle on July 1, 1918, to Kenji and Kikuno (Kaneshige) Kimura. He had one older sister, Mieko Gloria. His parents arrived from Naganoshi in Nagano Prefecture in 1909 and Yamaguchi Prefecture in 1911, respectively.
In the 1920 Federal Census, his name was given as Akara and his father was employed as a bookkeeper for the Pacific American Fisheries in Ikaten, Alaska, although the family lived in Seattle.
In the 1930 Federal Census, father Kenji was employed as Secretary at the Consulate of Japan in Seattle and mother Kikuno was a clerk in a dental office. They lived at 2015 King Street. In the 1940 Federal Census they were living at the same place and his sister and her husband Yonesaku Ota (a wholesale produce salesman) and sons Martin Eichi and Karl Wright Ota also lived with them.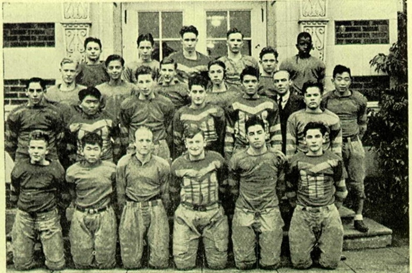 Michio, known as Mickey, attended Garfield High School in Seattle and played on the freshman football team in 1935.
After high school Mickey enrolled in the University of Washington in Seattle. His name appears as a freshman, sophomore, and junior in Tyee, the UW yearbook, for 1940, 1941, and 1942 as a member of the Japanese (Students) Club.
On October 6, 1940, Kimura signed his WWII Draft Registration card at Local Board No.9 in the Field Artillery Armory in Seattle. His parents were his points of contact. He listed his employer as the University of Washington; and he was 5'4" and 138 lbs.
In 1942, Mickey was among the 440 AJA students at the University of Washington who were removed due to the U.S. government forcibly evacuating persons of Japanese ancestry from the state. Just prior to this order, he had been drafted into the U.S. Army. After the 442nd was organized in January 1943, he was transferred to Camp Shelby, Mississippi, for basic training. He was assigned to Company M.
At this same time, in May 1942, his parents and his sister and her family (husband and four young sons) were incarcerated at the Puyallup Fairgrounds Assembly Center, called "Camp Harmony." On August 22, 1942, they were incarcerated at Minidoka War Relocation Center in Jerome, Idaho.
Brother-in-law Yonesaku Ota was released from Minidoka to Spokane, Washington, on February 28, 1944. Gloria and their children (including a daughter who was born at Minidoka) were released to Spokane 4 months later on May 31. After the war ended in 1946, his mother Kikuno was released to Spokane on August 25, and his father Kenji a few weeks later on September 15 to Seattle.
While his family was interned at Minidoka, Michio Kimura completed training with the 442nd, and served in Italy and France. He was released from the Army in December 1945.
For his service in Europe, Mickey was awarded the Bronze Star and the Combat Infantryman Badge.
He was employed by the Department of Defense (DOD) as a civilian contractor in Japan after the war. He married a Japanese citizen, Kazuko Yoneda, in 1950, and they raised three children. After retirement from the DOD, he worked for Boeing from 1966 to 1982.
On August 30, 1954, Kimura sailed from Seattle on the troop ship USNS James O'Hara for Japan. He was age 36 and living at 1820 Jackson Street in Seattle. He arrived back in Seattle from Yokohama on the troop transport ship USS General W.A. Mann on November 13, 1955. Travelling with him were his wife Kazuko and their young son and daughter.
In 2008 he received an Honorary Baccalaureate degree from the University of Washington. This was an effort by the University to in some way make amends for their 440 AJA students' forced removal in late May 1942 per U.S. government orders.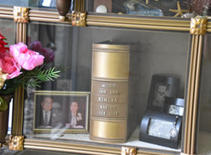 Michio G. Kimura died on October 12, 2010, and was inurned with his wife, Kazuko, who predeceased him in 1997, in the Mausoleum at Sunset Hills Memorial Park in Bellevue, near Seattle, on the lower level of Heritage Court. He was survived by his three children and four grandchildren.
Kimura's name appears on the NVC Foundation Japanese American Memorial Wall in Seattle, Brick #1223, Column 25, Row 9. It also appears on the Go For Broke Memorial in Los Angeles, Panel 12-A, Row 17.