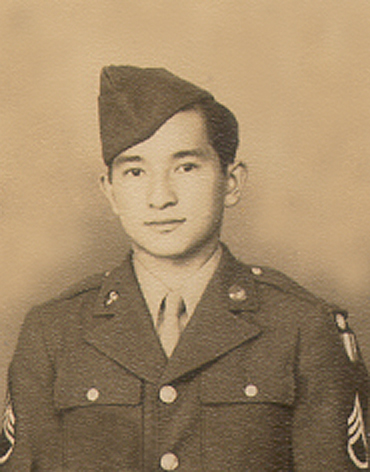 Yoshio Kubota
Staff Sergeant
442nd Regimental Combat Team
3rd Battalion, L Company
and
Military Intelligence Service
Yoshio Kubota, also known as Mike, was born August 30, 1923, in Amauulu Camp 1, near Hilo, Hawaii island, Territory of Hawaii. Amauulu Camp was housing for sugar plantation workers. He was one of the two daughters and five sons of Sakuichi and Yuri (Okine) Kubota.
Sakuichi first arrived in Hawaii in 1906 from Minaga-mura, Saeki-ku, Itsukaichi-machi, Hiroshima Prefecture, Japan. Yuri was born on Hawaii island, taken to Japan at age 4 in 1891, and returned to Hawaii in 1917.
After high school, Yoshio moved to Oahu. He signed his draft registration card on June 30, 1942, Local Board No. 2. At the time, he was employed by the Hawaiian Pineapple Company at Kaukonahua on the North Shore. His point of contact was his father, and he was 5'1" tall and weighed 112 pounds.
On March 25, 1943, Yoshio responded to the call for volunteers for the newly created 442nd Regimental Combat Team, and enlisted in the U.S. Army. He was sent to Boom Town, the "tent city" at Schofield Barracks, with the other volunteers. They were given a farewell aloha ceremony by the community on March 28 at Iolani Palace.
Yoshio's older brother Sadaichi volunteered for the U.S. Army at the same time from Hilo. They sent each other letters essentially saying, "I signed up, so please stay home and take care of our parents." The letters crossed in transit, and they both ended up serving their country
On April 4, Yoshio left Honolulu with the other new soldiers on the S.S. Lurline for Oakland, California, and then on by train to Camp Shelby, Mississippi, where he was assigned to L Company of the Combat Team's 3rd Battalion. According to his diary, basic training was extended from the original three months for an additional two months.
At this point, in September 1943, his superiors noticed that he had 12 years of Japanese language school education. They selected him for the Military Intelligence Service and he was transferred to the MIS Language School (MISLS) at Camp Savage, Minnesota.
Kubota completed MISLS on March 25, 1944. He served as an MIS interrogator in India, Burma, and China between June 1944 to August 1945. One of his duties was aiding the British military in interrogating Japanese prisoners of war (POWs). His service was scheduled to include six months of post-war occupation duty in Japan. However, he had enough "points" to be discharged, and was sent to California where he served for a while aiding Japanese prisoners.
He returned home to Hawaii on January 16, 1946, and was discharged from the U.S. Army at Schofield Barracks. On February 18, 1946, his name was officially changed to Mike Yoshio Kubota by order of the Acting Governor of the Territory of Hawaii, Gerald R. Corbett.
For his military service, Yoshio Kubota was awarded the Good Conduct Medal, American Campaign Medal, Asiatic-Pacific Campaign Medal, and the World War II Victory Medal.
Yoshio was awarded the Congressional Gold Medal on October 5, 2010, along with the other veterans of the 100th/442nd Regimental Combat Team. This is the highest Congressional Civilian Medal.
In 1947, Kubota enrolled in the University of Colorado in Boulder on the GI Bill and earned a Bachelor's degree in Biology. He later attended the University of Hawaii and earned a Master's degree in Microbiology.
On August 27, 1958, he married Marian Masako Kurasaki of Kapaa, Kauai. They settled in California where Kubota worked as a medical researcher.
In his personal life, Kubota had grown up as a devout Buddhist, who even taught Buddhist Sunday school. During the war, however, he had been converted to Christianity by an Army chaplain. Yoshio loved gardening and fishing. At the age of 78, he learned to use a computer, and wrote his 100-plus-page memoirs complete with photos. They amplified the wartime diary he had kept.
He treasured his family most of all. Four days before his death there was a family gathering in Kubota's modest house. He declared, "I am the richest man in the world, because I have all my children and grandchildren surrounding me."
Mike Yoshio Kubota died on June 24, 2004, in Los Angeles and was buried at Rose Hills Cemetery in Whittier, California. As of this writing (2021), his wife Marian splits her time between California and Kauai with the Kubota family, which includes five children, thirteen grandchildren, and one great-grandchild.
Researched and written by the Sons & Daughters of the Regimental Combat Team in 2021 with assistance by the Kubota family.