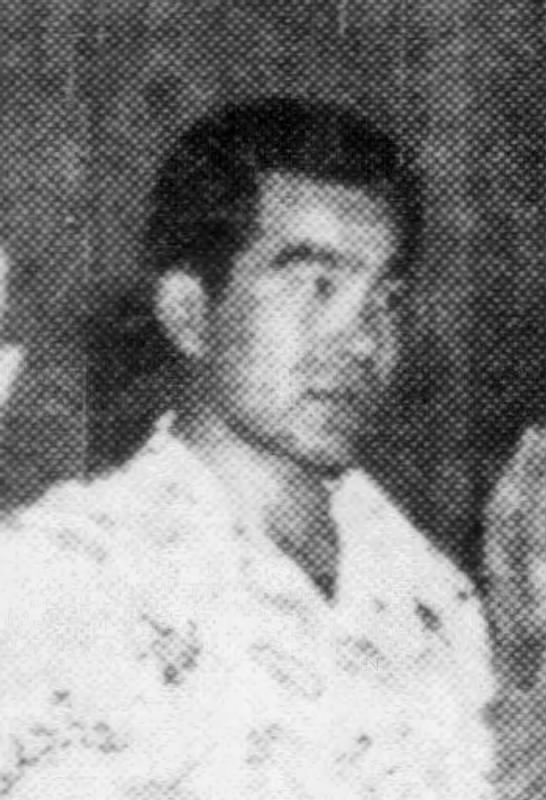 Minoru A. Ikehara
First Sergeant
442nd Regimental Combat Team
3rd Battalion, M Company
Minoru Ikehara was born on April 16, 1922, in Lawai, Kauai, Territory of Hawaii. He was the second-eldest child and second-eldest boy born to Gashin and Kama (Momohara) Ikehara. His siblings were: brothers Gaso and Archie Genya; sisters Dorothy Fumie, Helen Mitsue, Harriet Haruko, Doris Yoshiko, and Kikue.
Gashin emigrated from Okinawa in 1915. Kama arrived as a picture bride from the village of Yomitanzan, Okinawa, on February 28, 1908, on the Shinyo Maru. Gashin Ikehara was employed for at least seven years as a plantation worker, before eventually establishing himself as a pineapple farmer in Lawai and Kalaheo. He started a pineapple farmers' cooperative to do business with the Kauai Pineapple Company processing plant in Lawai. The family residence was in Kalaheo, on the back (makai) side of current-day Kukuiolono Golf Course.
Graduating from Kauai High School in 1939, Minoru was the Student Body President. He later moved to Honolulu to attend the University of Hawaii (UH). On November 4, 1941, he was among 29 ROTC (Reserve Officers Training Corps) students at UH who were appointed NCOs (non-commissioned officers). He was appointed a Cadet Sergeant in B Company.
Ikehara was a member of the Hawaii Territorial Guard. When it was deactivated on January 24, 1942, he was honorably discharged. The next day he joined the Varsity Victory Volunteers (VVV). On February 25, they "took their leave" of UH and were off to "fight without guns," as they offered their services as a labor battalion anywhere in the country that Military Governor Lieutenant General Delos C. Emmons needed them. Emmons addressed them in a brief ceremony at Iolani Palace after their sendoff from the university.
Minoru signed his draft card on June 30, 1942, Local Board No. 1, Hanapepe Armory, Hanapepe, Kauai. His address was c/o Mr. J. Wozumi at (UH) University Pre-School. He was employed by the U.S. Army Corps of Engineers Auxiliary, 34th Engineers, at Schofield Barracks, Oahu. He was 5'7" and weighed 171 pounds.
Ikehara volunteered for the U.S. Army on March 24, 1943. He was 5'7" tall and weighed 155 pounds. He had completed two years of college. He was sent to Boom Town, the "tent city" at Schofield Barracks where volunteers were housed. On March 28, the men were given a community aloha farewell at Iolani Palace. On April 4, they left on the S.S. Lurline for San Francisco.
Upon arrival they went by train to Camp Shelby, Mississippi, for training. He was soon assigned to M Company of the 3rd Battalion. In December 1943, he and two fellow soldiers went on furlough and visited Washington DC, Arlington National Cemetery, New York City, and Chicago, Illinois.
Ike, as Ikehara was known, departed Camp Shelby with the 442nd on April 22, 1944, for Camp Patrick Henry, Virginia. On May 2, they departed nearby Hampton Roads on a troop ship in a convoy of over 100 ships headed for Europe. The Combat Team arrived in Naples, Italy, on May 28, 1944. They went into combat on June 26 near Suvereto in the Rome-Arno Campaign.
On September 27, after pushing the enemy north to Pisa, Ike departed with the 442nd for Marseilles, France. They fought in the Rhineland-Vosges Campaign followed by the Rhineland-Maritime Alps Campaign. On January 13, 1945, his name appeared on a War Department list of 442nd men who were wounded in action in the European Theater.
In late March 1945, they returned to Italy. During April and into May they fought in the Po Valley Campaign in the mountains from Azzano, moving northwest past Massa, to Carrara.
After the surrender of German forces in Italy on May 2, M Company was stationed in northern Italy, first at Lecco in the Piedmont region for the summer, and then at Pistoia, in the Tuscany region in the fall.
On May 15, 1945, his name appeared on a War Department list of 442nd men wounded in the European Theater.
On July 1, 1945, Min Ikehara was promoted to 1st Sergeant. From July 27 to August 3, 1945, Ike went on an 8-day, Army-sponsored trip, "Tour C1," to Switzerland.
He returned to the US on a Liberty ship in November 1945. On December 19, he arrived in Honolulu Harbor, one of 850 returning soldiers, aboard the USAT Evangeline. He was discharged from an Army Separation Center on Oahu on January 8, 1946.
For his military service Minoru Ikehara was awarded the Bronze Star Medal, Purple Heart Medal with one oak leaf cluster, Good Conduct Medal, American Campaign Medal, European-African-Middle Eastern Campaign Medal with four bronze stars, World War II Victory Medal, Army of Occupation Medal, Distinguished Unit Badge, and Combat Infantryman Badge.  He was awarded the Congressional Gold Medal on October 5, 2010, along with the other servicemen of the 100th/442nd Infantry Regimental Combat Team.  This is the highest Congressional Civilian Medal.
Using the G.I. Bill education benefits, Ikehara returned to UH to complete his Bachelor of Arts in Sociology in 1947. He then continued at UH to earn a Master's in Social Work. Given his empathy for people, it is no surprise that he chose a profession to help people. After receiving his advanced degree in June 1948, he moved to Kohala District on Hawaii island, where he was employed by the Territorial Department of Public Welfare as a social worker.
As Ikehara was completing his post-graduate work at UH, he was also a member of the U.S. Army Reserves. On April 19, 1948, he was promoted to Second Lieutenant. On October 30, 1952, he was appointed to the Officers' Reserve Corps at that grade.
At a house party one weekend in Kapaau, he met Elizabeth Leader Slack, known as Bette, a native of Boston, Massachusetts, and a teacher at Kohala High School. We don't know if it was by design or providence, but Bette got a transfer to Kauai by September 1949, and they started – or perhaps resumed – dating when Ike got a transfer and moved home to Kauai in March 1950. The wedding took place at St. Paul's Episcopal Church in Kekaha on Christmas Eve 1951, just a few blocks from where they made their home on the beach highway, very near the surfing location, Davidsons Beach. Bette Ikehara taught for one year at Kapaa High School, and then went to Waimea High School, where she taught Business Subjects until her retirement.
On Kauai, Ikehara was first a social case worker for the Department of Public Welfare, then in late January 1952, he became the manager of the Territorial Employment Service office in Lihue. In late 1954, he became the Kauai vocational rehabilitation counselor, receiving training in occupational therapy for prosthetic clients. By mid-1958, he had completed 10 years of service with the State of Hawaii. In March 1959, Ikehara became the Executive Secretary of the Kauai Liquor Commission.
In the personal sphere, the couple welcomed three children: Debbie in 1953, Becky in 1954, and Marti in 1957, all of whom attended Mid-Pacific Institute, which was then a boarding high school on Oahu. The family worshipped at the Larger Waimea Parish churches. Ike became an avid golfer. He could be found enjoying Kukuiolono's nine holes and visiting his parents nearby, or getting in 18 holes at Wailua after they added nine holes in 1961.
On December 10, 1953, Ikehara joined the Hawaii National Guard (HNG), 299th Regiment, whose slogan was E Makaala Kakou (Be Alert). On July 1, 1955, he was promoted to 1st Lieutenant. The 299th assignment changed on February 15, 1959, from Company H to Company E, 1st Brigade. Participation in annual military training exercises at Schofield Barracks enabled him to visit with four of his five sisters and their families, who resided on Oahu. Promotion to Captain, his highest commission, occurred on January 16, 1963. On September 23, 1964, Minoru Ikehara was certified to have satisfied the military educational requirements for promotion to the grade of Lieutenant Colonel.
Ike was an active participant in Varsity Victory Volunteers activities through at least the celebration of their 20th anniversary in 1962. With respect to 442nd RCT post-war activities, members of Company M called themselves "Mikers" and contributed member updates to the 442nd newsletter. Ikehara was a President of the Kauai 442nd Veterans Club. In July 1953, a reunion was organized for all 442nd veterans, including those on the Mainland; Ike was the Chairman for the Kauai program. He was also Chairman for a Mikers reunion on Labor Day weekend in 1965 on Kauai.
In early 1966, in his capacity with the Kauai Liquor Commission, Min Ikehara was attending the opening of a bar and restaurant at the Coco Palms Resort in Wailua. While greeting friends, he stepped back, not realizing that there was a 12"-step down behind him. He sustained a massive skull fracture, went into a coma, and died early the next morning, on January 26, 1966.
Minoru Ikehara was interred in the Kauai Veterans Cemetery in Hanapepe, Section D, Row 6, Plot 6. To partially quote the County Resolution drafted in his honor: Mr. Ikehara was exceptionally well-liked and extremely capable. Years later, a friend recalled that everyone was his friend. His survivors included his wife, and three daughters.
Bette Ikehara died on February 24, 2007. She was survived by three daughters, Debbie, Becky, and Marti, and grandchildren.
Written by Minoru Ikehara's daughter with additional research and editing by the Sons & Daughters of the 442nd Regimental Combat Team in 2021.