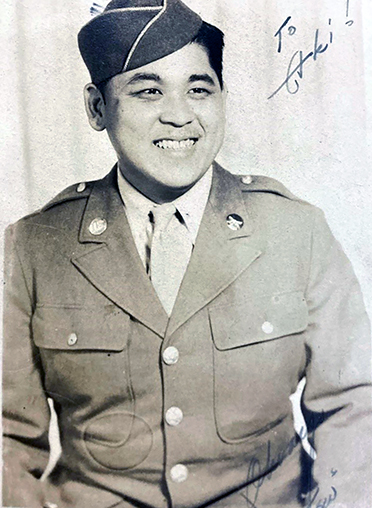 Mitsuyuki Fujita
Private First Class
442nd RCT
Headquarters Company
Mitsuyuki Fujita was born on September 28, 1921, on Oahu, Territory of Hawaii, to Mineichi and Ito (Hashimoto) Fujita. He was the eldest son of three boys and two girls. He grew up on Ewa Plantation where his father was a machinist. Mineichi and Ito had arrived from Yamaguchi Prefecture in 1902 and 1918, respectively.
Mitz, as he was called, signed his WWII Draft Registration card on February 14, 1942, Local Board No. 2 at August Ahrens School in Waipahu. He lived in House #4, C Village, Ewa Plantation. His occupation was machinist at the Ewa Plantation Company, and his point of contact was his uncle Kumeji Fujita of Ewa. He was 5'4" tall and weighed 180 pounds.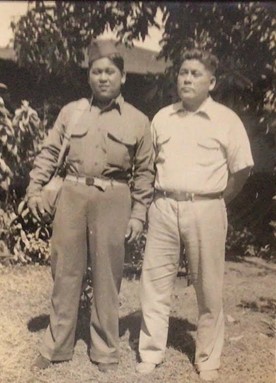 Mitz with his father, 1943
On March 23, 1943, Mitz enlisted in the U.S. Army. His occupation was machinist. He was at Schofield Barracks in the tent camp with other inductees who were given a community farewell at Iolani Palace on March 28. They shipped out on April 4 for San Francisco on the SS Lurline. Once they arrived at Camp McCoy, Mississippi, for training, he was assigned to Headquarters Company. His nickname in the Army was "Big Target."
Fujita shipped out with the 442nd on May 2, 1944, from Hampton Roads, Virginia, for the theater of war in Italy. He served in the campaigns of the 442nd: Rome-Arno in Italy, Rhineland-Vosges and Rhineland-Maritime Alps in France, and Po Valley back in Italy. At some point he was wounded, although the date and nature were not found in our research.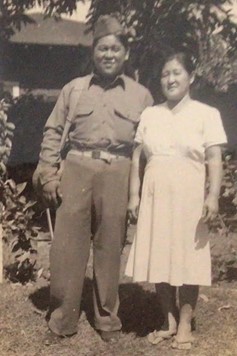 Mitz arrived back in Honolulu with more than 850 other returning veterans on December 21, 1945, on the troop transport ship USAT Evangeline. He was discharged on December 31, 1945, at an Army Separation Center on Oahu.
Mitz with his mother, 1943
For his service in World War II, Fujita was awarded the following medals: Bronze Star Medal, Purple Heart, Good Conduct Medal, European-African-Middle Eastern Campaign Medal with four bronze stars, World War II Victory Medal, Army of Occupation Medal, and Combat Infantryman Badge. In 2010, Fujita was posthumously awarded the Congressional Gold Medal on October 5 along with the other servicemen of the 100th/442nd Regimental Combat Team for their wartime service. This is the highest Congressional Civilian Medal.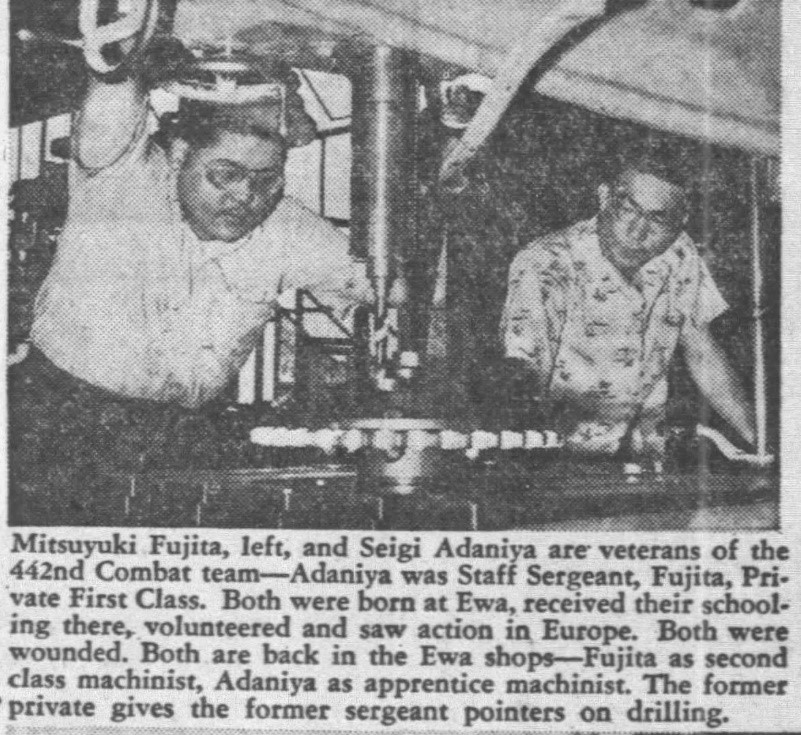 After the war, he married Peggy Kiyoe Igarashi of Ewa Plantation on May 3, 1947, and returned to his job at Ewa Plantation as a 2nd class machinist. He eventually retired as a machine shop foreman from Oahu Sugar Company. His father had been machine shop foreman and his grandfather had also been an employee of Ewa Plantation Company.
Fujita was an active member of the Ewa Veterans Club, serving as Treasurer in 1947-1950. He was also active in the Ewa Recreation Association, the Ewa Steering Committee aimed at civic improvements, Ewa Precinct Council, and the ILWU Local 145. He was also active in the 442nd Veterans Club.
In 1969, Mitz answered a call from the newspaper for imu rocks for a Hawaii unit stationed in Vietnam. As his son was serving in the same unit, he gathered the proper rocks and they were shipped to the soldiers. Many luau were held by Hawaii soldiers in Vietnam after that.
After his retirement, Fujita's hobby was woodcrafting. He made such items as bracelets, bowls, clocks, and other pieces to share with his loved ones. He also spent many hours entertaining his grandchildren and showering them with food and gifts.
In 1988, he directed the restoration of a century-old steam engine from the Hawaiian C&S Company sugar mill for the fledging Molokai Museum and Cultural Center. It was the last such machine in the country.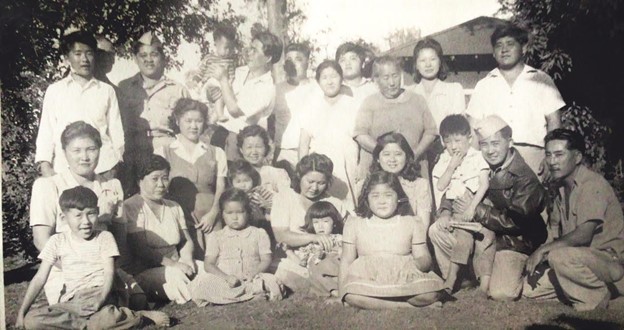 Above: Fujita family, 1943 – Mitz is in top row, second from left; his uncle Joel is in second row wearing his leather jacket
Mitsuyuki Fujita died on June 1, 2001, and he was buried at Mililani Memorial Park. He was survived by his wife, four children, seven grandchildren, and eight great-grandchildren.
Mitz Fujita's uncle, Yoshiyuki Joel Fujita, also served in Headquarters Company, 442nd RCT.
Researched and written by the Sons & Daughters of the 442nd Regimental Combat Team in 2021, and updated 2023.