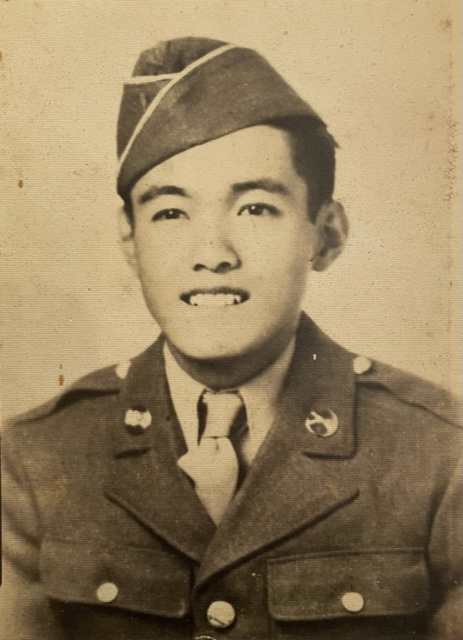 Mori Agena
Private First Class
442nd Regimental Combat Team
3rd Battalion, L Company
Mori Agena was born September 5, 1921, in Kaupakalua, Maui, Territory of Hawaii. He was one of three sons and five daughters born to Kama and Mainu (Taba) Agena. His siblings were: brothers Isao (Isami) and Katsu; and sisters Ann Akiko, Virginia Toyoko, Fusako, Ohide, and Doris. His parents had arrived in 1907 and 1911 from Nakagami District and Gushikawa (village), Okinawa Prefecture, respectively. In 1930, his parents worked on a pineapple plantation and the family lived on Pukalani Road in Makawao. In 1940, they were living in Puunene, Maui, and his father was working on a sugar plantation.
Agena signed his draft card on February 14, 1942, Local Board No. 6, at Kawananakoa School. He was living at 1247 Hall Street, Honolulu, and his point of contact was his brother Isao Agena. He was working at the Rattan Art Gallery, 620 South Beretania Street; and he was 5'3" tall and weighed 110 pounds.
Agena was inducted into the U.S. Army on August 15, 1944, at which time he was employed as a cabinetmaker.
After basic training on the mainland, Agena was sent as a replacement to the 442nd in southern France during the Champaign Campaign. The 442nd was next sent to Italy and he fought in the Po Valley Campaign.
On June 21, 1945, he was among the 442nd veterans who left Livorno, Italy, on the S.S. Wilson Victory on the first leg of their journey home. On July 4, he was in the group of returning veterans who were at Camp Kilmer, New Jersey, and presented lei sent from Hawaii at a watermelon feast sponsored by Earl Finch of Hattiesburg, Mississippi.
On July 10, 1945, the group of veterans next arrived at Fort Belvoir, Virginia. On July 15, they marched down Constitution Avenue in Washington D.C. to the White House Ellipse where President Harry S. Truman presented a Presidential Unit Citation to them. On July 21, they departed Staten Island, New York, on the S.S. Waterbury Victory, and arrived in Panama on July 27 where they were greeted in Cristobal by the USO.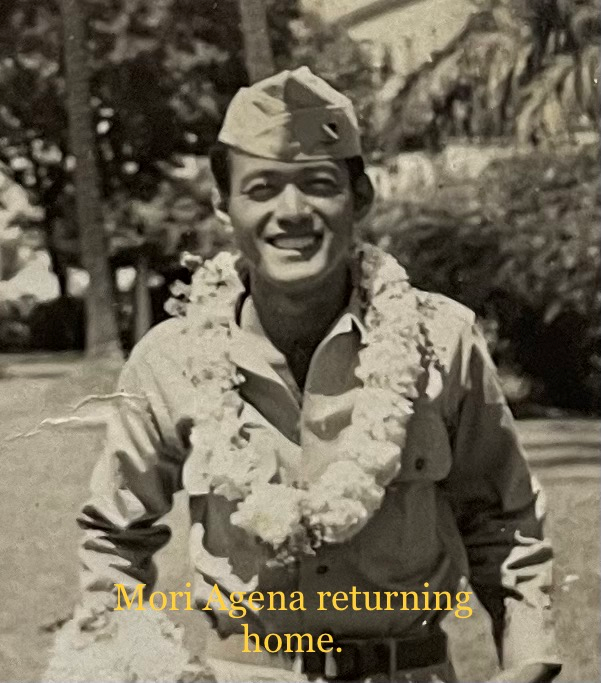 On August 9, 1946, Pfc. Agena arrived in Honolulu as one of the 246 men aboard the Waterbury Victory that docked at 9:00 a.m. at Pier 40 and were greeted with carnation and pikake lei provided through the Territorial Council of Veterans Affairs by family and friends.  A cavalcade of cars took the men to a welcome home ceremony at Iolani Palace.  The regimental and battalion colors and guidons of the unit's 20 companies were returned to Hawaii on the Waterbury by Lt. Col. Alfred A. Pursall, Commanding Officer, as the unit was slated for deactivation.
Right: Mori Agena arrives home
For his military service, Private First Class Agena was awarded the Bronze Star Medal, Good Conduct Medal, European-African-Middle Eastern Campaign Medal with two bronze stars, World War II Victory Medal, Army of Occupation Medal, Combat Infantryman Badge, and Distinguished Unit Badge. Mori Agena was awarded the Congressional Gold Medal on October 5, 2010, along with the other veterans of the 100th/442nd Regimental Combat Team. This is the highest Congressional Civilian Medal.
Agena married Helen Toyoko Uyehara on April 28, 1948, and they lived in Honolulu. He was employed at Wong's Drapery Shop as an installer and maintenance man. One son and three daughters were born to Mori and Toyoko.
His name appears in the Honolulu City Directory as Mori Agena in the 1950s to 1990s.
Mori Agena died on July 24, 2006, in Waipahu, Hawaii. His obituary gave his name as "Mori (Agena) Nakamatsu," indicating he had changed his surname. Survivors included three children and nine grandchildren. He was buried with his wife at Oahu Cemetery in Honolulu.
His brother Noboru Agena also served in 3rd Battalion, L Company.
Researched and written by the Sons & Daughters of the 442nd Regimental Combat Team in 2021.