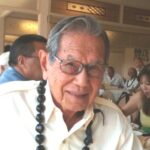 Ted T. Tsukiyama resides in Honolulu and is an active member of the 442nd RCT Veterans Club and the MIS Veterans Club. During World War II, he was a member of the Varsity Victory Volunteers, the 522nd Field Artillery Battalion of the 442nd RCT, and the Military Intelligence Service. Throughout the years, Ted has served as a wartime historian, often writing about his own experiences.
Here is his latest article:
"Senpai" translated into English means "elder," "senior," "predecessor" or "pioneer," and the word "gumi" means "group," "team," or "class,"  so "senpai gumi" as referred to herein means "pioneer group" or "pioneer class."  "Senpai Gumi" is also the name of a historical booklet edited by 100th/MIS veteran Richard S. Oguro which tells the story of the fifty nine Nisei soldiers of the 100th Battalion who in December 1942 were transferred out from their CampMcCoytraining over to the Military Intelligence Service Language School at Camp Savage (MISLS) to become the first group of Nisei from Hawaii to be trained for MIS service, hence the "senpai gumi" of Hawaii Nisei to enter the MIS.
These MIS Senpai all shared the common history of having been drafted into the army prior to the Pearl Harbor attack, were assigned to Hawaii National Guard service with the 298th and 299th Infantry Regiments until late May 1942 when they together with all other Nisei were separated out from the 298th and 299th and assembled  into the Hawaiian Provisional Infantry Battalion. On June 5, 1942 the Battalion comprised of 1,432 Nisei were shipped off to the mainland when they were re-designated the 100th Infantry Battalion (Separate) and sent to Camp McCoy, Wisconsin for combat training.