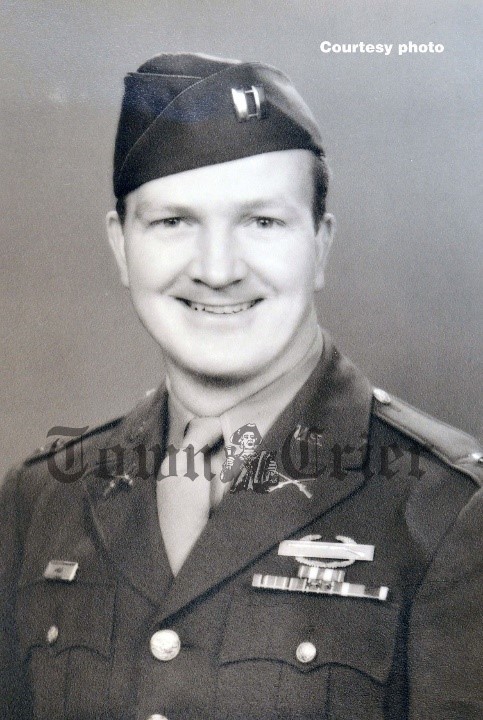 Ralph Thomas Ambrose
First Lieutenant
2nd Battalion, G Company
442nd Regimental Combat Team
Ralph Thomas Ambrose was born on July 25, 1914, in Winchester, Massachusetts. He was one of six children of Michael Charles and Honora ("Nora") Agnes (Lucey) Ambrose. His siblings were: brothers Vincent Charles, Howard Francis, and Harold Ferdinand, and sisters Ruth Mary and Marion Lucey. Father Michael was born in Cleveland, Ohio, and his father and mother emigrated from Ireland (Irish Free State) and England, respectively. Mother Nora emigrated from Cork, Irish Free State, in 1897 and both of her parents were Irish. She became a US citizen in 1899.
In 1920, the family was living in a large house at 42 Vine Street in Winchester and Michael was the manager of New England Laundries. Lodging in the house were three married couples and four single men. In 1930, they still lived on Vine Street and Michael was the foreman at the Laundries. Nora's father, Jeremiah Lucey, a retired widower, lived with them and had arrived from Ireland in 1850. Also lodging in the house were two single men. By 1940, Nora was a widow living with her two youngest – Ralph and Marion. Ralph was working as an assistant buyer for a dry goods store. Three single men also were lodgers in the house.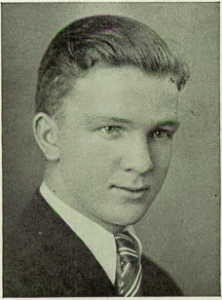 Right: Ambrose's senior class photo from 1931
"Dusty," as Ralph was known, attended St. Mary's Parochial School and he graduated in 1931 from Winchester High School.  Dusty was on all the sports teams:  football, basketball, baseball, track.  He was in the Chorus and the Dramatic Society, on the committees for the Senior Prom Committee and the Class Play, on the Traffic Squad, and president of his junior class.  His hobbies were hockey and skating.  The yearbook featured the following under his photo:  Dusty, you're popular.  There's no getting away from it.  And we know you will always be.  You will go on forever making friends and holding offices, or we are much mistaken.
Ambrose graduated from Boston College in 1935 and spent the next year there earning his Master's degree. A friend wrote about him: "His geniality and fidelity to principles make him the ideal classmate and friend." He became a member of the Knights of Columbus about this time.
Dusty signed his draft card on October 16, 1940, Local Board No. 161 at the Town Hall. His mother was his point of contact and he was employed by William Filene's Sons Company on Washington Street in Boston. He had grey eyes, blonde hair, a fair complexion, and was 5'10" tall and weighed 175 pounds.
Ambrose enlisted in the U.S. Army on January 29, 1943, in Boston. He had completed four years of college and his civilian occupation was listed as "Buyers, department heads, stores." His departure for training was delayed due to the accidental death of his sister Marion in a fire. He reported first to Fort Devens, in Boston, and he was initially sent to Virginia. Next, he was sent to Camp Davis, an anti-aircraft artillery training center near Wilmington, North Carolina. After being selected for Officer Candidate School (OCS), he graduated and on October 21, 1943, received his commission as a 2nd Lieutenant. In May 1944, he was sent as an instructor to the Infantry Replacement Training Center at Fort McClellan, Alabama.
In the fall of 1944, Ambrose was sent to the 442nd RCT in France. He was with the Combat Team for the Rhineland-Vosges and the Rhineland-Maritime Alps Campaign. In March 1945, they were sent to Italy for participation in the Po Valley Campaign.
On April 14, 1945, Lt. Ambrose was with the 2nd Battalion on the front lines at Fort Bastione, Mount Grugola, and Mount Pizzacuto near Carrera. He was later cited for his actions that day in his award for the Silver Star Medal. The citation reads in part:
First Lieutenant Ambrose was in command of two platoons which were ordered to clear enemy forces from Mt. Pizzacuto. A few minutes after the attack was launched, the foe opened fire. Skillfully appraising the situation, First Lieutenant Ambrose ordered one platoon to secure the left flank and personally led the other platoon up the enemy's forward slope. The foe, caught off balance by the boldness and speed of the right squad's maneuvers, yielded four killed and nine captured, together with three machine guns, one 81mm mortar and much ammunition.
Quickly reorganizing on the crest of the hill, he then led the other platoon down the reverse slope and outflanked the enemy, killing seven and capturing seven, together with two 20mm cannons, one bazooka, and two machine guns. First Lieutenant Ambrose then attacked the next hill, but the advance was held up by two machine guns. Leaving his men under cover, he proceeded alone for 50 yards under hostile fire to locate the enemy weapons. Returning for his bazooka team, he then silenced the guns and bottled up the remaining enemy on the hill, killing 10 and capturing 23 and thus enabling our troops to hold the commanding ground above the heavily fortified enemy-occupied Fort Bastione. His outstanding combat leadership exemplifies the highest gallantry of the United States Army.
Ambrose was very popular with his men. As Private Charles Kaiwi wrote to Nora Ambrose about her son:
Lt. Ambrose is about the best-liked officer in this outfit, and the boys in G Company really hated to see him leave our company. He's CO for E Company now. Since I entered the Army 18 months ago, I never came across a better officer that was so tolerant and patient with the men under him.
After the war ended in Italy on May 2, 1945, Ambrose remained for the occupation and took advantage of several furloughs to see the sights.  He wrote home to his mother that he saw …a bit of France and more than just a bit of the ruins of war.  It was quite a sight to see [civilians] line the sidewalks and cheer loudly and also to see the little kids hold up their hands with a V for Victory salute.
Lt. Ambrose left the 442nd in Italy in July 1946, and was discharged as a Captain in October.
For his military service, First Lieutenant Ralph Thomas Ambrose was awarded the Silver Star Medal, Bronze Star Medal, American Campaign Medal, European-African-Middle Eastern Campaign Medal with three bronze stars, World War II Victory Medal, Army of Occupation Medal, Combat Infantryman Badge, and Distinguished Unit Badge with one oak leaf cluster.
Left: Ambrose (left), a fellow 442nd officer, and an unidentified civilian with a destroyed German vehicle
After the war, Ambrose married June Ellen Hayward in 1947. Over the years, they raised a family of four sons. He was employed as a school teacher at Wilmington High School, a few miles north of Winchester. Ambrose also joined the U.S. Army Reserves in 1947, attached to the 1132nd Infantry Training Battalion in Boston. In 1951, he attended the Boston premiere of the Hollywood movie, Go For Broke, and remembered recognizing some of the actors from his time serving with them in the war; and meeting Daniel K. Inouye at the reception afterwards.
Ambrose was called up for active duty for two years during the Korean War, and stationed at Fort Devens handling processing of new soldiers at the Army Reception Center there. The Army post was 40 miles west of his home in Winchester. After his discharge in 1952, he returned to service in the U.S. Army Reserves until his retirement in 1965. He also returned to Wilmington High School. Ambrose became the first principal of Wilmington's new Wildwood High School in 1954. He later became a supervising principal, responsible for three schools in the system until his retirement in 1977. A colleague at school later commented on Ambrose's military bearing. He added that he had never seen Ambrose wearing "casual" attire – he always wore a suit and tie, and he was always soft-spoken and very reflective.
Ralph Thomas Ambrose died on December 12, 1983, in Bedford, Massachusetts. He and his wife had been living in Concord for many years. He was survived by his wife, four sons, four grandchildren, and two brothers. His wife June Ambrose died on April 12, 2003, and was buried in the Sleepy Hollow Cemetery in Concord.
His brother Harold served in World War II as a supervisor in the Army Postal System.
Researched and written by the Sons & Daughters of the 442nd Regimental Combat Team in 2022.