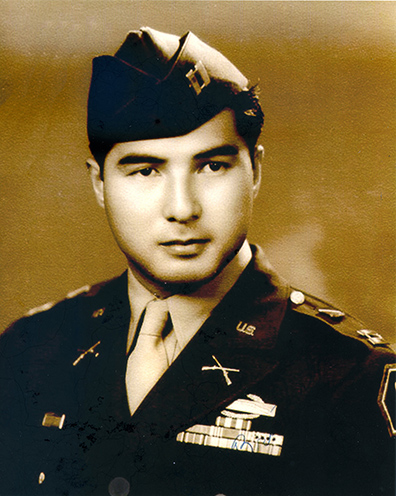 Sadaichi Kubota
Second Lieutenant
442nd Regimental Combat Team
3rd Battalion, I Company
Sadaichi Kubota was born March 19, 1921, in Amauulu Camp 1, near Hilo, Hawaii, T.H. Amauulu Camp was for sugar plantation workers. He was one of the seven children (two daughters and five sons) of Sakuichi and Yuri (Okine) Kubota. Sakuichi emigrated from Minaga-mura, Saeki-ku, Itsukaichi-machi, Hiroshima Prefecture, Japan; arriving in 1906. Yuri was born on Hawaii island, taken to Japan at age 4 in 1891, and returned to Hawaii in 1917.
Sadaichi registered for the draft on February 15, 1942 at Local Board No.2 in Hilo. His point of contact was his father. At the time, he was living with his parents at Amauulu Camp. He was employed as a carpenter by Hilo Sugar Company, and was 5'4", 125 lbs.
Without telling his parents, Sadaichi enlisted on March 27, 1943, at the Hilo Armory. The men soon left for Honolulu on the SS Waialeale. He had not told his parents as he knew they were worried about his oldest brother Eiichi, who had been born and educated in Japan, and was now in Shanghai serving in the Japanese diplomatic corps. In later years, he would write that he always remembered the advice of his Japanese language school teacher, Masaichi Uemura – "When in an emergency, the noblest act one can do is to offer your services to your country". These sensitive words brought back my feelings of duty, country… responsibility as an American, to enlist despite the negative charges against us."
Sadaichi's younger brother, Yoshio, volunteered for the U.S. Army at the same time from Honolulu. They sent each other letters essentially saying, "I signed up, so please stay home and take care of our parents." The letters crossed in transit, so they both ended up serving their country.
On April 4, 1943, Sadaichi was among the large contingent of 442nd soldiers that left Honolulu for the 28-day voyage on the SS Lurline to Oakland, California. They were sent by train to Camp Shelby, Mississippi. In September of that year, he was promoted to Corporal. He completed his training as a member of I Company, 3rd Battalion – specifically, in the 1st Squad of 2nd Platoon.
Kubota entered combat with the 442nd on June 26, 1944, in Suvereto, Italy. During the Vosges Campaign in France that Fall, he was sent to the field hospital about October 20 for a damaged Achilles tendon caused by ill-fitting new combat boots. He rejoined I Company on November 3. A few days later near La Houssière, he led his men in an attack on an enemy outpost that killed four Germans and routed the remainder. Despite being wounded in the head by an enemy sniper, he made his way back to his company and informed them of the enemy's troop and gun positions before going to the aid station. On Christmas Day 1944, Sadaichi received a battlefield commission from Tech Sergeant to Second Lieutenant.
In Italy during the Po Campaign in 1945, Kubota narrowly missed death when an enemy sniper, aiming at his head, missed him and, instead, killed his good friend Tadao Beanie Hayashi. They were on a scouting patrol and had become lost. Years later, Sadaichi said that after that incident he always felt he was living his life for two people – himself and Beanie. He vowed to remember his friend and years later was successful in having a memorial to him erected in Tendola, the site of Hayashi's death.
For his military service, Second Lieutenant Sadaichi Kubota was awarded the Silver Star Medal, Bronze Star Medal, Purple Heart Medal, Good Conduct Medal, American Campaign Medal, European-African-Middle Eastern Campaign Medal with four bronze stars, World War II Victory Medal, Army of Occupation Medal, Combat Infantryman Badge, and Distinguished Unit Badge. Sadaichi was awarded the Congressional Gold Medal on October 5, 2010, along with the other servicemen of the 100th/442nd Regimental Combat Team. This is the highest Congressional Civilian Medal.
The Silver Star was awarded for the action near La Houssière and personally awarded to him at a post-V-E Day ceremony on May 13, 1945, at Novi Airfield, Italy, by the Fifth Army Commander, Lt. General Lucian K. Prescott Jr. On June 1, 2019, he received the Légion d'Honneur,France's highest military order, for his service in France during World War II.
Kubota was discharged on December 24, 1946. He immediately reenlisted on December 25 and was released again on June 23, 1947. During this period he was promoted to Captain and was in the Military Intelligence Service.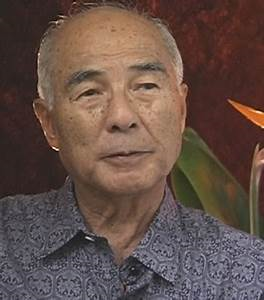 After the war, Sadaichi attended and graduated from the University of Colorado. He married Amy T. Marutani of Hilo. He was employed as a probation officer in Hilo; then, the Hilo Sugar Company as an industrial labor relations officer. He later worked for the Hawaii Department of Labor Relations in Kona. He retired in the mid 1970s. Kubota was active in the Boy Scouts of America his entire adult life, was a member of the Honpa Hongwanji Hilo Betsuin, and Disabled American Veterans.
In 1995, Sadaichi was among nearly 400 veterans who returned to Camp Shelby for the dedication of a monument to the 442nd during the 50th anniversary year of the end of World War II. Three years later he participated in an oral history interview during the convention of Japanese American veterans in Honolulu. It may be viewed at the following website: https://ddr.densho.org/interviews/ddr-densho-1000-40-1/. Also on the Densho website is a video interview he did with fellow 442nd veteran Bill Thompson and Louise Kashino, wife of I Company veteran Shiro Kashino. Sadaichi was instrumental in the years-long effort to overturn the wrongful wartime court-martial of Kashino.
In 2003, the book, And Then There Were Eight, The Men of I Company, 442nd RCT, was published. Kubota was an advisor to the publishing committee and wrote many wartime memories that appear in the book.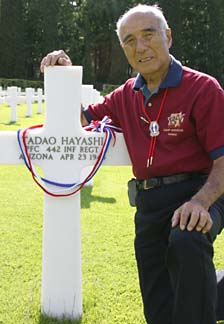 In the summer of 2004, a few months before he died, Kubota went on a tour of 442nd battle sites with other veterans and family members in France and Italy. He visited the gravesite of his friend Beanie Hayashi at the American Cemetery in Florence, Italy. In France, the group visited the site of the famed "Rescue of the Lost Battalion" in the forests of the Vosges Mountains. He participated in a small ceremony honoring the hundreds of casualties incurred by the 442nd to rescue the trapped men of the Texas 1st Battalion, 141st Infantry Regiment. Those in attendance were at the site where I Company had made their banzai charge. He pulled out a notebook on which he had written down names of those lost soldiers, and he cried out into the valley below, "We're back. We haven't forgotten you."
Left: Kubota at the grave of his friend Tadao Hayashi, 2004)
Sadaichi Kubota died on September 6, 2004, in Honolulu. He is buried at East Hawaii Veterans Cemetery in Hilo, Plot C-11-12. He was survived by his two sons and three grandchildren.
Researched and written by the Sons & Daughters of the 442nd Regimental Combat Team in 2021.