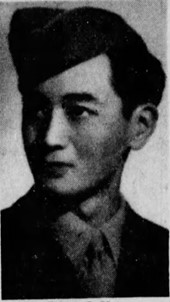 Setsuo James Matsura
Sergeant
442nd Regimental Combat Team
3rd Battalion, M Company
Setsuo Matsura was born on October 31, 1918, in Seattle, Washington. He was the eldest child of Yoichi and Toyo (Nishimoto) Matsuura. His siblings were: Isamu ("Sam"), Masako, Kenge, Joe, and Kiyoke.
Yoichi emigrated to Seattle from Hiroshima Prefecture, Japan, in 1898 at the age of 20. In December 1913, Yoichi returned to Japan, and while there he married Toyo Nishimoto. He returned to the US on the Awa Maru on September 5, 1915. Toyo arrived on the Chicago Maru on October 1, 1917, at the age of 27.
In March 1923, Setsuo and his brother Isamu were sent by their parents to Japan. The boys lived with their maternal uncle, K. Nishimoto, in Mitamura, Wakata District, Hiroshima Prefecture. The following year, while the boys were in Japan, the family moved from Seattle to Potlatch, Idaho, where Yoichi was employed at the Washington, Idaho, and Montana Railway roundhouse. In 1928, he began operating a truck farm across the Palouse River from Potlatch, which he continued for 10 years. Three years later, the boys returned to the US on the Shizuoka Maru on April 30, 1931, at the ages of 12 and 9 respectively.
In mid-1938, Yoichi was forced to give up his work due to ill health. He and his wife returned to Hiroshima Prefecture, where he owned property. They and their four youngest children left Potlatch on December 1, 1938, to depart from Seattle on the Hiyu Maru on December 5. The two oldest children, Setsuo and Isamu, did not go with them. Setsuo had been living for several years with railway agent William E. Hearn and his family in Potlatch. Setsuo, who spelled his surname Matsura, was a student at Potlatch High School and remained with the Hearns. Isamu was living in Spokane, Washington, with his uncle, Joe W. Okamoto.
During his senior year of high school, Setsuo was financial secretary of the Student Body, a member of the Student Body Council, and a 3-year letter man on the basketball team. At graduation, he was presented the Citizenship Award by the Robinson Post, Veterans of Foreign Wars. For the 1940-1941 school year, he attended the University of Idaho in Moscow as a pre-med student.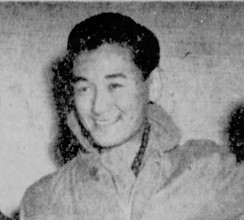 James, as he was known, signed his draft registration card on October 16, 1940, at the Latah County Local Board in Moscow, Idaho. He was living at 103 North Jackson Street, which was also the address of his employer, Alfred Hagan. His point of contact was his guardian, W.E. Hearn of Potlatch. Setsuo was 5'9" tall and weighed 135 pounds.
Setsuo in 1942
Half-way through his second year of college, Matsura enlisted in the U.S. Army on January 7, 1942. It was reported in the Spokane-Review newspaper the next day that he was one of 18 men from the greater Spokane area recruited by the U.S. Army.
Below: Matsura and other enlistees, 1942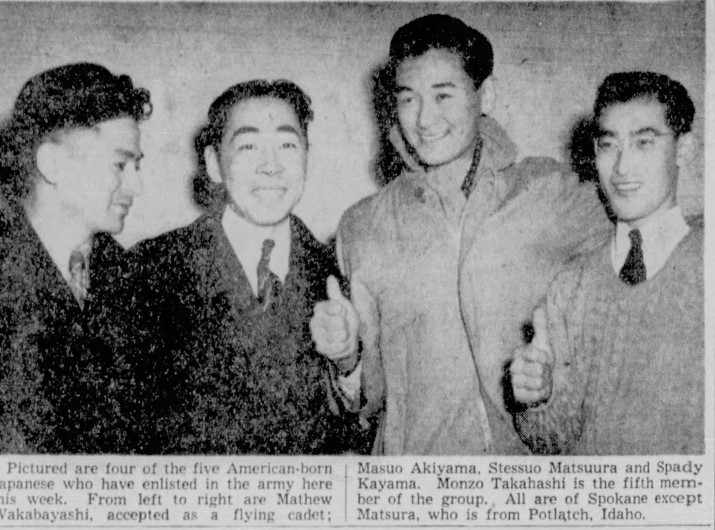 In 1943, Matsura was among the mainland Nisei soldiers sent to Camp Shelby when the 442nd was organized in February. He was assigned to M Company, which was the heavy weapons company for 3rd Battalion, 442nd Regimental Combat Team. After a year of training, the 442nd left Camp Shelby for Camp Patrick Henry, Virginia, on April 22, 1944. They shipped out on May 2 from nearby Hampton Roads in a convoy of over 100 ships bound for the Theater of Operations.
The 442nd arrived at Naples, Italy, on May 28. They entered battle near Suvereto north of Rome on June 26. Sam participated in the Rome-Arno Campaign, pushing the Germans north on the Italian peninsula. The 442nd was then sent to France on September 27, 1944, to join in the Rhineland-Vosges Campaign.
During the battles in the Vosges mountains, Matsura participated in the liberation of the important rail junction of Bruyères, the liberation of neighboring Biffontaine, and the battle to rescue the "Lost Battalion" – the 1st Battalion of the 141st (Texas) Infantry Regiment. For his actions at Biffontaine, he was awarded the Silver Star Medal. The citation reads in part:
…for gallantry in action near Biffontaine, France, on October 30, 1944. In a fierce fight with the enemy, the heavy machine gun crew of which Pfc. Matsura was a member, found itself running dangerously short of ammunition. Fully aware of the danger involved, he left his place of cover, and alternately running and crawling for 500 yards, he made his way through the heavy enemy fire and found his way to the ammunition supply depot. Upon reaching the supply of ammunition, he quickly gathered a maximum load and, ignoring the unabated enemy fire, fearlessly made the return trip to the endangered company. By his voluntary and heroic action, Pfc. Matsura enabled his company to continue firing and subsequently drive the enemy from his position.
Pfc. Matsura next participated with the 442nd in the Rhineland-Maritime Alps Campaign in southern France from November 1944 to March 1945. The 442nd then returned to Italy for combat in the Po Valley Campaign. While in the Po Valley, he was wounded in battle in April (no date given) from the fragments of an artillery shell. Specifically, the ciliary body part of his eye and his eyelid were lacerated. He was treated at an aid station and returned to duty.
For his military service, Pfc. Setsuo James Matsura was awarded the Silver Star Medal, Bronze Star Medal with one oak leaf cluster, Purple Heart Medal with one oak leaf cluster, Good Conduct Medal, American Campaign Medal, European-African-Middle Eastern Campaign Medal with four bronze stars, World War II Victory Medal, Army of Occupation Medal, Distinguished Unit Badge with one oak leaf cluster, and Combat Infantryman Badge. He was awarded the Congressional Gold Medal on October 5, 2010, along with the other veterans of the 100th/442nd Regimental Combat Team. This is the highest Congressional Civilian Medal.
James S. Matsura was discharged from the U.S. Army on December 20, 1945, and he returned to Idaho. On March 6, 1946, he was baptized in the Rectory Chapel of St. Mark's Episcopal Church in Moscow, Idaho. His sponsors were Mrs. William E. (Viola E.) Hearn and Rose Marie Rass.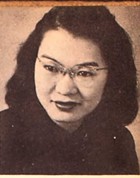 By 1949, James had moved to Detroit, Michigan. There, he married Mariko Tsutsui on September 2, 1949. She was the daughter of Genji and Shigeki Tsutsui. She and her family had been evacuated from their home in San Joaquin County California, and interned in 1942 at Rohwer WRA Camp in Arkansas on October 15. Two years later, on October 6, 1944, Mariko was released from Rohwer for employment in Detroit, and later her parents joined her there. She was a senior at Wayne University in Detroit in 1948.
Senior class photo of Mariko Tsutsui
By the following spring, the newlyweds were living at 23 Harmon Street and James was not employed. He finished his education and became a dentist, practicing in Southfield, a northern suburb of Detroit. They raised one son.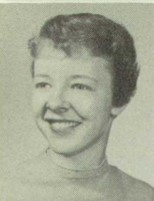 By 1985, James had married Judith Arlene Maloy, the daughter of Mr. and Mrs. Kenneth L. Maloy of Detroit. He was a member of Glen Oaks Golf and Country Club in Farmington and became an avid golfer.
Senior class photo of Judith Maloy
In 1998, Dr. Matsura retired and moved with his wife to Pebble Creek Golf Club in the Tampa Bay area of Florida.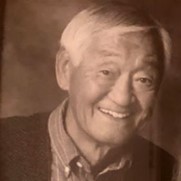 James S. Matsura died on August 22, 2002, in Lutz, Florida. Survivors included his wife Judy, one son, one daughter, two grandchildren, and brother Sam Matsuura. His memorial service was held on August 29 at Thayer Rock Funeral Home in Farmington, Michigan. In lieu of flowers, the family asked that donations be made to the Hernando/Pasco Hospice in Zephyrhills, Florida.
Dr. Matsura in retirement
On March 12, 2004, James Setsuo Matsura was buried in Section 435, Row 131, State Veterans Cemetery, Bushnell, Florida.
His brother Isamu ("Sam") Matsuura served in 2nd Battalion, E Company, 442nd RCT.
Researched and written by the Sons & Daughters of the 442nd Regimental Combat Team in 2022.