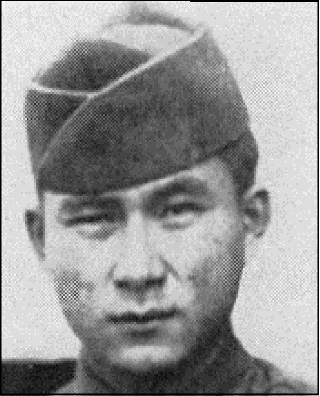 Shizuo John Matsushita
Private First Class
442nd Regimental Combat Team
3rd Battalion, K Company
Shizuo John Matsushita was born on September 5, 1923, in Maulua, Hawaii island, Territory of Hawaii. He was the son of Shintaro and Shizumo (Fujimoto) Matsushita, who emigrated in 1912 and 1921, respectively. Shintaro was from Wakayama Prefecture, Japan, and was employed as a painter by Hawaii Consolidated Railroad, a sugar plantation business. Shizumo was born in Kumamoto Prefecture, and arrived on April 23, 1921, on the Tenyo Maru, from the village of Tatsumi, Wakayama Prefecture, under the auspices of her father-in-law Kamekichi Matsushita.
In 1940, the family lived at Ookala Mill Camp in North Hilo District. There were six children in the family: sons Shinichi, Shizuo, and Ted Shigeru; and daughters Masae, Kikue, and Haruye.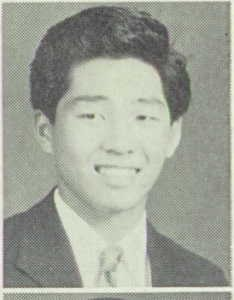 Shizuo was educated at Laupahoehoe Elementary and High Schools, where he graduated in 1941.  He was the art editor on the staff of Ka Lau, the school newspaper.  Before entering the service, he was employed as a laborer for the Laupahoehoe Sugar Company.
Right: Senior Class photo
Matsushita registered for the draft on June 30, 1942, at Local Board No. 3 at the M.S. Botelho Building in Honokaa. He listed his mother as his point of contact – and he lived with his family in Papaaloa. He was 5'4½" tall and weighed 122 pounds.
On March 20, 1943, Shizuo was among the ten AJA volunteers who traveled to Kamuela for their pre-induction physical examinations.
On March 27, 1943, Shizuo John Matsushita enlisted in the Army at Honokaa.  His civilian occupation was listed as "Semiskilled cranemen, derrickmen, hoistmen, and shovelmen."  He was one of 140 men in the second contingent of Japanese American volunteers from the Big Island to be enlisted.  They assembled at the Hilo Armory at 1:00 pm for roll call, after which they marched to Kalakaua Park on Waianuenue Avenue opposite the Federal Building.  At the ceremony a brief address was given by J.M. Brown, Chairman of Local Board No. 2, followed by the enlistment oath administered by Colonel Foster G. Hetzel, commander of the Hawaii Service Command.  The highlight was a brief address by Brigadier General Herbert D. Gibson, commander of the Hawaii District.
Shizuo and the other new soldiers were then sent by inter-island steamer to Oahu, and on to Boom Town, the "tent city" at Schofield Barracks. All the men assembled at Schofield were given a farewell aloha ceremony by the community the next day, March 28, at Iolani Palace. On April 4, the new soldiers left on the S.S. Lurline for San Francisco enroute to Camp Shelby, Mississippi. After basic training, Shizuo was assigned to 3rd Battalion, K Company.
Following over a year of training, Shizuo left Camp Shelby with the 442nd on April 22, 1944, for Camp Patrick Henry, Virginia. They shipped out to the Mediterranean Theater of Operations from nearby Hampton Roads in a large convoy of troop ships on May 2, and arrived at Naples, Italy, on May 28 to join in the Rome-Arno Campaign.
After a few days at a staging area in nearby Bagnoli, they left on June 6 on LSTs for the overnight trip to the Anzio beachhead, where they marched about five miles to a bivouac outside the city. On June 9, they moved out to convoy through the recently liberated city of Rome to a large bivouac area near Civitavecchia, finally arriving two days later. The next task was to physically prepare the men for their first combat mission. From June 11 to 21, the Combat Team brushed up on marksmanship and tactics, and underwent strenuous conditioning, which included long marches over mountainous terrain.
The 442nd moved to a staging area near Grossetto before dawn on June 22, where some last-minute advice was given to the men before battle. On June 24, the Combat Team moved to another bivouac area near Gravasanno, stayed overnight, and on June 25, marched thirteen miles to their final assembly area behind the lines.
They entered combat on June 26, near Suvereto. The 3rd Battalion moved into the lines before dawn, relieving the 517th Parachute Infantry Regiment. They encountered fierce fighting from the Germans, but Suvereto and Belvedere were taken by the end of the day. On June 27, the 100th and 3rd Battalions were tasked to take Sassetta, about six miles north of Belvedere. While the 100th made a frontal assault on the town, the 3rd Battalion made a wide flanking movement around the west side of town and seized the high ground north of Sassetta.
It was during this battle on June 27, 1944, that Private First Class Shizuo John Matsushita was killed. The hospital admission card stated that he was hit by a bullet in the abdomen and died as a battle casualty.
Private First Class Shizuo John Matsushita was interred at the U.S. Military Cemetery at Tarquinia, Italy, Plot D, Row 14, No. 454.
For his military service, Private First Class Shizuo John Matsushita was awarded the Bronze Star Medal, Purple Heart Medal, American Campaign Medal, European-African-Middle Eastern Campaign Medal with one bronze star, World War II Victory Medal, and Combat Infantryman Badge. He was awarded the Congressional Gold Medal on October 5, 2010, along with the other veterans of the 100th/442nd Regimental Combat Team. This is the highest Congressional Civilian Medal.
Matsushita's death was announced in the Hilo Tribune-Herald on July 24 and again on September 2.  On October 15, 1944, at 1:30 pm, posthumous medals were presented to the next of kin of soldiers recently killed in action.  The ceremony was held at Yamatoza Theater, the Army's SSO Playhouse, on Mamo Street in Hilo.  Pfc. Matsushita's Purple Heart was accepted by his parents, one of nine presented by Army officials at the ceremony.  The public was encouraged to attend.
In 1948, the remains of Americans buried overseas began slowly to return to the US, if the family so wished. As a result, on April 21, 1949, Shizuo John Matsushita arrived home. The USAT Sergeant Jack J. Pendleton brought back the remains of 134 soldiers, arriving at Pier 40-A in Honolulu Harbor's Kapalama Basin. There were hundreds of family and friends present to attend the dockside service. The Secretary of Hawaii, Oren E. Long, officiated, the 264th Army Band played Aloha Oe, and military Chaplains participated. The flag-draped caskets were stored in the Army mausoleum at Schofield Barracks on Oahu pending funeral arrangements.
On the morning of August 9, Matsushita's remains arrived in Hilo aboard LST 857. His military funeral and interment were held on August 10 at 5:00 pm in the East Hawaii Veterans Cemetery No. 1 in Hilo.
In the August 17 edition of the Hilo Tribune-Herald, Shizuo's parents published a Card of Thanks to their family and friends for the beautiful floral offerings and expressions of sympathy at their son's memorial service and burial. They especially thanked the following: the 100th Battalion Boys, 442nd Boys, Company K Boys, American Legion Post No. 3, Papaaloa Hongwanji Mission, Papaaloa YBA, and White Sewing School.
Researched and rewritten by the Sons & Daughters of the 442nd Regimental Combat Team in June 2021.