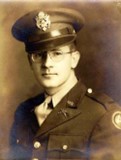 St. Elmo Murray Massengale, Jr.
Captain
442nd Regimental Combat Team
Regimental Staff
St. Elmo Murray Massengale, Jr., was born on April 26, 1910, in Atlanta, Georgia. He was the son of St. Elmo Murray and Elizabeth Chaires (Smith) Massengale, Sr. He had two sisters: Elizabeth Ormond and Natalie Elizabeth (died 1917 at age two). His father was the founder and president of the Massengale Advertising Agency.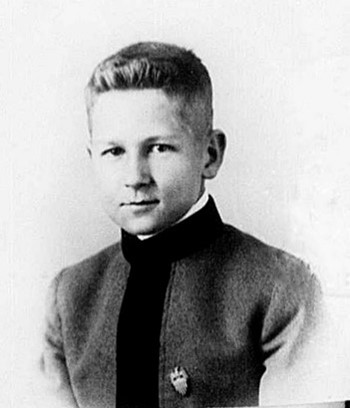 The family home was at 52 Muscogee Street in Atlanta, and they also owned a home at St. Simon's Island on the Georgia coast. St. Elmo graduated from Georgia Military Academy, 10 miles south of Atlanta.
Cadet Massengale at Georgia Military Academy
St. Elmo attended the University of the South in Sewanee, Tennessee. While there, he was in Sigma Nu Fraternity, the Sigma Epsilon Literary Society, and the Neograph Society, and on the publication committee of the Junior German Club. He also was the assistant manager of Freshman Basketball, organization editor of the yearbook Cap & Gown, editor of the weekly newsletter Purple, and contributor to the humorous magazine Mountain Goat. He graduated in 1931.
St. Elmo Sr. died in 1929. In 1930, St. Elmo Jr. was living with his mother and sister at 55 Muscogee Avenue and was a student. After graduating from university, Massengale attended Harvard Business School.
St. Elmo Massengale signed his draft registration card at the age of 30, on October 16, 1940, Local Board No. 8, Baltimore, Maryland. At the time, his home address was 1254 Corbin Avenue, #3, New Britain, Connecticut, although his local address was Greenway Apartments on Charles and 8th Streets. He was employed by the Coca-Cola Bottling Company at 2225 Kirk Avenue and his point of contact was Frank D. Dougherty of 2525 Kirk Avenue. He had blue eyes and brown hair, was 5'10½" tall, and weighed 151 pounds.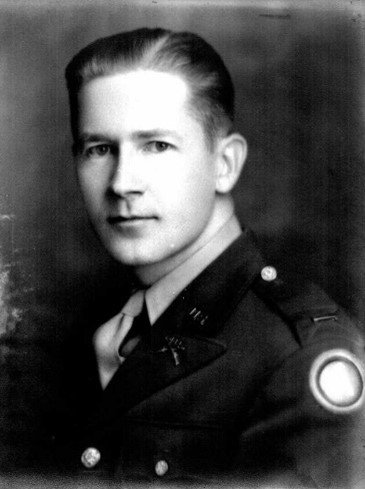 St. Elmo Massengale enlisted in the U.S. Army at Fort McPherson, Georgia, on June 6, 1942. His civilian occupation was listed as "Managers & officials," and he was living in Fulton County. On September 9, he was promoted to Corporal. On November 8, it was reported in the Atlanta Constitution that Corporal Massengale was accepted for Officers Candidate School (OCS) at Fort Benning, Georgia.
Lt. Massengale in 1942
He finished the course and was commissioned a 2nd Lieutenant, as reported in the newspaper on February 14, 1943. He was sent to the newly organized 442nd Regimental Combat Team at Camp Shelby, Mississippi, and assigned as a staff officer in Regimental Headquarters. Ten months later, on October 25, it was reported in the newspaper that he was promoted to Captain.
After a year of training, the 442nd left Camp Shelby on April 22, 1944, for Camp Patrick Henry, Virginia. They shipped out from nearby Hampton Roads on May 2 in a convoy of over 100 ships for the Theater of War. They arrived at Naples, Italy, on May 28.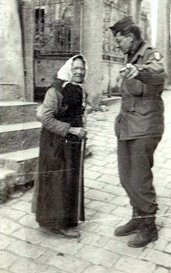 After several days at a staging area near Bagnoli, they went by LSTs to the beachhead at Anzio. From Anzio, the 442nd transferred to a bivouac area near Civitavecchia, just north of Rome. They went into combat near Suvereto, farther north, on June 26, in the Rome-Arno Campaign.
Capt. Massengale in Italy, 1944
That summer Massengale wrote to his mother that the Army's most marvelous morale builder was a portable shower unit, as it enabled warm showers. He also told her that Italy was a "trifle different" from the time they were there together a few years earlier.
In early September the decision was made in the higher echelons of command to send the 442nd to France for participation in the Rhineland-Vosges Campaign. As a result, the unit moved to the port of Piombino on September 10 and embarked on Liberty ships for Naples. After arriving the next day, they settled into bivouac in a group of olive groves outside the city. On September 27 they left on troop transport ships for the port of Marseilles.
The Vosges Campaign saw the most intense battles the 442nd had experienced. Weather conditions and the terrain were miserable, the men were still in their summer uniforms, and the fighting was especially fierce.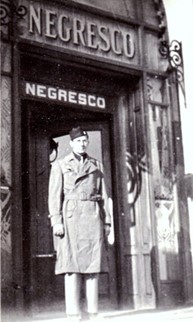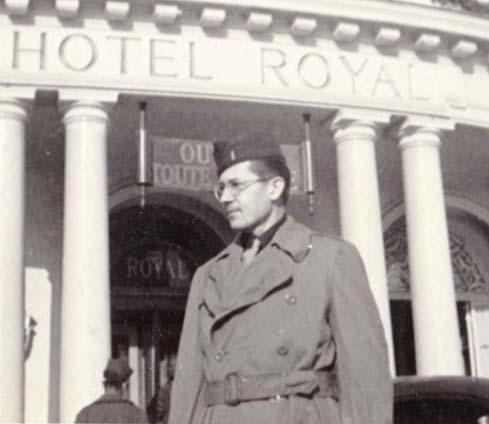 left/right: Capt. Massengale in Nice, 1944
After the fighting in the Vosges, which resulted in a very high casualty rate, the depleted ranks of the 442nd were sent to the south of France to participate in the Rhineland-Maritime Alps Campaign, which was mostly a defensive position guarding the border with Italy. While there, off-duty men were able to enjoy the hotels, restaurants, and bars of Nice.
From southern France, they were sent in mid-March 1945 back to Italy to fight in the Po Valley Campaign to complete the liberation of Italy from the Nazis. The Combat Team's presence in Italy was a closely kept secret as their mission was to launch a decoy attack on the western anchor of the Germans' Gothic Line, an elaborate system of fortifications hewn out of solid rock and reinforced with concrete. The 442nd entered battle on April 3, and engaged in hard-fought and hard-won successes as they pushed the enemy farther north. Not satisfied with the successes of the decoy attacks, the 442nd continue to aggressively attack and made a complete breakthrough of the western flank of the Gothic Line. On May 2, 1945, the German forces in Italy surrendered, a week before the final surrender in Germany. The 442nd went into bivouac at Nove Liguri, followed by occupation duties at Ghedi Airport and Livorno. In June it was announced in the newspaper that Captain Massengale had been awarded the Bronze Star Medal.
Massengale was back in the US, as reported in the Atlanta Constitution, by early December 1945 after 18 months in France and Italy – and was expected back in Atlanta shortly.
For his World War II service, Captain St. Elmo M. Massengale, Jr., was awarded the Bronze Star Medal with one oak leaf cluster, American Campaign Medal, European-African-Middle Eastern Campaign Medal with four bronze stars, World War II Victory Medal, Army of Occupation Medal, and Combat Infantryman Badge. He was awarded the Congressional Gold Medal on October 5, 2010, along with the other veterans of the 100th/442nd Regimental Combat Team. This is the highest Congressional Civilian Medal.
A postscript to wartime happenings. In 1943, Massengale's mother was working with the French Relief Society in Atlanta – engaged in such activities as knitting socks for French prisoners of war. She became increasingly involved as the war went on. In late 1944, it was reported in the Atlanta Constitution that Mrs. Massengale had joined forces months earlier with two other Atlanta relatives of 442nd men – the mother of Capt. Robert L. Hempstead and the wife of Maj. Ralph George Moye. Five wounded 442nd men from Hawaii were hospitalized at the Army's local Lawson General Hospital and the women "adopted" them – doing whatever they could to make them feel comfortable and not alone. As one of the ladies said, "They are fine boys…truly American…the other ladies and I are doing what we can to help some of [the] boys who have been hurt."
Mrs. Massengale died unexpectedly on October 20, 1946. On June 17, 1947, St. Elmo married Bettie Render Hodgson, the daughter of Mr. and Mrs. Cliff W. Hodgson of Chicago, Illinois, formerly of Athens, Georgia. They were married at the Drake Hotel. They remained in Chicago until 1949, when they moved to Salem, Oregon, where St. Elmo was the owner/manager of the local Coca-Cola Bottling Company plant.
St. Elmo M. Massengale Jr. died at home in Mt. Prospect, Illinois, on October 27, 1968, at the age of 58. At the time, he was the head of the Marketing Research Department, Chicago Section, Coca-Cola Bottling Company. He was survived by his wife, three daughters, two sons, and sister. Graveside services were held at Westview Cemetery in Atlanta, where he was buried next to his parents. His widow, Bettie, died on February 15, 1984, and was buried in Westview Cemetery.
Researched and written by the Sons & Daughters of the 442nd Regimental Combat Team in 2022.