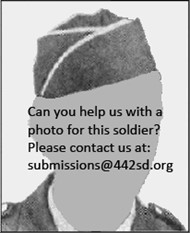 Stanley Takashi Oba
Private
442nd Regimental Combat Team
2nd Battalion, G Company
Stanley Takashi Oba was born on June 28, 1923, in Portland, Oregon, to Yoshisuke and Masue (Koyama) Oba. He was the eldest of three sons; his younger brothers were Juneus Tetsu and Calvin Hiroshi.
Yoshisuke Oba's family were descendants of the samurai class. After the samurai system was dissolved in the 1870s, many, including the Obas, became hotel keepers. His family property was a ryokan (traditional inn) and sake brewery located over a stream in Nagano Prefecture. Behind it was the old family cemetery with ancient headstones going back centuries.
Yoshisuke emigrated from the village of Katagiri, Nagano Prefecture, arriving on the S.S. Empress of China at Vancouver, British Columbia, on April 16, 1906. He was 20 years old, a silk weaver, and enroute to Portland where his uncle Masuki Shimamura resided, c/o Ban Co., 7th Avenue North. When he signed his World War I draft card on September 12, 1918, he was living at 133 East 30th Street in Portland and employed as a driver for the Crescent Murphy Brothers Laundry at 31st and East Alder Streets.
Sometime in 1919, Yoshisuke returned to Katagiri and was married on November 13 to Masue Koyama of Takafuku-machi, Nagano Prefecture. They arrived in Seattle on July 2, 1920, on the Africa Maru, and went home to Portland. In the 1920s, they lived at 269 Larrabee Street with Yoshisuke's brother Kyo H. Oba and his wife Tomio, owners of a grocery store at 595 Wash.
In 1930, the family still lived at 269 Larrabee Street, and Yoshisuke was still employed as a driver for Crescent Murphy Brothers Laundry.
By 1940, they were living at and managing the Stone Hotel at 1610 S.W. 1st Avenue. Masue ran the facility while Yoshisuke worked at the WOL Company saw mill. Stanley graduated from Lincoln High School in 1940. He then enrolled at the University of Portland.
Stanley enlisted in the U.S. Army on January 12, 1942, in Portland. He had completed one year of college, his civilian occupation was listed as "actor," and he was 5'8" tall and weighed 166 pounds. Oba scored exceptionally high on the IQ and other tests given to new soldiers, and he was selected for either Officer Candidate School (OCS) or medical training. He was sent to Michigan for special training. The Oba family had high hopes that their eldest son would be an Army officer.
Meanwhile, in the spring of 1942, Stanley's parents and brothers were evacuated to the Portland WCCA Assembly Center. On September 8, 1942, the family was incarcerated at Minidoka WRA Center, in Hunt, Idaho.
Exactly where Pfc. Oba was stationed during 1943-1944 is not known, although he was restricted to desk work and other menial duties at an Army post in the US.
Stanley Oba was transferred to the 442nd Regimental Combat Team by early 1945. He was shipped to Italy where he arrived as a replacement to G Company. The 442nd had returned from France to fight in the Po Valley Campaign. They arrived at the Peninsular Base Section in Pisa on March 25 and were assigned to Fifth Army. Private Oba joined up with the 442nd there.
The presence of the 442nd in Italy was a closely guarded secret, as their objective was to execute a surprise diversionary attack on the western anchor of the German Gothic Line. The center of this elaborate system of fortifications had been pierced in the fall of 1944, but no one had yet been able to pry the Germans loose from the western end. The Gothic Line in this area was hewn out of solid rock, reinforced with concrete, and constructed to give all-around protection and observation. The Germans were dug into mountain peaks rising almost sheer from the coastal plain, bare of vegetation save for scanty scrub growth.
On March 28, the Combat Team left their initial staging area at Pisa and moved to a bivouac at San Martino, near the walled city of Lucca. All units used their time for training. Firing ranges were set up and the men spent hours adjusting their newly issued weapons to the highest accuracy. New replacements, such as Private Oba, who had no combat experience, practiced small-unit problems with their squads and platoons day and night.
On April 3, the 442nd conducted a surprise attack on the Germans at Mount Folgorito. By April 6 the 2nd Battalion, had gained the ridge of Mount Folgorito and was poised for an attack on Mount Carchio and Mount Belvedere to the north, the peak that looked down on the city of Massa. The 442nd continued its deadly push north along the mountains. By April 10, the Combat Team crossed the Frigido River and occupied the high ground before the city of Carrara. When they entered it on April 11, it was under control of the Italian partisans.
The next day, Pvt. Oba's 2nd Battalion was preparing to attack Mount Pizzacuto, five miles north of Carrara. On April 13, with G Company marching in columns leading the advance, they easily passed through Gragnana and Castelpoggio. However, when they hit the base of Mount Pizzacuto, they came under heavy fire from German forces who had observation posts near Forte Bastione, a 19th century fort that was a German cornerstone on the Gothic Line. Second Battalion had to dig in for the night. The next day, April 14, G Company jumped off at 8:00 a.m. in their attack on Mount Pizzacuto. Despite heavy resistance, they gained their objective in two hours and continued their advance down the west slope that afternoon.
After taking Mount Pizzacuto, G Company was deployed to assault Forte Bastione. On April 15, they were successful in seizing the fort. Mount Grugola was taken that afternoon. Heavy fighting next broke out to the left rear of the regiment on La Bandita Ridge opposite the town of Castelpoggio. This action continued the next day. The Germans had retreated to Fosdinovo and Mount Nebbione, which they were strongly defending as this was the last dominant terrain before the important road center at Aulla. If Aulla fell, German forces on the coast would be cut off from retreat up the Po Valley.
As 3rd Battalion probed Mount Nebbione from all possible angles, 2nd Battalion tried a wide encirclement from the south. All of these were beaten back. By this time, the 442nd had been climbing up and down 3,000' peaks for two weeks with little rest. And the regiment was somewhat scattered by its various attempts to flank the enemy forces.
Private Stanley T. Oba was killed on April 19 while on a combat patrol. One of the men in the patrol stepped on a German land mine, typically of the "Bouncing Betty" style, and the explosion mortally wounded three of them, including Oba. The field hospital report stated that Oba was wounded in the thorax and leg. Years later, his nephew was able to locate G Company veteran, former Pfc. Katsumi Hikido, who recalled the action. Hikido said that the patrol was led by an Italian partisan whom the soldiers felt was not necessarily trustworthy. He said the mine may have been trip-wired as the men who were killed were on the side where the landmine was located – and Pvt. Oba was closest to the land mine.
Although Pfc. Hikido did not relate any information about the patrol's rescue, this incident may have been one involving Captain Katsumi ("Doc") Kometani, the 100th Battalion's Morale Officer. On April 18 in the general vicinity of Forte Bastione, he had volunteered to lead litter bearers to rescue a combat patrol in urgent need. He led the litter bearers over two miles of mountainous terrain to reach the patrol in need. This put the rescuers under heavy enemy fire and in danger of encountering enemy patrols as well. They reached the men after three hours, and managed to extricate the wounded and the patrol from its difficult situation.
Private Stanley Takashi Oba was buried at the U.S. Military Cemetery at Granaglione, Section C, Row 3, Grave 313.
On May 12, 1945, notice of Pvt. Oba's death appeared in the Idaho Statesman of Boise, and on May 18 in the Times-News in Twin Falls, Idaho. At this time his parents and brother Calvin were still incarcerated at Minidoka WRA Camp in Hunt. The loss of Stanley Oba was a very hard blow to his family, who had high hopes for the possibilities of what their eldest child would achieve in life.
For his World War II service, Private Stanley Takashi Oba received the Bronze Star Medal, Purple Heart Medal, Good Conduct Medal, American Campaign Medal, European-African-Middle Eastern Campaign Medal with one bronze star, World War II Victory Medal, Distinguished Unit Badge, and Combat Infantryman Badge. He was posthumously awarded the Congressional Gold Medal on October 5, 2010, along with the other veterans of the 100th/442nd Regimental Combat Team. This is the highest Congressional Medal.
In the summer of 1945, Stanley's father, Yoshisuke Oba, was released from Minidoka WRA Camp on June 26 and his mother, Mitsue, and brother Calvin on July 21, all to return to Portland.
On May 30, 1948, the Portland Chapter of the Japanese American Citizens League (JACL) hosted the Memorial Day service at the Japanese Rose City Cemetery. Private Oba was among the fifteen Nisei war dead to be honored at the ceremony. Gold Star mothers and next-of-kin were introduced.
After the war the U.S. was closing many of the overseas military cemeteries and families were given the choice of having their loved one reburied in one of the remaining cemeteries or returned home. The Oba family chose to have their son returned to the US.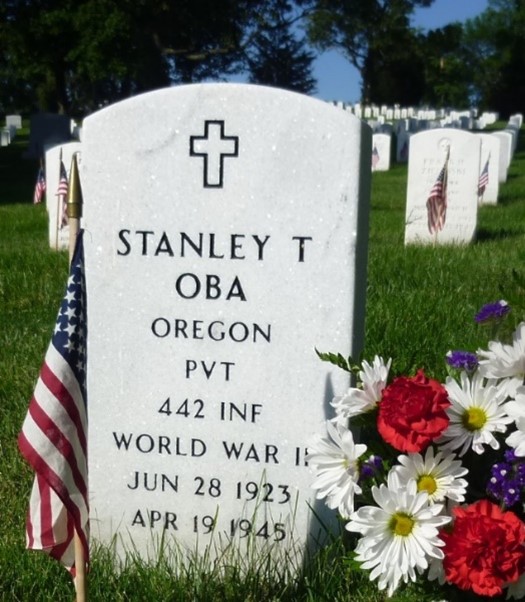 Private Oba was buried at Arlington National Cemetery on March 9, 1949, Section 34, Grave 2576. The JACL assisted in funeral arrangements. The National Cemetery Interment Control Form stated his remains were removed from the U.S. Military Cemetery at Castelfiorentino.
Stanley Oba's parents, Yoshisuke and Masue Oba, became naturalized US citizens on November 11, 1954, in Portland. Sometime afterwards, they returned to Nagano, Japan, and died there in 1968 and 1961, respectively. Their elaborate tombstone in the family cemetery included an inscription telling of their years living in Oregon.
His brother Staff Sergeant Juneus T. Oba served in E Company, 442nd RCT.
Researched and written by the Sons & Daughters of the 442nd Regimental Combat Team in 2023 with assistance by his nephew, Richard Juneus Oba, who is a Lifetime Member.