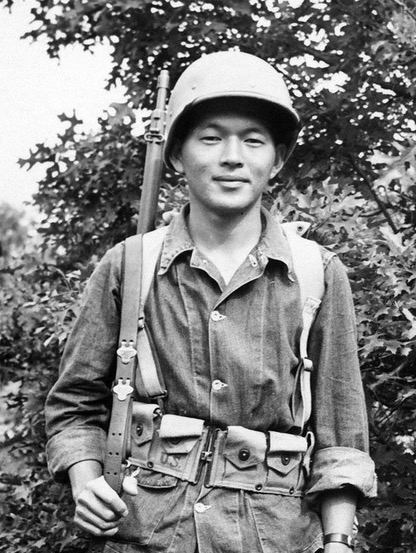 Stanley Tokunobu Hamamura
Staff Sergeant
442nd Regimental Combat Team
100th Infantry Battalion, Headquarters Company
Stanley Tokunobu Hamamura was born on February 21, 1917, in Paia, Maui, Territory of Hawaii. He was one of nine children born to Takichi and Takeno (Okuno) Hamamura. His brothers were Masami Francis and Nobuo Okuno; his sisters were Helen Tsueno, Ruth Masuyo, Bernice Tadako, Irene Mitoko, Tomie Hazel, and Jane Shizuko.
Takichi and Takeno emigrated from Kumamoto Prefecture, Japan, in 1897 and 1902, respectively. Takichi arrived on October 8, 1897, on the Ryozun Maru. Takeno arrived on the Nippon Maru on February 7, 1902. Initially working on a sugar plantation on Maui, Takichi owned his own candy business in 1918. By 1920, he was a contractor in building and concrete construction. In 1930, he was working as a mason for a sugar plantation.
Following graduation from Maui High School in 1938, Stanley worked for the Maui Electric Company in Wailuku as a clerk. Stanley registered for the draft on October 26, 1940, at Local Board No. 2, Bank of Hawaii Building in Wailuku. At the time, he was a student at the University of Hawaii (UH) in Honolulu. His next of kin was his brother, Francis Masanobu Hamamura, a dentist in Wailuku. Stanley was 5'6" tall and weighed 124 pounds.
The 298th and 299th Hawaii National Guard Regiments were federalized by order of September 19, 1940, and the draft was initiated. Stanley received his first draft notice in 1940; however, since he was a student at UH, he was deferred three times.
Hamamura was inducted in the fourth draft on November 15, 1941. At the time he had completed one year of college and his occupation was listed as "Actor." He was assigned to the 298th Infantry of the Hawaii National Guard. He was in basic training at Schofield Barracks on Oahu, when Pearl Harbor was attacked. On December 7, 1941, the 2nd Battalion of the 298th Infantry was stationed on the windward side of Oahu, in positions along the shore between Bellows Field and Kualoa, and the 1st Battalion was stationed at Schofield. Many of the Nisei soldiers of the First Battalion were on weekend pass from Schofield and following the attack all reported to their units for duty. For the next three days, all the Nisei members, including 350 new Japanese American inductees, were put to work digging trenches throughout the camp area, their weapons and ammunition confiscated. During the next six months, members of the 298th were stationed along the windward shore of Oahu, between Mokapu Point and Kualoa, stringing barbed wire, constructing and manning machine gun emplacements, patrolling beaches, and building dugouts.
The Nisei of the 298th and 299th Hawaii National Guard Regiments were then reorganized into the Hawaiian Provisional Infantry Battalion. On June 5, 1942, the battalion boarded the transport ship USAT Maui, and departed Honolulu. After a week at sea, the ship sailed under the Golden Gate Bridge, docking at Oakland, California, on June 12, 1942. There, the unit was given a new name – the 100th Infantry Battalion (Separate).
The unit traveled to their new duty station by three trains, each taking a different route, to Camp McCoy, Wisconsin. During training, the Army learned that Hamamura had a ham radio license and had left his short-wave radio in his dorm room at UH. The Army confiscated it and sent him a check for $50.00. He was transferred from A Company to the radio section of Headquarters Company.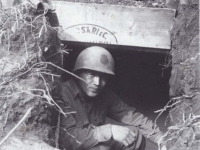 After training at Camp McCoy, followed by more training at Camp Shelby, Mississippi, on August 21, 1943, the men boarded the S.S. James Parker at New York City as they began their 12-day voyage to Oran, Algeria, in North Africa. 
Right: Stanley in a dugout at Anzio, 1943.
On September 19, 1943, the 100th boarded the attack transport Frederick Funston and arrived offshore of Salerno Beach at 8:00 a.m. on September 22.  The unit entered combat on September 27, 1943, near Salerno in southern Italy.
Stanley fought in all of the campaigns of the 100th: Naples-Foggia, Rome-Arno in Italy, Rhineland Vosges and Rhineland-Maritime Alps in France, and Po Valley back in Italy.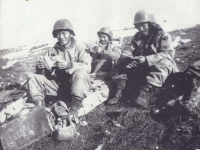 After serving during the occupation of Italy after V-E Day (May 8, 1945), Hamamura returned to Hawaii and was discharged on November 14, 1945. His address was 2136 Wilder Avenue.
Left: Stanley Hamamura, Richard Hamada, Edward Saito, Italy 1943.
For his military service, Staff Sergeant Stanley Tokunobu Hamamura was awarded the Bronze Star Medal, Good Conduct Medal, American Defense Medal, American Campaign Medal, Asiatic-Pacific Campaign Medal, European-African-Middle Eastern Campaign Medal with one silver star, World War II Victory Medal, Army of Occupation Medal, Combat Infantryman Badge, and Distinguished Unit Badge with one bronze oak leaf cluster. Stanley was awarded the Congressional Gold Medal on October 5, 2010, along with the other veterans of the 100th/442nd Regimental Combat Team. This is the highest Congressional Civilian Medal.
Stanley married Fumie Sodetani on November 3, 1945, in Honolulu. They lived at 347 Kuakini Street. Over the years, they raised a family of two sons.
Stanley worked as a dental technician for the United Dental Laboratory; initially living at House 15D in the Red Hill Veterans Homes community. In the early 1950s, he started his own business – Hamamura Dental Labs. The business was located at 1019 University Avenue; in 1972, it was moved to 1150 South King Street; and finally, to 3263 Oahu Avenue, Honolulu.
Stanley T. Hamamura passed away on August 30, 2002, in Honolulu. A memorial service was held at Hosoi Garden Mortuary. He was interred at the National Memorial Cemetery of the Pacific (Punchbowl), Section CT3-V, Row 300, Site 327.
Researched and written by the Sons & Daughters of the 442nd Regimental Combat Team in 2022.