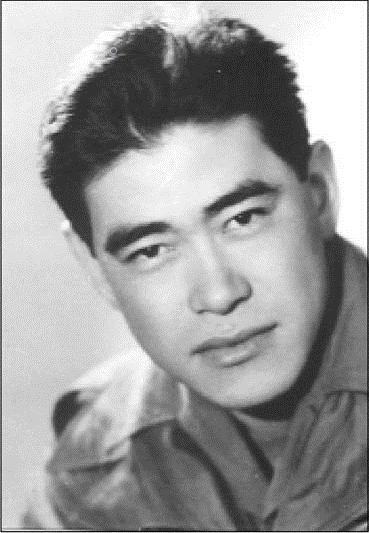 Tadao Hayashi
Private First Class
442nd Regimental Combat Team
3rd Battalion, I Company
Tadao Hayashi, son of Shichibei and Kazuko (Ikeda) Hayashi, was born on February 20, 1924, in Salinas, California. He had six siblings: brothers Ruzu and Shuki; and sisters Masa, Michi, Yuki, and Osame.
Shichibei Henry Hayashi emigrated from Japan on the S.S. Manuka, which arrived in Honolulu on August 28, 1904. Shichibei, however, continued on the voyage to Seattle, Washington. He was born in Kokubu, Kagoshima Prefecture, Japan, and worked as a farmer. Kazuko Ikeda was from Sakai Hyogo, Osaka Prefecture, and she arrived in 1907. Shichibei and Kazu were married on December 8, 1915, in San Francisco, California. Tadao's father Shichibei was killed in a car accident on February 18, 1925.
In 1930, the family was living on Patrick's Ranch No. 3 on the State Highway in Gonzales Township, Monterey County. His mother was a widow and employed as the cook for a truck farm. His oldest brother, Ruzu, died of an illness the following year. By 1935, they were living on Blanco Road in Salinas.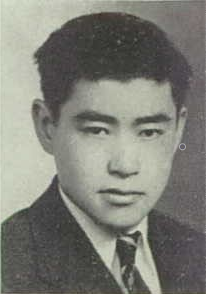 Tadao, also called Tad, attended Chualar Grammar School and he and his brothers were in the Boy Scouts Troop 59 in Chualar. He graduated in 1942 from Salinas Union High School where he was on the varsity football team. He was a member of the Japanese Presbyterian Church at 536 Lincoln Avenue. He dreamed of becoming an architect. However, in the spring of 1942, the family was evacuated to the Salinas Assembly Center in Salinas, California.
Right – Hayashi's senior class photo
Tad registered for the draft on June 27, 1942, at Local Board No. 120, Salinas Assembly Center. His address was Building 44-A, WCCA Salinas Assembly Center, and the WCCA (Wartime Civil Control Administration) was listed as his employer. His point of contact was his mother, Kazu Hayashi, at the same address. He was 5'8" tall and weighed 145 pounds.
On July 5, 1942, the family was incarcerated in the Colorado River WRA Relocation Camp (also called Poston) in Yuma County, Arizona. Poston was so large that it was divided into three sections – the Hayashi family lived in Poston II. By virtue of Tad and his older brother Shuki volunteering for the proposed Nisei combat team from Poston II in February 1943, the family was one of the first allowed to leave the Camp. Shuki and Tadao were released to Fort Douglas, Utah, on June 25, 1943. Their mother and sisters were released on various dates between May and September 1943.
Tadao Hayashi enlisted in the U.S. Army on June 28, 1943, at Fort Douglas, near Salt Lake City, Utah. His residence was listed as Yuma, Arizona, and his civilian occupation as "Semiskilled painter, construction and maintenance."
He was then sent to Camp Shelby, Mississippi, to join the 442nd Regimental Combat Team that was already in training. He was assigned to 3rd Battalion, I Company, 2nd Platoon, 1st Squad, as a BAR (Browning Automatic Rifle) infantryman.
While at Camp Shelby, he acquired the nickname "Beanie." According to his buddy S/Sgt. Masashi Kobashigawa, "Champ" Kawasaki said that Hayashi looked like a haole with his long legs. That's how we began calling him Beanie, 'cause the haoles were called "Beans" at the camp. (Note: Haole is Hawaiian for "white person.")
Hayashi left Camp Shelby with the 442nd on April 22, 1944, for Camp Patrick Henry, Virginia. They shipped out to Italy from nearby Newport News on May 2, arriving at Naples on May 28.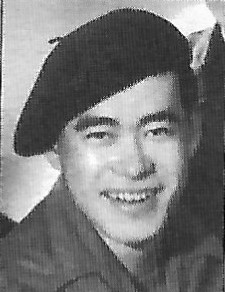 After entering combat on June 26 near Suvereto, Beanie fought in the Rome-Arno Campaign. The 442nd then left Italy on September 27 for France, where they fought in the Rhineland-Vosges Campaign.
Beanie was wounded in the Vosges, but recovered and rejoined his company. The Combat Team was next sent to southern France for the Rhineland-Maritime Alps Campaign. In April, the 442nd returned to Italy for participation in the Po Valley Campaign.
Left and below: Beanie while in southern France
In early April 1945, Hayashi was admitted to the field hospital with a sprained ankle – but, again, he returned to duty after a short convalescence.
The last German defense in Italy was at Mount Nebbione. The 442nd's final drive against the Germans began on April 19 and lasted until April 23, when the 3rd Battalion finally took Mount Nebbione and Mount Carbolo.
The night of April 23, Lt. Sadaichi Kubota and I Company were in the village of Tendola. They met up with another unit of the 442nd, who were departing soldiers, and were told that Tendola was calm after two days of furious combat – and the Germans seemed to have withdrawn. Lt. Kubota assessed the situation and decided on a reconnaissance patrol north of the village. He and Pfc. Hayashi set out on the patrol. As they reached the foot of a hill at the end of the village, Kubota wanted to advance alone; however, Beanie insisted on going with him. Kubota reluctantly agreed and the two moved on together, keeping a few yards from one another for safety. Suddenly a shot pierced the air and Hayashi fell to the ground. Kubota immediately sheltered himself and loudly called out Beanie's name. His training stopped him from rushing to Beanie's aid as the enemy was likely waiting to shoot again. Beanie did not answer Kubota's repeated calls, indicating that he was seriously injured or dead.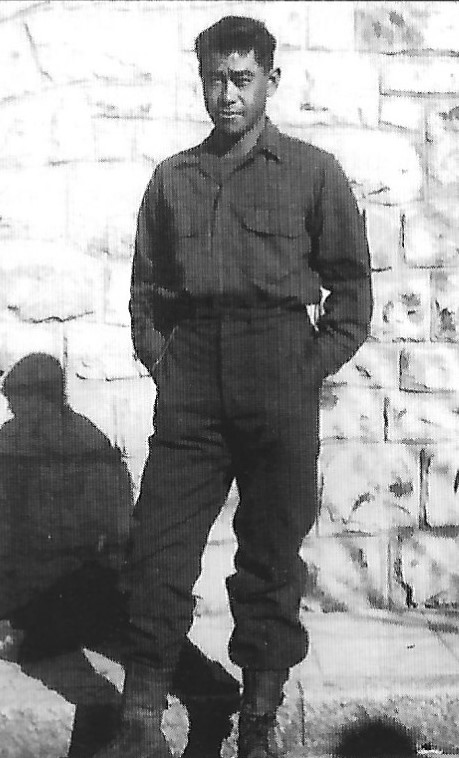 Left: Beanie Hayashi during the war
Kubota returned to his platoon and launched an attack on the hill. The Germans at the top ran behind the hill, while others were killed by Allied fire. Tendola was finally freed.
As S/Sgt. George Morihiro of I Company later wrote, … Kash [Platoon Sergeant Shiro Kashino] got hit again for the 6th time and ended up in a hospital. Meanwhile, Beanie…took over for Kash. Then Beanie was reported missing. Kash, upon hearing this, left the hospital AWOL, I think, and came up to the line. He…ordered us to attach our bayonets and walk five yards apart, searching for Beanie. We went over the hill again and found Beanie – regretfully dead. According to their Platoon leader, Lt. Kubota, Kash and Beanie were "bosom buddies." The doctors later told Kubota that Beanie had died instantly, and had not suffered. The field hospital record stated that he was shot in the general area of the thorax.
Private First Class Tadao Hayashi was interred in the U.S. Military Cemetery at Granaglione, Section 2E, Row 84, Site 4317.
On May 1, 1945, his death was reported in the Chicago Tribune, as his mother Mrs. Kazu Hayashi and his sister Masa were living at 1238-40 North Lake Shore Drive. His death was reported in his hometown Salinas newspaper, The Californian, on June 14, 1945.
For his military service, Private First Class Tadao Hayashi was awarded the Bronze Star Medal, Purple Heart Medal with two oak leaf clusters, Good Conduct Medal, American Campaign Medal, European-African-Middle Eastern Campaign Medal with four bronze stars, World War II Victory Medal, and Combat Infantryman Badge. He was awarded the Congressional Gold Medal on October 5, 2010, along with the other veterans of the 100th/442nd Regimental Combat Team. This is the highest Congressional Civilian Medal.
After the war, the US began the process of closing the smaller American Military Cemeteries overseas and consolidating them into a select few. Families were given the choice of having their loved one returned home or remaining overseas. Hayashi's family decided that he would remain in Italy. As the U.S. Military Cemetery at Florence, about seven miles south of the city, was one of the cemeteries that remained, Hayashi was moved there. His grave is located in Block G, Row 1, Grave 20.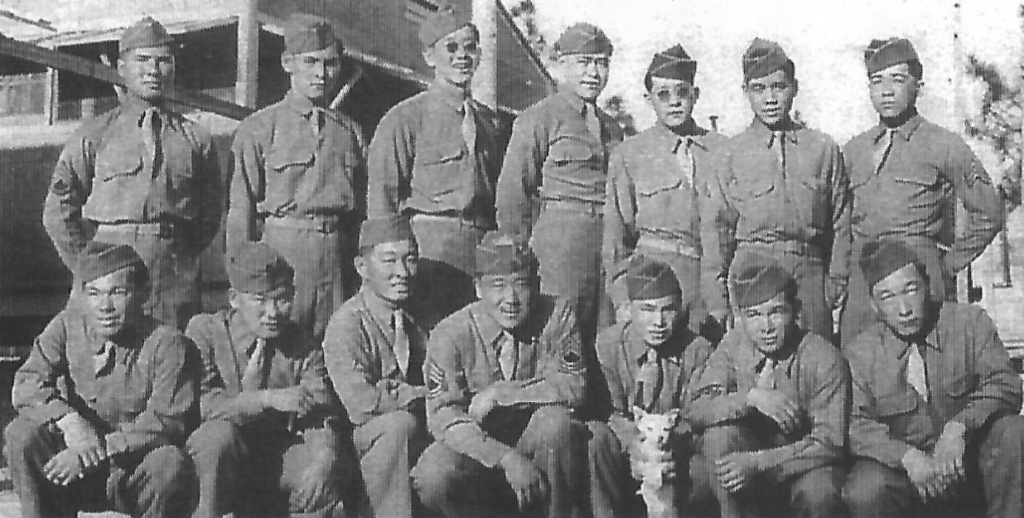 Above: 2nd Platoon, 1st Squad, Camp Shelby. (L-R) Back – Sadaichi Kubota, David Matsuura, Shiro "Kash" Kashino, Tadao "Beanie" Hayashi, Mike Takemoto, Masa Kobashigawa, Fred Matsumura; Front – Nobu "Champ" Kawasaki, Tommy Umeda, Mickey Akiyama, Takeji "Blackie" Kinoshita, "Shorty" Kazumura, Harry Kuwahara, Masa Manabe
Below: 2nd Platoon, Camp Shelby. (L-R) Back – Sadaichi Kubota, Masato Manabe, George Tsujimoto, Shiro "Kash" Kashino, Beanie Hayashi, Fred Matsumura; Front – Susumu Kishaba, Sadao "Sub" Matsumoto, Tomotsu Hasegawa, Harry Kuwahara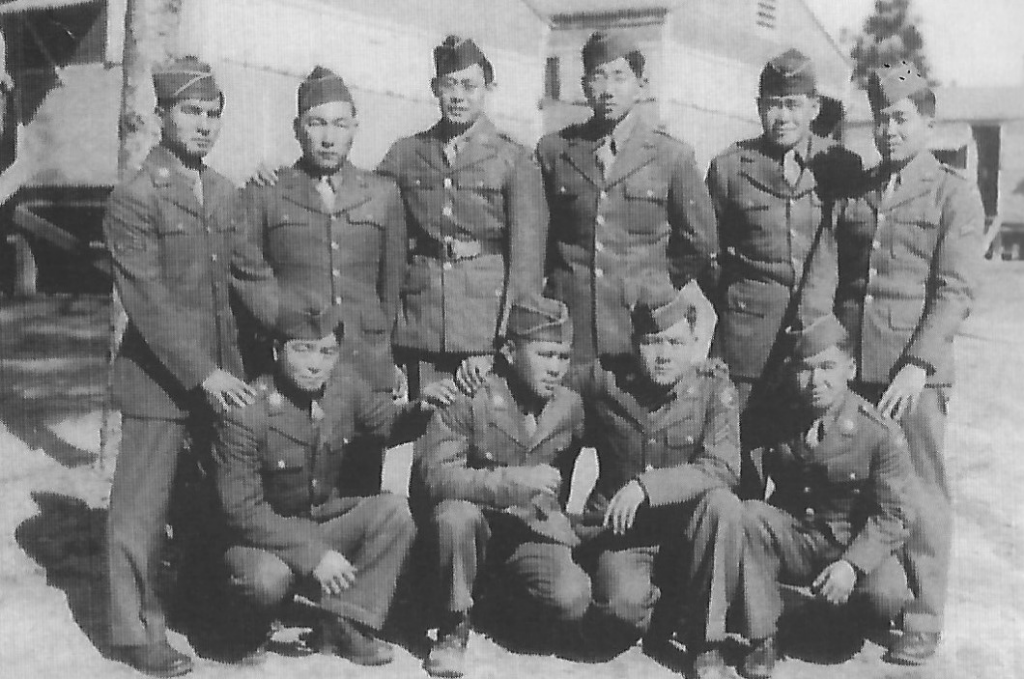 Postscript. In 2004, Lt. Kubota participated in a 442nd veterans tour to European battlefields. Below is a write-up of his visit in Italy that was written by their Italian guide, Davide Del Giudice, and one of the participants, Rebecca Taniguchi, who gave it to Kubota's son, Alan.
Life and death come full circle
In May 2004, Sadaichi Kubota returned to Europe on a 442nd veterans/family tour of Italian and French battlefields to honor his fallen comrades, especially his good friend Beanie Hayashi. Ever since the war, Kubota had lived with the burden of believing Hayashi had taken the bullet for him, and he had made every effort to live life for both himself and Hayashi – guiding boys into manhood in the Boy Scouts, sending flowers to Hayashi's mother each year on the anniversary of the young soldier's death, and following Buddhist principles of right living. Throughout all the years, Kubota promised himself that he would someday return to Italy to honor Hayashi and purify the ground where the young man had fallen.
When the tour group visited the U.S. Cemetery at Florence, they went to Hayashi's gravesite where Kubota performed the purifying ritual of oshoko. He placed a piece of incense on a short wall and lit the offering. With the smoke of the incense rising in the air, he placed his hands together in gassho to express reverence and gratitude for the life of Hayashi. When he finished the ceremony, Kubota told the story of Hayashi's death. He said simply that Beanie had saved his life that day, dying in his place. Just as he had been every day since the war, Kubota was filled with regret, gratitude, and infinite love for the young man.
A few days later, on May 23, Kubota left the tour group for a side visited to Tendola, that was arranged with the help of George Watanabe, local spokesman for the Nisei. Several Italians were with them – Davide Del Giudice; Sergio Bondielli, Liaison Official to SETAF; Peter Maghelli, Civil Protection Officer of Montignoso; and Lido Galletto, former Commander in the World War II Muccini Partisan Brigade.
In the area where Hayashi had fallen, Kubota again performed oshoko and called out, Beanie! Beanie! – just as he had that fateful night. The silence that met his cries during the war echoed through the air almost sixty years later, but the land was now purified.
The ceremony gave peace not only to the soul of Beanie, but also to the conscience of Sadaichi. The circle of his existence was complete. After a short pause, the former Lieutenant told us quietly, Now I can die. Less than four months later, Kubota passed away.
For more information, visit: Tadao Hayashi (1924 – 1945) – Genealogy (geni.com)
Beanie's brother, Corporal Shuki Hayashi, served in the 442nd RCT, Cannon Company.
Researched and written by the Sons & Daughters of the 442nd Regimental Combat Team with assistance by Alan Kubota in 2021.