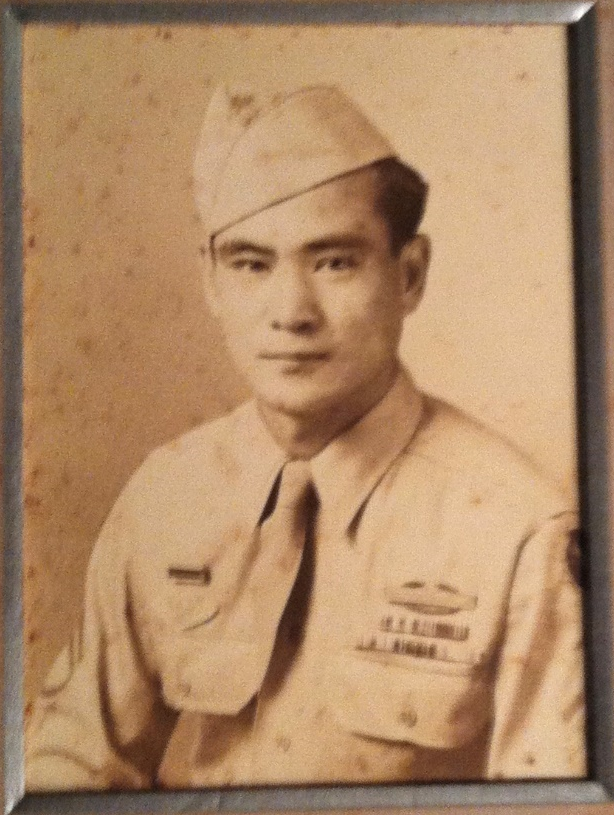 Takao Kubota
Staff Sergeant
442nd Regimental Combat Team
100th Battalion, C Company
Takao Kubota was born on June 1, 1919, in Waimea, Kauai, Territory of Hawaii. His parents were Kizo and Kikuko (Kittaka) Kubota. There were twelve children in the Kubota family: sons Akio, Shigeomi, Takao, Katsuro, Kiyoshi, Takashi, Matsumi, and Sueki; and daughters Atsuko, Tomiko, and Hisae.
Kizo arrived from Kamomura, Hiroshima Prefecture, Japan, on February 4, 1907, on the S.S. Siberia. By 1910, he was living at Camp 1 in Kihei, Maui, and working on a sugar plantation. Kikuko, also known as Kiku, arrived on April 6, 1911, on the Nippon Maru, from Fukuyamamachi, Fukayasu District , Hiroshima Prefecture. She arrived as a school teacher to join her husband in Kihei. By 1918, Kizo and Kiku had moved to Waimea, Kauai, where Kizo was a storekeeper/merchant.
In 1930, the family lived in Koloa and both parents were teachers at a Japanese school. While Takao was growing up, he was a member of the Boy Scouts Koloa Troop 91, played on the Kauai Pine Junior Football team, and participated in the Honolulu Star-Bulletin statewide home vegetable garden program for students. In 1934, Takao dropped out of high school after one year to work and help support his family.
By 1940, the family lived on Koloa Beach Road, the parents were retired, and the older children worked for the pineapple plantation. Takao worked in the fields, Atsuko in the cannery, and Shigeomi in the office as a bookkeeper.
Takao signed his draft registration card on October 16, 1940, Local Board No. 1, Hanapepe Armory, Kauai. He was living with his family in Koloa and was a student at Kalaheo Vocational School. He was 5'5" tall and weighed 125 pounds.
Almost two months later, he was among the 71 young Kauai men who were called for duty. He enlisted in the U.S. Army on December 10, 1940. The following day, the men were given a large sendoff from Pier 2 in Nawiliwili Harbor. The event was organized by the American Legion, the 30-piece Makaweli Band entertained, the Salvation Army provided coffee and doughnuts, and young ladies presented lei donated by various civic clubs. The new soldiers were given their final medical exam and all passed. They boarded an inter-island steamer for Honolulu, where they were taken to "Tent City" at Schofield Barracks. After thirteen weeks of combat training, Kubota was assigned to the 299th Infantry Battalion, Hawaii National Guard.
Soon after Takao completed his basic training, his father Kizo died in July 1941. Takao served in the 299th during 1941 and into 1942. His duties during this time included shoreline guard duty with a rifle, watching for any sea invasion of the islands.
On May 28, 1942, the military governor of Hawaii, Lieutenant General Delos C. Emmons, reorganized the men of the 298th and 299th into the Hawaii Provisional Infantry Battalion. This was by the direct order of General George C. Marshall, Chief of Staff of the Army. The 1,432 men of the Hawaii Provisional Infantry Battalion left Hawaii on June 5, 1942, on the S.S. Maui, and arrived on June 12 in Oakland, California, where the unit was designated the 100th Infantry Battalion (Separate). They then traveled by train to Camp McCoy, Wisconsin.
After training for six months at Camp McCoy, in January 1943, the 100th was sent to Camp Shelby, Mississippi, for additional training. They also underwent field exercises at Camp Claiborne, Louisiana. They left Camp Shelby on August 11, 1943, by train and arrived in Camp Kilmer, New Jersey, on August 13. On August 20 at midnight, orders were received for the unit to move by train to Brooklyn, New York. From there, they were ferried to Staten Island and they sailed on August 21 at dusk on the troop ship S.S. James Parker. Takao was listed on the manifest as a Corporal in First Platoon, Company F, 100th Infantry Battalion (Separate). The James Parker had recently been converted from a banana and tourist ship. Companies E and F were extra rifle companies that were authorized when the 100th was activated.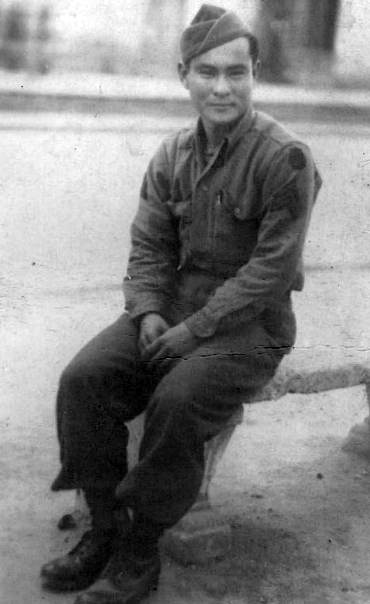 On September 2, 1943, the 100th landed at Oran, North Africa, and on September 8 was assigned to the 34th ("Red Bull") Infantry Division. On September 19, they left Oran, landed three days later on the beaches of Salerno, Italy, and began the march inland. Companies E and F were placed under Fifth Army control to guard airfields and supply dumps. Over the next eight months, the 100th saw heavy fighting and incurred many casualties. Thus, the "extra" E and F Companies were eventually deactivated as their men were absorbed into A, B, C, and D Companies to replace combat losses. At some point, Takao Kubota became a member of C Company.
Right: Sgt. Kubota in Italy
Takao's son told the following story about his father at Anzio on March 26, 1944.
In the 1980s, I had been playing tennis with a new friend, John Min, on Maui, when he asked me if my father was Takao Kubota. I said, "Yes," and John said my father had saved his uncle Kenneth Higa's life during World War II during the 100th Battalion's landing at Anzio Beach in Italy. The shelling was terrible and a group had gone out on a night reconnaissance and been hit. Upon their return, they told my father that Kenneth had died. When asked if they had seen Kenneth's body and checked if he was dead, they said, "No." My father, who was in charge of these men, went out by himself to look for Kenneth. He was walking around in the dark when he heard a moan. Apparently, he had stepped on Kenneth's hand. Kenneth's body was buried in rubble. He dug and pulled Kenneth out and carried Kenneth to the camp. Kenneth was severely injured and was shipped out to receive medical care. I had lunch with Kenneth who was a retired instructor who had taught at Kapiolani Community College. He had very little recollection of his own rescue but was grateful.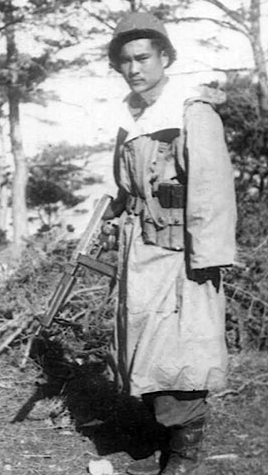 The 442nd Regimental Combat Team arrived in Italy on May 28, 1944, and the 100th Infantry Battalion was attached to it on June 11 as its first of three infantry battalions.
Left: Kubota in France, 1944/45
While in France during the Vosges Campaign in the fall of 1944, Staff Sergeant Kubota distinguished himself by his actions in the battles to rescue the Lost Battalion. After eight days of intense fighting, on October 24 the 100th and 3rd Battalions were pulled back for rest in Belmont. On the afternoon of October 26, they had their rest abruptly ended when they were ordered into the front lines the next morning – October 27 – to fight through to the surrounded men of the 1st Battalion, 141st (Texas) Infantry. The "lost" battalion had over-reached its support and become surrounded by the enemy.
Kubota was later awarded a Silver Star Medal for this action in a decoration ceremony for several medal recipients held in Menton, France, during the Rhineland-Maritime Alps Campaign. The citation reads:
The President of the United States of America, authorized by Act of Congress July 9, 1918, takes pleasure in presenting the Silver Star to Staff Sergeant Takao Kubota, United States Army, for gallantry in action while in service with Company C, 100th Infantry Battalion, 442d Regimental Combat Team, in action against the enemy near Biffontaine, France, on 28 October 1944. While a member of a four-man reconnaissance patrol charged with the mission of obtaining information on the disposition of the enemy, Sergeant Kubota moved under the cover of darkness around the enemy's left flank and to within ten yards of his position. Opening fire at point-blank range, the patrol caught the defenders completely by surprise, killing three of the enemy and forcing ten others to surrender. The information obtained by the patrol and the resultant weakening of the enemy's defensive positions proved of great value in the subsequent attack on the hostile forces. His gallant actions and dedicated devotion to duty, without regard for his own life, were in keeping with the highest traditions of military service and reflect great credit upon himself, his unit, and the United States Army.
Years later, Kubota had told the story of his Silver Star Medal to his son, whose account is:
My father said officials wanted to give him the Distinguished Service Cross for the action. But he asked them that they lower his commendation to a Silver Star and give the three other men in his patrol the same, which they did. So you might find three others with a Silver Star on October 28 with a similar description. Thing is, they might have died or been wounded, 'cause my dad said of the 23 who started in his platoon, only three including him returned at the end of the war. I've often wondered why there was no mention of this action. He said there was a whole bunch of other Germans captured while eating breakfast. A number of them escaped because the squad didn't want to give out their location while making it back to American lines.
Kubota served in all the campaigns of the 100th/442nd: Naples-Foggia and Rome-Arno in Italy, Rhineland-Vosges and Rhineland-Maritime Alps in France, and Po Valley back in Italy.
For his military service, Staff Sergeant Takao Kubota was awarded the Silver Star Medal, Bronze Star Medal, Good Conduct Medal, Asiatic-Pacific Campaign Medal, American Campaign Medal, European-African-Middle Eastern Campaign Medal with five bronze stars, World War II Victory Medal, Army of Occupation Medal, Combat Infantryman Badge, and Distinguished Unit Badge with oak leaf cluster. He was awarded the Congressional Gold Medal on October 5, 2010, along with the other veterans of the 100th/442nd Regimental Combat Team. This is the highest Congressional Civilian Medal.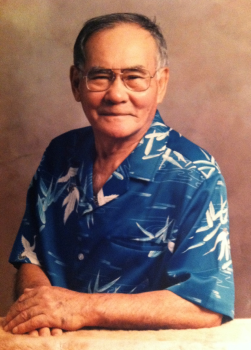 He was reported as being "on his way home" in the July 22, 1945, issue of the Honolulu Star-Bulletin, after 36 months of service in the European Theater of Operations.
Right: Kubota later in life
After the war, Kubota married Yoshie Inouye, the daughter of Sadaji and Shea Inouye of Lihue, Kauai, in Honolulu in February 1946. Over the years they raised a family of one son and three daughters. By 1950, the couple lived at 1451 Linapuni Street and Takao was an electrician at the Pearl Harbor Naval Shipyard. He was a member of the 100th Infantry Battalion Veterans Club.
Takao Kubota, a resident of Pearl City, died on January 3, 2001. His survivors included his wife, four children, and seven grandchildren. He was buried in the Hawaii Veterans Cemetery in Kaneohe, Section 48-E, Site 13. His wife died in 2007 and was buried with her husband.
Researched and written by the Sons & Daughters of the 442nd Regimental Combat Team with assistance by the family in 2022.