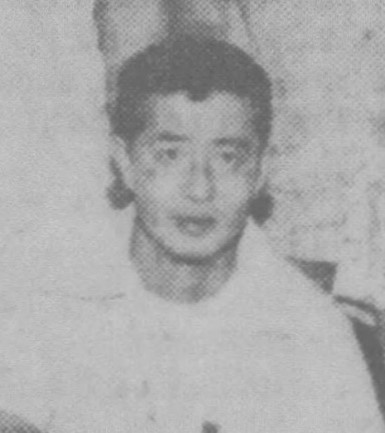 Takushi Sodetani
Private First Class
442nd Regimental Combat Team
2nd Battalion, Headquarters Company
Takushi Sodetani was born on March 25, 1924, in Wainee Village, Lahaina, Maui, Territory of Hawaii. He was one of five children of Magoichi and Mutsumi (Haioka) Sodetani. His siblings were: brothers Susumu and Kaigi, and sisters Mitsue and Matsue.
Father Magoichi had arrived on the S.S. Coptic on March 14, 1904, at the age of 15 years, 9 months. He was from Saiki, Hiroshima Prefecture, Japan, and was accompanied by his father, Jisaburo Sodetani. Magoichi first worked for a sugar plantation in Wailuku, Maui. By 1918, he was working as a carpenter for the Kahului Railroad. Mother Mutsumi was born in the village of Haki, Yamaguchi Prefecture, Japan. She arrived at the age of 19 on March 15, 1915, on the Shinyo Maru to meet her husband at Paia Plantation on Maui. She had been living with her husband's family in the village of Kono, Hiroshima Prefecture. Shortly after her arrival, on March 18 they were married at a Shinto church in Honolulu.
When Takushi was two years old, his father, Magoichi, died as the result of a tragic accident. He was a well-known carpenter at the Pioneer Mill Company. While working in the mill's power house, his back touched a live wire. The resulting fall on the concrete floor fractured his skull and he died in the hospital. Takushi's mother later worked at the pineapple cannery in Lahaina.
In 1930, Mutsumi and the children lived on Chapel Road, but by 1935 they lived in Wainee Village, a sugar plantation camp in Lahaina. His widowed mother was not working and the family was supported by his sister Mitsue, a pineapple cannery worker, and brother Kaigi, a laborer on the sugar cane plantation.
Takushi signed his draft registration card, Local Board No. 1, at Lahaina Courthouse, on June 30, 1942. He was a summer worker at the Pioneer Mill Co. Ltd., and was 5'5¾" tall and weighed 123 pounds. His mother was his point of contact and they lived in Wainee Village.
On March 23, 1943, Sodetani enlisted in the U.S. Army. He was sent with the other new soldiers to the "tent city" known as Boom Town at Schofield Barracks on Oahu. On March 28, he was among the 2,600 soldiers who were given a community farewell ceremony in front of Iolani Palace in Honolulu. They left on April 4 on the S.S. Lurline for San Francisco. Upon arrival, they were sent by train from Oakland to Camp Shelby, Mississippi, for training. He was assigned to 2nd Battalion, Headquarters Company of the 442nd Regimental Combat Team.
After a year of basic and specialized training and field maneuvers, the 442nd left Camp Shelby on April 22, 1944, for Camp Patrick Henry, Virginia. On May 2, they sailed for the Theater of Operations from nearby Hampton Roads in a convoy of over 100 ships.
On May 28, the 442nd arrived at Naples, Italy. After a week at a bivouac area in nearby Bagnoli, they left on LSTs for Anzio on June 6 where they marched five miles to a bivouac area. From Anzio, the 442nd went to a large bivouac area at Civitavecchia, north of Rome, where they went through additional training and final preparations for going to the front lines. The 442nd entered combat on June 26 near Suvereto in the Rome-Arno Campaign.
Sodetani fought in the battles of the 442nd in the Rome-Arno Campaign, driving the Germans north of the Arno River. The Combat Team was then withdrawn from the front lines to prepare to join the battle to liberate France from the Nazis. Arriving near Marseilles on September 27, they were held in a bivouac area in nearby Septèmes until October 9, and then convoyed 500 miles north to participate in the Rhineland-Vosges Campaign.
In October-November 1944, the 442nd liberated the important road junction of Bruyères, followed by Biffontaine and the famous "Rescue of the Lost Battalion" – the 1st Battalion of the 141st (Texas) Infantry Regiment that had advanced beyond its support, become surrounded by the enemy, and was unable to extricate itself.
Following the Vosges, Pfc. Sodetani next participated with the 442nd during the Rhineland-Maritime Alps Campaign in southern France from November 1944 to March 1945.
The 442nd returned to Italy on March 25, 1945, for the Po Valley Campaign, leading to the end of the war in May. Pfc. Sodetani was there during the occupation for several months.
For his wartime service, Pfc. Takushi Sodetani was awarded the Bronze Star Medal, Good Conduct Medal, European-African-Middle Eastern Campaign Medal with four bronze stars, World War II Victory Medal, Army of Occupation Medal, Distinguished Unit Badge, and Combat Infantryman Badge. He was awarded the Congressional Gold Medal on October 5, 2010, along with the other veterans of the 100th/442nd Regimental Combat Team. This is the highest Congressional Civilian Medal.
He returned to Hawaii from the war on December 17, 1945, one of 551 soldiers who arrived from San Francisco to Pier 26 at 8:00 a.m. on the troop ship USAT Aconcagua. Thousands of friends and family were there with lei and gifts to meet the soldiers, but were held back from the pier. The Army quickly loaded the men onto waiting busses and took them to the Army Separation Center at Fort Kamehameha for processing. They were then given time off with orders to return later for discharge.
Sodetani joined the 442nd Veterans Club and was an active member. On May 8, 1948, he represented 2nd Headquarters Company at the 442nd Veterans Memorial Service held at 7:30 p.m. at Honpa Hongwanji Mission at 1727 Fort Street. As in previous years, it was held on the third anniversary of V-E Day. Representatives of the nineteen chapters of the Veterans Club participated by chanting while offering incense. This was the first year the service was held at a Buddhist mission – previous years were at Christian churches. Priests from the five major Buddhist sects in Hawaii participated. The 442nd Chaplain, the Reverend Hiro Higuchi, was chairman of the Memorial and Welfare Committee, whose members acted as ushers. A capacity crowd of 1,500 attended. The order of service included a processional by the choir, an organ prelude by Amy Marutami, opening remarks by Reverend Higuchi, the sermon by Bishop Ryuten Kashiwa, and closing remarks by Reverend Newton Ishiura.
In April 1952, Takushi played in the 442nd Veterans Basketball League. The Veterans also sponsored a Bowling League, and Takushi was on the 2nd Headquarters/Universal Motors team. He was a consistently high scorer.
On August 23, 1952, Takushi married Yaeko Muriel Yamanaka in Honolulu. They settled at 1032 McCandless Lane and he was a private branch exchange installer for the Hawaiian Telephone Company. Over the years they raised a family of one son and two daughters.
Takushi was a member of the phone company's bowling team in the Honolulu Commercial League. In 1956 he was a member of the seven-man team that won the League's championship. In April 1961, he was among the first ten karate graduates in Hawaii when he completed training in the All-Japan Karate League.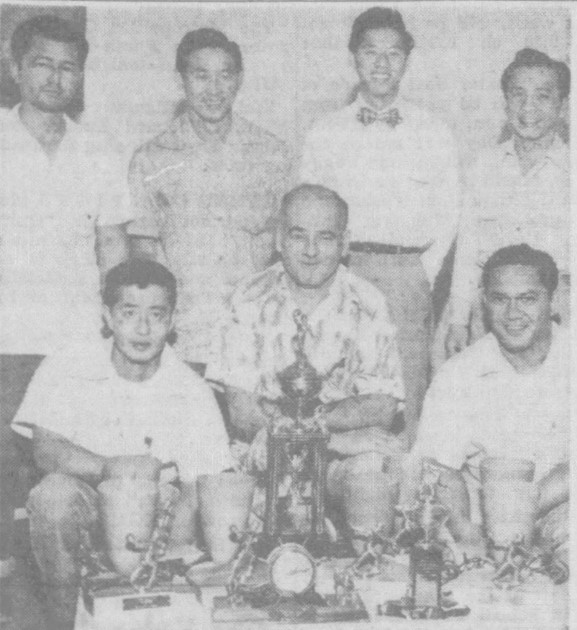 Sodetani, front row far left, on championship bowling team
His wife Muriel died on October 5, 2000. She was a retired jewelry setter for Stan Shinkawa Inc. Her memorial service was held at Hosoi Garden Mortuary. Takushi Sodetani died on September 20, 2015, in Waipahu. He was survived by a son, two daughters, four grandchildren, one great-grandchild, and one sister.
Researched and written by the Sons & Daughters of the 442nd Regimental Combat Team in 2022.