Ted Akira Teramae
Sergeant
442nd Regimental Combat Team
2nd Battalion, H Company
Akira Teramae was born on April 23, 1920, in Onomea, Hawaii island, Territory of Hawaii. He was the son of Kunizo and Haruno (Maeda) Teramae. His siblings were: brothers Herbert Taketoshi, Derek Takashi, Hiro, and Robert Sueo; and sisters Shizuko (died in infancy), Takekaju (died of infantile beriberi), Ayako (died in Japan in childhood), and Blanche Rikiyo.
Kunizo and Haruno were married in 1904 and emigrated two years later from Mibu-machi, Hiroshima Prefecture, Japan, to the Territory of Hawaii. Kunizo arrived on December 19, 1906, on the Kusuho Maru and Haruno arrived later.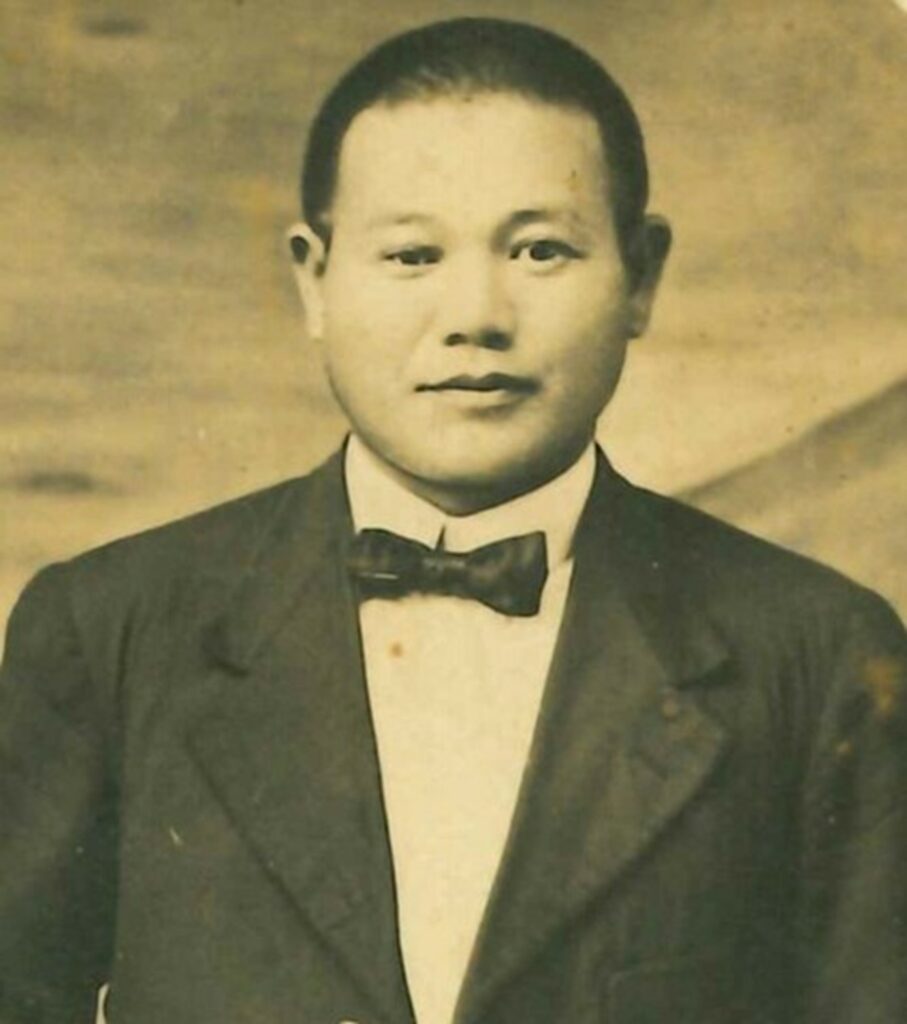 Akira grew up in Onomea and attended Holualoa School. His father initially worked as a laborer on the sugar cane plantation. Kunizo became a Buddhist priest and one of the founders of the Koboji Shingon Temple in Kapaau, where he ministered to local workers from 1924 onward. A Buddhist priest gave him a new name – Kodo. By 1930 they were living in Kaumalumalu Camp in north Kohala. Haruno worked on a coffee farm.
Ted's father, Reverend Kodo Teramae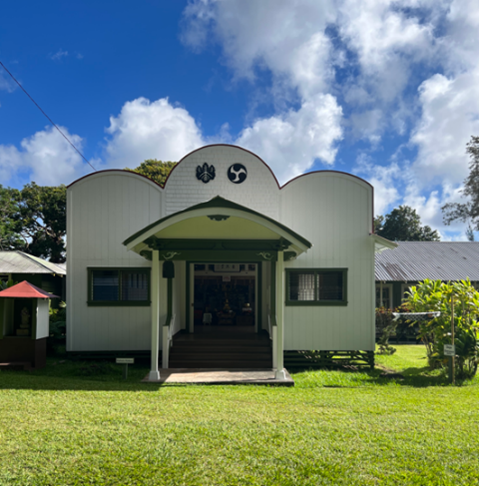 Left: Koboji Shingon Temple, restored in 2022
In 1932 Akira was one of the 5th-grade students who participated in the Honolulu Star-Bulletin island-wide school garden project. His monthly letters to the newspaper were among those printed – saying his group had an acre of land about 300 yards from their school building, they divided it into eleven plots for their eleven groups of four boys each. They planted beans, carrots, peas, radish, lettuce, tomatoes, daikon, cabbage, and some lima beans. They had their vegetables in three beds, which they were hoeing in order to make more beds. "We all work hard," he noted. That July, he graduated from the Elementary Department at Holualoa Japanese Language School.
On February 12, 1936, the family moved to Honolulu, where Akira attended Washington Intermediate School, and also the McCully Japanese Language School. In 1939 he was a member of their Alumni Association and elected Sergeant at Arms. He attended McKinley High School for three years.
In 1940, Ted was living with his family at 2311 Lime Street and working as a packer at the pineapple cannery and for a while as a driver for Honolulu Rapid Transit.
Ted Akira signed his draft registration card on July 1, 1941, Local Board No. 1 in Honolulu. His point of contact was his father, they lived at 2311 Lime Street, and he was employed by Von Hamm-Young Co. Ltd. on Kapiolani Boulevard, where he was a clerk in the Electrical Department. He was 5'7" tall and weighed 185 pounds. On his left index finger there were two 1-inch scars about 1½" apart. On March 28, 1942, he and Yukie Nakashima of 703 South King Street applied for a marriage license; they soon married, but divorced six months later, on September 22.
On March 24, 1943, Ted Teramae enlisted in the U.S. Army. At the time, he had completed three years of high school and his civilian occupation was listed as "Semiskilled machine shop and related occupations." He was sent with the other new soldiers to Boom Town, the "tent city" at Schofield Barracks. On March 28, they were given a community aloha farewell ceremony at Iolani Palace, prior to leaving on the S.S. Lurline on April 4 for California.
The 442nd arrived in San Francisco and boarded a train for their trip to Camp Shelby, Mississippi, for basic and combat training. Ted was assigned to 2nd Battalion, H Company, 442nd Regimental Combat Team. After a year of training, on April 22, 1944, the 442nd left Camp Shelby for Camp Patrick Henry, Virginia. On May 2 they departed from nearby Hampton Roads in a convoy of over 100 ships bound for the Theater of War.
Once they arrived in the Mediterranean, the ship that carried most of the 2nd Battalion left the convoy and headed for port in Oran, Algeria. After offloading cargo, they rejoined the regiment in Naples, Italy, on June 17. The rest of the 442nd had arrived on May 28 and was by then in bivouac at Bagnoli. Second Battalion followed the same route. They then went to a larger bivouac near Civitavecchia, about fifty miles north of Rome.
The 442nd entered combat on June 26, 1943, near Suvereto in the Rome-Arno Campaign. For the next few months they pushed the Germans north along the Italian peninsula. During this time, Teramae was wounded on July 11 during the several days of battle to liberate Pastina. On September 27, the 442nd was sent to France to participate in the Rhineland-Vosges Campaign. Teramae participated in the liberation of Bruyères and the rescue of the "Lost Battalion" – the 1st Battalion, 141st (Texas) Infantry, that had advanced beyond its supply lines and was surrounded by the enemy. Teramae was wounded again in France, treated, and returned to his company.
After the fierce fighting in the Vosges, the depleted ranks of the 442nd were sent to the south of France to participate in the Rhineland-Maritime Alps Campaign, which was mostly a defensive position guarding the border with Italy.
On March 20 to 22 the 442nd (minus the 522nd Field Artillery Battalion) left France for Italy for combat in the Po Valley Campaign. The objective of the 442nd was to participate in a surprise diversionary attack on the western anchor of the German Gothic Line. This elaborate system of fortifications had been attacked in the fall of 1944, but no one had yet been able to pry the Germans loose from the western end. The Gothic Line in this area was hewn out of solid rock, reinforced with concrete, and constructed to give all-around protection and observation. The Germans were dug into mountain peaks rising almost sheer from the coastal plain, bare of vegetation save for scanty scrub growth.
The Combat Team left their staging area and moved to a bivouac at San Martino, near the walled city of Lucca. Starting on April 3, the 442nd conducted a surprise attack on the Germans at Mount Folgorito. By April 6 the 2nd Battalion had gained the ridge of Mount Folgorito and was poised for an attack on Mount Carchio and Mount Belvedere to the north, the peak that looked down on the city of Massa. By noon, F Company had reduced Mount Carchio while the rest of the 2nd Battalion began working on the wide, rolling top of Mount Belvedere, which was defended by the veteran troops of the crack Machine Gun Battalion Kesselring. The enemy battered the attackers with a steady stream of mortar fire.
Sergeant Ted Akira Teramae was wounded in action for the third time at Mount Belvedere on April 8, 1945. He was taken to an aid station with a bullet wound in the abdomen and given a transfusion of blood. He died and was buried in the U.S. Military Cemetery at Castelfiorentino in Section Y, Row 71, Grave 3444.
The Teramae family held a memorial service for Ted at the Shingonshu Mission on Sheridan Street in Honolulu on April 27, 1945, at 1:30 p.m. During the last week of June he was posthumously awarded the Purple Heart Medal at a private ceremony held at his home. Chaplain Corwin H. Olds of the Central Pacific Base Command made the presentation to Sgt. Teramae's mother as his father had died the previous year. He was later awarded the Silver Star Medal. The medal citation reads:
Headquarters, 92nd Infantry Division, General Orders No. 74, September 6, 1945. The President of the United States takes pride in presenting the Silver Star Medal (posthumously) to Ted Akira Teramae, Sergeant, U.S. Army, for conspicuous gallantry and intrepidity in action against the enemy while serving with Company H, 2nd Battalion, 442d Regimental Combat Team, attached to the 92nd Infantry Division. On the night of 8 April 1945, in the vicinity of Mount Belvedere, Italy, Sergeant Teramae's machine gun squad sector was in danger of being overrun by an enemy patrol. Sergeant Teramae, without thought of personal risk, stood up and fired his submachine gun. Then he ran to the right to draw hostile fire away from his own men. A concentration of enemy fire fatally wounded him, but he continued firing until he could no longer stand. Sergeant Teramae's actions enabled his men to drive off the 16-man enemy patrol. His high courage exemplified the heroic tradition of the United States Army
In addition to the Silver Star Medal, Sergeant Ted Akira Teramae was awarded the Bronze Star Medal, Purple Heart Medal with two oak leaf clusters, Good Conduct Medal, European-African-Middle Eastern Campaign Medal with four bronze stars, World War II Victory Medal, Distinguished Unit Badge with two oak leaf clusters, and Combat Infantryman Badge. Ted was awarded the Congressional Gold Medal on October 5, 2010, along with the other veterans of the 100th/442nd Regimental Combat Team. This is the highest Congressional Civilian Medal.
In 1947, families of the fallen were given the option of having their loved one remain at one of the large American military cemeteries overseas or being returned home for reinternment. Ted's family chose to have his body returned home. His remains were among 134 others in the first group of war dead to arrive in Hawaii. On April 21, 1949, his remains arrived on the USAT Jack J. Pendleton at Honolulu Harbor's Kapalama Basin. There was a brief ceremony attended by hundreds of family and friends. The Secretary of Hawaii, Oren E. Long, gave a brief address and three military chaplains, Edwin L. Kirtley, J.E. Johnson, and Hiro Higuchi of the 442nd, offered prayers. The 264th Army Band provided music. Teramae's casket was taken to the Army Mausoleum at Schofield Barracks pending funeral arrangements. Sgt. Teramae was reburied in the National Memorial Cemetery of the Pacific at Punchbowl at 3:00 p.m. on July 27, 1949, Plot D, Site 89.
Ted's younger brother Derek Takashi Teramae served in the Military Intelligence Service (MIS) during World War II.
Visit this link for more information on the Kohala Koboji Shingon Temple:Kohala Koboji Mission Revitalized With Preservation Grant – Historic Hawaii Foundation