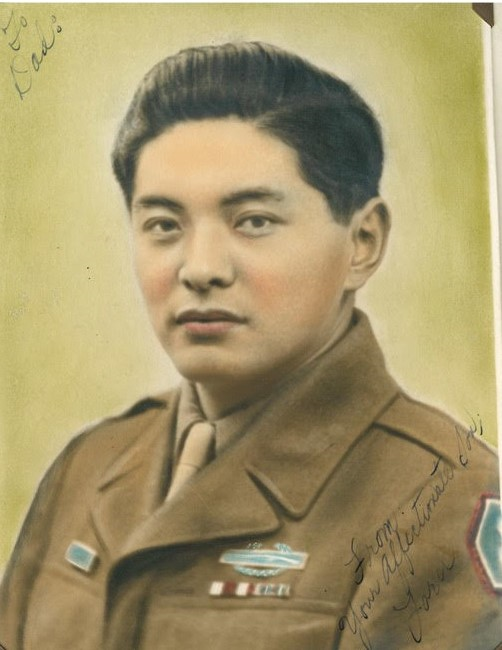 Toru Wilson Koga
Technician 5th Class
442nd Regimental Combat Team
100th Battalion, D Company
Toru Wilson Koga, known as Tom, was born May 3, 1921, in Gilroy, California. He was the son of Joe Shinma and Masu (Kugamata) Koga. Joe was born on the island of Kyushu, Japan, and arrived in Washington State from Victoria, British Columbia, Canada, on July 26, 1905. He was living in Pomeroy, eastern Washington, when he went to Seattle in 1910 to marry Masu, who had just arrived from Japan. They later moved to California, where Joe was the owner/proprietor of a restaurant. Toru was one of twelve children (seven sons and five daughters).
Tom's mother Masu died September 1, 1941, and was buried in Gavilan Hills Memorial Park, in Gilroy.
On February 14, 1942, Tom signed his draft registration card in Santa Clara County, Local Board No. 113. At the time he was age 20, living with his family at 139 South Monterey Street in Gilroy, employed at the Togo Restaurant, and 5'6" tall, 175 pounds.
On July 1, 1942, Tom and his family were evacuated from their home by government orders and sent to the WCCA Salinas Assembly Center prior to being sent to the Colorado River War Relocation Center (also called Poston) in Yuma County, Arizona. Internment camp records indicate he had never been to Japan and had not attended Japanese language school. The records also show that he had worked in restaurants and aspired to work in the field of athletics – as an instructor, athlete, or official.
He was released from Poston to enlist in the U.S. Army on June 18, 1944, in Phoenix, Arizona, and on August 4, he was sent to Fort Douglas, Utah for enlistment into the Army. [Note: Fort Douglas was the major Army induction center in the West.]
After basic training, Tom was sent to join the 442nd in Italy as a replacement to D Company. After participating in the Po Valley Campaign, he remained in Italy after V-E Day (May 8, 1945) and was part of the occupation forces stationed in Livorno.
On December 27, 1946, Koga was discharged from the U.S. Army at the 52nd Medical Base Depot in Livorno as a Tec/5. He reenlisted immediately and made the Army his career.
For his wartime service Technician Fifth Grade Toru Wilson Koga was awarded the Bronze Star Medal with one oak leaf cluster, Good Conduct Medal, European-African-Middle Eastern Campaign Medal with one bronze star, World War II Victory Medal, Army of Occupation Medal, Combat Infantryman Badge, and Distinguished Unit Badge. Tec/5 Koga was awarded the Congressional Gold Medal on October 5, 2010, along with the other veterans of the 100th/442nd Regimental Combat Team. This is the highest Congressional Civilian Medal.
Tom was married on April 19, 1947, in Livorno to Bianca Rosa Soresina (born August 3, 1913, in Carpi, Modena Province, Italy). Their first posting was to San Francisco. On September 15, she arrived in New York on the troop ship USAT Blanche F. Sigman. Over the next 20 years, Tom was stationed at various posts, including Japan, Germany, Italy, France, and England.
On July 10, 1950, he was awarded the Bronze Star Medal for his "exemplary conduct in ground combat against the armed enemy" in the Po Valley Campaign on April 23, 1945, as a Private First Class in the 442nd RCT.
On January 3, 1952, he received a Letter of Commendation for his service as Unit Supply Sergeant, Supply Branch, Letterman Army Hospital, San Francisco, California. On February 19, his wife Bianca became a U.S. citizen at the District Court in San Francisco. They were living at 2228 Union Street, Apt. 106. They had no children.
He received a Commendation Ribbon with Metal Pendant for his service from January 1, 1953, to July 27, 1954, as Unit Supply Sergeant, Administrative Detachment, 8122nd Army Unit, Headquarters Far East and UN Command, Tokyo, Japan. He was cited for his "mature judgment, integrity, and devotion to duty" and his "conscientious endeavors, keen sense of responsibility, and exemplary efforts." His Unit Supply Room was considered one of the best in the Far East Command. On December 10, 1955, he completed the Sixth Army Area Advanced Leaders Course and received the Certificate of Training at Fort Ord, California.
On February 5, 1957, he and his wife Bianca left the US as he had orders to Stuttgart, Germany. At some point during or after this posting to Germany, he and Bianca divorced.
In early 1958, he was stationed at Fort Sill, Oklahoma. Upon his transfer in August, he received a Letter of Appreciation for his service there as the Records and Supply NCO (Non-Commissioned Officer). He was cited for "great strength of character and moral integrity" and "unselfish attitude and strong devotion to duty."
Right: Koga in post-War years
From February 5, 1960, to October 15, 1964, Koga was a Sergeant First Class stationed at Verona, Italy, with the Southern European Task Force, 4th Log Command, Transportation Division. He served successively as transportation supply sergeant, chief of the material and maintenance branch, and subsequently as Sergeant Major of the division. For his work there, he received the Army Commendation Medal, 1st oak leaf cluster. He was cited in a Letter of Appreciation on March 29, 1961: "Your initiative and dependability have proven to be of the highest caliber." On May 27, 1963, his Commanding Officer commended him by saying "your ability to grasp a situation, analyze it, and do something aggressive about it" had created their excellent supply and maintenance team. He went on, "Your character, morals, honesty, and integrity are beyond reproach. Due to your personal behavior, intelligence, and understanding, all who know you, be they junior enlisted men, officers, DACs, or local foreign employees, have the highest regard for you."
By 1966, Koga was stationed at Headquarters, U.S. Army Depot Complex, Western France, and for his service there he received a Letter of Appreciation on August 3.
In the late 1960s, Tom was stationed at Burtonwood Army Depot, U.S. Communications Zone, Europe, located in Cheshire.  He received the Army Commendation Medal (2nd oak leaf cluster) for his work between January 15, 1967, to March 31, 1969, where he led a contingent of military and civilian personnel composing the advance party of the U.S. Army Marine Fleet Activity for the relocation from France to England.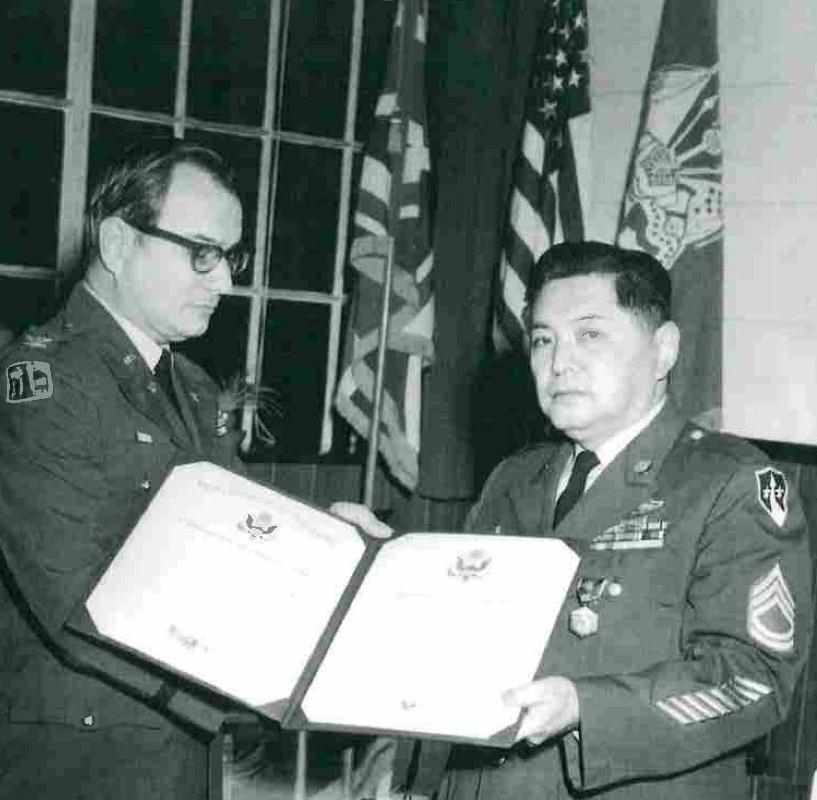 He was instrumental in establishing the operating base at Hythe for the successful receipt and storage of 120 marine craft from France (Hythe is located southwest of Southampton).  He was serving as the NCO-in-Chief.  On August 26 he also received a Letter of Appreciation for his work there.
Left:  Koga at his retirement, 1969
Toru W. Koga retired from the U.S. Army on December 31, 1969, with over 25 years of service. At his retirement, he was 5'7" tall, 185 pounds. The post-WWII medals that he was awarded were the Army Commendation Medal with two oak leaf clusters, National Defense Service Medal with one oak leaf cluster, Korean Defense Service Medal, and United Nations Service Medal.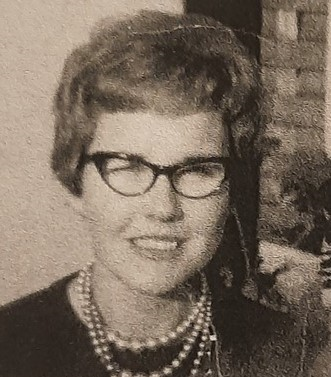 The following year, during the last quarter of 1970, he married Christine Vera Chatfield (born 1920) in Southampton, England.  They had met while both were working at the U.S. Army site at Hythe.  Vera had one daughter, Anne Chatfield.  Anne married Graham Woodhead and had sons Adrian, Steven, David, and Phillip.
Right:  Christine Chatfield Koga in 1970s
On November 28, 1973, Toru Wilson Koga died of cardio-pulmonary arrest and intra-cerebral hemorrhage at Western Hospital in Southampton. He was cremated on December 4. His last US address was that of his sister, Mrs. M. Yee, 8215 E. Lake Knoll Drive, San Gabriel, California. His wife Christine Vera Koga died on May 12, 2008, in Southampton.
Researched and written by the Sons & Daughters of the 442nd Regimental Combat Team in 2021 with assistance by step-grandson Adrian Woodhead.