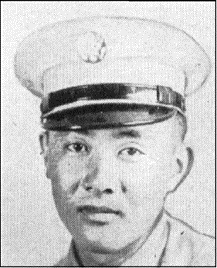 Toshio Higa
Corporal
442nd Regimental Combat Team
3rd Battalion, Headquarters Company
Toshio Higa was born in Honolulu, Territory of Hawaii, on September 17, 1921. He was the son of Shintei and Tsuru (Miyasato) Higa. His parents arrived from Yafusa, Okinawa Prefecture, Japan, in 1915 and 1917, respectively. His father worked at the Hawaiian Pineapple Co. in Iwilei, Honolulu, but later became a successful self-employed building contractor. Toshio's mother died when he was 11 years old. Five years later his father remarried Kimiko Okawa.
Toshio was educated at Waikiki School, Kuhio School, Washington Intermediate School, and McKinley High School. His siblings were David Kiyoshi and Caroline Emiko Higa. In the 1940 Federal Census, Toshio was living at 3073 Noeia Drive, the home of Randolph Crossley, President of the Hawaiian Pineapple Company (cannery). He was their gardener.
Higa registered for the draft on June 20, 1942, at Local Board No. 3, at the National Guard Armory, Honolulu. His father, whose address was 2675 Kapiolani Boulevard, was listed as next of kin. He was 5'4" tall and weighed 135 pounds. He was employed by Castle & Cooke Terminals and his address was 2455 South King Street.
Toshio volunteered and was enlisted in the U.S. Army at Schofield Barracks, Oahu, on March 24, 1943.  On March 28, he was among the men given a community farewell ceremony at Iolani Palace.  He left with the other new inductees for San Francisco on the S.S. Lurline on April 4.
After a train trip across the country to Camp Shelby, Mississippi, he was assigned to 3rd Battalion Headquarters and began Basic Training on May 10.  On August 23, training concluded and the men were given furloughs for visits to New York, Baltimore, Washington D.C.
On October 20, 1943, unit training began for platoons and companies and lasted about one month. During this time, he was among many 442nd soldiers who received a promotion in rank – he was promoted to Corporal, as reported in the Hilo Herald newspaper on November 20.
In November, Cpl. Toshio Higa was admitted to the U.S. Army Hospital at Camp Shelby with respiratory symptoms that developed into meningitis. The diagnosis was meningitis cerebrospinal and meningococcal. He died on November 15, 1943, and was buried at Mobile National Cemetery, Mobile, Alabama.
In 1949, his body was returned to Honolulu. On July 28 he was one of 20 war dead to be buried at the National Memorial Cemetery of the Pacific at Punchbowl. His burial was at 9:30 a.m. in Section D, Site 255. On January 31, 1950, his tombstone was ordered from West Chelmsford, Massachusetts.
For his military service, Toshio Higa was awarded the World War II Victory Medal. He was awarded the Congressional Gold Medal on October 5, 2010, along with the other veterans of the 100th/442nd Regimental Combat Team. This is the highest Congressional Civilian Medal.
Original Biography prepared by Americans of Japanese Ancestry World War II Memorial Alliance, and provided courtesy of Japanese American Living Legacy (http://www.jalivinglegacy.org/)
Researched and rewritten by 442nd S&D 6/11/2021.