Victor Katsu Hada
Private First Class
442nd Regimental Combat Team
3rd Battalion, K Company
Victor Katsu Hada was born in Fort Lupton, Colorado, on July 22, 1921. He was the son of Karoku and Nakako (Koga Nakamura) Hada. Karoku emigrated from Hiroshima Prefecture, Japan, in 1898. Nakako arrived in 1910, from Fukuoka Prefecture. Her maiden name was Koga, but her surname at the time of her marriage to Karoku was Nakamura. Victor had three brothers: Isamu, Susumu, and Mamoru John; and two sisters: Miyako Ruby and Kaname June.
In the 1910 Federal Census, Karoku was single, living in Denver, and the chief clerk in a general store. By the 1920 Federal Census, he had married and was living in Fort Lupton, north of Denver, where he was the manager of a general store. By 1937, his parents had moved to Watsonville, Monterey County, California, and were retired.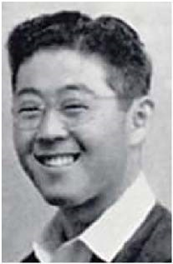 Katsu Hada was a senior at Fergus Falls High School, Fergus Falls, Minnesota, in 1940 (Photo – right). It is unknown how or why he was in Minnesota. He apparently returned to his parents' home in Watsonville in time to graduate from Watsonville Joint Union High School in 1941.
Hada again went east after high school, as he was living at and employed by the YMCA on N. Michigan Avenue in Saginaw, Michigan when he registered for the draft on February 16, 1942, Local Board No. 3. He listed his father Karoku of 18 Porter Drive, Watsonville, California, as his point of contact. He was 5'6" tall and weighed 153 pounds.
Before the evacuation of Japanese Americans from their homes in the spring of 1942, the Hada family moved back to Colorado. Victor remained in Saginaw until sometime the first half of 1944 – as he was listed in the City Directory, address 220 N. Michigan, occupation "chicken sexer" (an important job in the poultry business). He returned to Colorado for his induction into the Army at Fort Logan, Colorado, on June 9, 1944, as a resident of Weld County, Colorado. His civilian occupation was "Technical Agriculture." He was sent to Camp Shelby, Mississippi for basic training as part of the 442nd RCT.
At some point his family was interned in the Poston WRA Relocation Camp in Yuma County, southwest Arizona. They lived in Block 14.
On October 3, 1944, Victor Hada married Irene Aiko Yonemura at the First Presbyterian Church in Peoria, Illinois. After a trip to visit their parents in Arizona and Idaho, Mrs. Hada returned to Peoria, Illinois, where she was employed in the public library, and Victor returned to Camp Shelby. Mississippi.
Hada left Camp Shelby in October 1944 for the European Theater of Operations. He was among the 382 replacements that arrived in the Vosges Mountains on November 18, after the devastating casualties from the battles during October and November, including Bruyeres, Biffontaine, and the rescue of the Lost Battalion. On November 17, the 442nd had received orders to proceed to Nice in southern France. On November 19, the Combat Team loaded onto trucks for the long drive. Even with the replacement soldiers, the unit was only at about half-strength.
Victor participated in the Rhineland-Maritime Alps Campaign from late November 1944 to mid-March 1945, when the 442nd was transferred to General Mark Clark's Fifth Army for participation in the Po Valley Campaign in northern Italy. They left from a staging area in Marseilles in relays on March 17, 18, and 19. They then boarded LSTs on March 20, arriving in Pisa on March 25. The Combat Team's presence in Italy was a closely-kept secret as their mission was to crack the western anchor of the German's Gothic Line, an elaborate system of fortifications hewn out of solid rock and reinforced with concrete. The enemy's positions were built for all-around protection and observation.
On March 28, the Combat Team left their Pisa staging area and moved to a bivouac at San Martino, near the walled city of Lucca. The move was made in absolute secrecy and under cover of darkness. While in bivouac, they went through more training – with the new replacements who had seen little or no combat, practicing small-unit problems with their squads and platoons far into the night.
On April 3 at 7:45 p.m., the 3rd Battalion moved under cover of darkness to a forward assembly area in the small town of Azzano on Mount Cavallo. This climb required five hours under full equipment, and a misstep meant a fall of anywhere between 15 to 150 feet down the mountainside.
On April 4, Pfc. Hada's 3rd Battalion remained hidden in houses and olive groves. That night I and L Companies, and the machine-gun platoon of M began the climb up Mount Folgorito at 10:00 p.m. They arrived about 5:30 a.m.; and attacked at dawn. By 7:30 a.m. the ridgeline was secure. Gun positions were taken almost without a struggle due to the complete surprise the Combat Team had accomplished.
On April 5, Pfc. Hada's K Company left Azzano, and started for Mount Folgorito during daylight hours. German forces laid in a barrage of 120mm mortar fire on the column of soldiers. Pfc Victor Hada was mortally wounded, while attempting to rescue a fellow soldier during this attack. He died on Mount Folgorito near Vallecchia, Italy.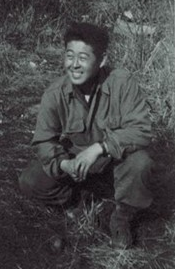 For his military service, Private First Class Victor Katsu Hada was awarded the Silver Star Medal, Bronze Star Medal, Purple Heart Medal, Good Conduct Medal, American Campaign Medal, European-African-Middle Eastern Campaign Medal with two bronze stars, World War II Victory Medal, Distinguished Unit Badge, and Combat Infantryman Badge.  Victor Hada was awarded the Congressional Gold Medal on October 5, 2010, along with the other veterans of the 100th/442nd Regimental Combat Team.  This is the highest Congressional Civilian Medal.
Photo left: Pfc. Hada in Italy
Following is the citation for his Silver Star Medal.
For conspicuous gallantry and intrepidity in action against the enemy…near the vicinity of Azzano, Italy on 5 April 1945. When a member of his squad was wounded in a heavy mortar concentration, Private First Class Hada, motivated by his selfless devotion to his comrades, left his covered position and sought to rescue the man, although he had to crawl through the impact area to do so. In his gallant attempt, he was mortally wounded. His sacrifice of his own life in an attempt to aid his comrade is in the highest tradition of the United States Army and is deserving of highest praise.
Private First Class Victor K. Hada was interred in the U.S. Military Cemetery at Castelfiorentino, Italy, Plot Y, Row 63, No. 3339. He was survived by his wife, Irene, his father, Karoku Hada, brothers Susumu and Mamoru, and sister June Kaname.
In 1948, the remains of Americans buried overseas began slowly to return to the US, if the family so wished. Victor's family had him brought home.
On November 22, 1948, he was interred at Arlington National Cemetery, Arlington, Virginia, Section 12, Site 5188.
Victor Hada's brother Susumu Hada served in the MIS as an interpreter in the South Pacific during World War II.
Original Biography prepared by Americans of Japanese Ancestry World War II Memorial Alliance, and provided courtesy of Japanese American Living Legacy (http://www.jalivinglegacy.org/).
Researched and rewritten by the Sons & Daughters of the 442nd Regimental Combat Team in August 2021.