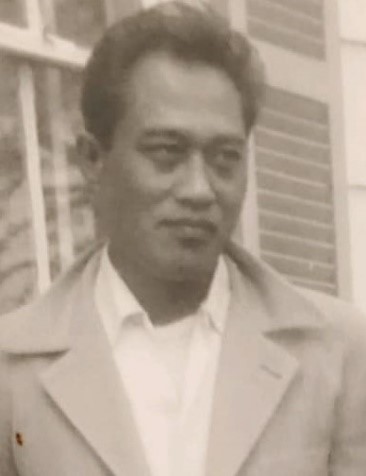 Walter K. Holokai
Staff Sergeant
442nd Regimental Combat Team
Headquarters Company
Walter K. Holokai was born on July 17, 1918, in Peahi, Maui, Territory of Hawaii. He was one of the twelve children of Native Hawaiians Harry Hoopii Naniho and Hattie (Honokaupu) Holokai. His siblings were: brothers Joseph Keo, George K., James Kaahanui, Clarence Naniho, Harry, and Abel; and sisters Julia Kalama, Lillian Lilia, Nancy Moliana, Cecilia, Elizabeth, and Dorothy Moelani. His father's name was also given as Holokai Hoopii Naniho.
In 1920, the family lived in Peahi, where Holokai worked on a pineapple plantation. In 1930, Holokai worked for the Maui County Roads Department. Also living with the family were granddaughter Momi and James' wife and two children.
By 1938, Walter had moved to Honolulu, where he was living at 584-K Circle Lane with his brother George and family. He was employed as a pole and line worker by Hawaiian Electric Company (HECo), and was a member of their softball league.
Walter enlisted in the U.S. Army on October 14, 1940, and was in the 299th Infantry, Headquarters Company, at Schofield Barracks. In December that year, he was promoted to Staff Sergeant. During his National Guard service in Hawaii, he was awarded expert ranking in carbine, sharpshooter in '03 rifle and pistol, and sharpshooter in heavy machine gun. In August 1941, he was stationed at Wailua, Kauai. He was back on Oahu and present at Pearl Harbor on December 7, 1941, when it was attacked by the Japanese.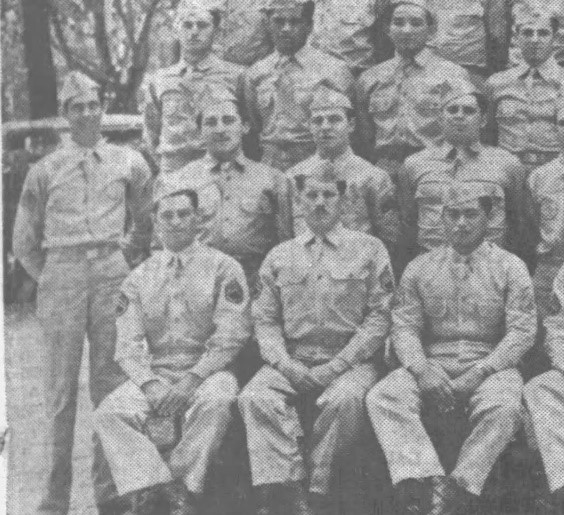 S/Sgt. Walter Holokai, 299th Infantry (front row right), December 1940
In July 1943, S/Sgt. Walter Holokai was transferred to the 66th Infantry Division, the "Fighting Panthers." The 66th had been activated on April 15, 1943, and were at the time in basic training at Camp Blanding, Florida. They then transferred to Camp Robinson, Arkansas, and Camp Rucker, Alabama, prior to being shipped to England in November and December 1944.
While at Camp Robinson in early 1944, Pfc. Ike Cheroff of the 66th was on the sports staff of the Army news sheet. On April 13, he wrote an article about a former fellow soldier, "Sarge" Walter Holokai, who by that time was with the 442nd RCT Headquarters Company wire section and preparing to leave Camp Shelby for the European Theater. Holokai was considered "tops" and "aces high" with the men in his section. Cheroff sent a copy of his article to Holokai's brother George in Hawaii, who shared it with the Honolulu Star-Bulletin.
The article stated that S/Sgt. Walter Holokai was like a heroic character from a story book. He "packs the punch of Jack Dempsey" and had mastered the fine art of all types of fighting. He was an instructor in judo and jungle warfare, and excelled at swimming, diving, surf fishing, basketball, football, volleyball, and motorcycles. He also had mastered the ukulele, guitar, saxophone, bass fiddle, and other orchestral instruments. His maxim was: "Keep punching with hell's fire to the Axis."
S/Sgt. Walter Holokai served with the 442nd in its campaigns in Italy and France.
For his wartime service, Staff Sergeant Walter K. Holokai was awarded the following: Good Conduct Medal, American Defense Medal, American Campaign Medal, Asiatic-Pacific Campaign Medal, European-African-Middle Eastern Campaign Medal, and World War Victory Medal.
Walter was discharged on January 13, 1946, and went to Baltimore, Maryland. He signed a draft registration card on March 18, 1946, Local Board No. 18, in Baltimore. His address was 1701 West North Avenue. He listed no point of contact nor employer, nor did he sign the card. At the time, he was 5'7" tall and weighed 165 pounds.
On October 26, 1946, Walter flew on a Pan American Airways aircraft/Naval Air Transport Service flight from Los Angeles, California, to Honolulu to visit his family. On the manifest, he was listed as age 29, employed as a barber, 150 pounds weight, and one piece of baggage weighing 41 pounds.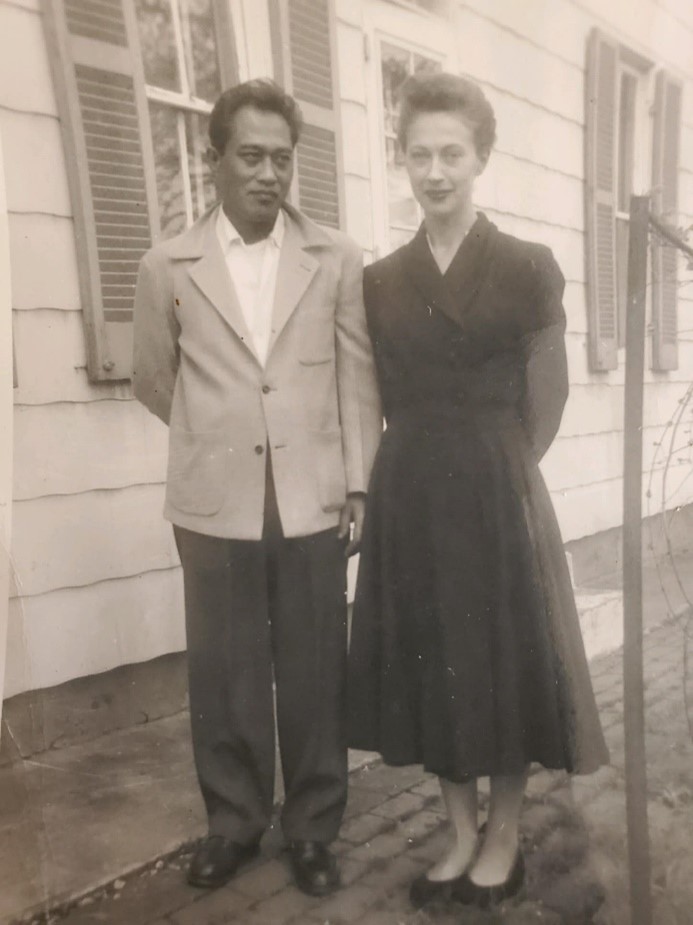 Walter returned to Maryland where he married Ethel May White in 1954. They remained in Baltimore and over the next ten years they had a family of two sons and two daughters. He formed a group of musicians and dancers in 1956 – Walter Holokai his Hawaiian Group and also Walter Holokai and his Hawaiian Revue. They performed at local venues in the late 1950s and 1960s.
Walter and Ethel in 1954
Walter Holokai died at the age of 48 on July 5, 1966, in Maryland. At the time, he lived at 1813 Aberdeen Road. He was buried on July 8 at Baltimore National Cemetery, Section H, Site 1024. He was survived by his wife, Ethel, two sons and two daughters, his sister Nancy Lum and brother George, both of Honolulu, brothers Clarence and Harry, and sisters Julia Johnson, Dorothy Matsukado, and Elizabeth Kaholokula. On February 13, 1967, Ethel M. Holokai died in Baltimore and was buried with her husband.
His son later recalled that Walter was "primarily a musician, playing ukulele, guitar, piano, and tenor sax. By day he was an auto worker. He left a legacy of guitar that my brother and I continue to this day."
Researched and written by the Sons & Daughters of the 442nd Regimental Combat Team in 2023 with assistance by his son, Walter K. Holokai, Jr., who is a member.