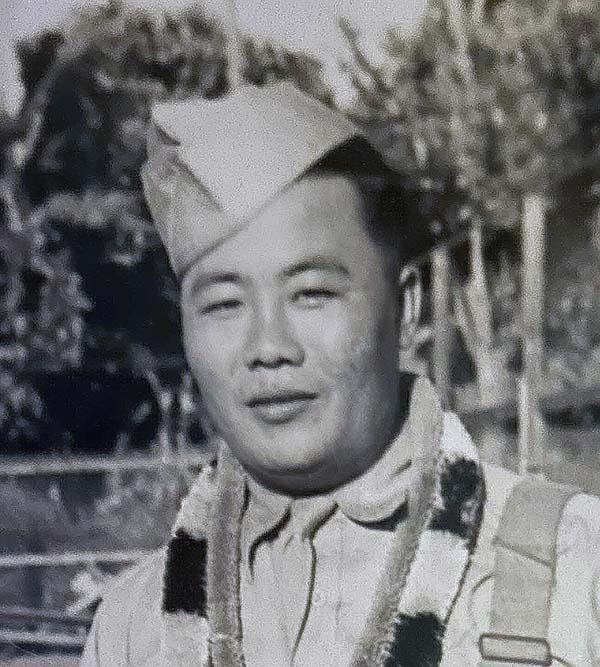 Walter Takeo Nishimura
Technician 5th Grade
442nd Regimental Combat Team
3rd Battalion, Service Company
Walter was born on October 1, 1915, in Green Valley, Punaluu, Oahu, Hawaii, one of five sons and four daughters born to Otokichi Nishimura and his wife Maju Yoshida.  His parents immigrated from Kumamoto Prefecture, Japan, in 1895 and 1906, respectively.
He signed his WWII Draft Registration card on October 6, 1940, at Local Draft Board 10 in Wahiawa.  At the time, he was employed as a tailor at the 35th Infantry Tailor Shop at Schofield Barracks, was 5'6", 180 lbs., and his point of contact was his father K. Nishimura.  (K was for Katsusaburo – later changed to Otokichi).  There are two notations on his card that were added later in a different color of ink:  a) 2/7/42, Wahiawa First Aid Station (ambulance driver); and b) 4/28/42 employed at U.S. Engineers Department at Wheeler Field.)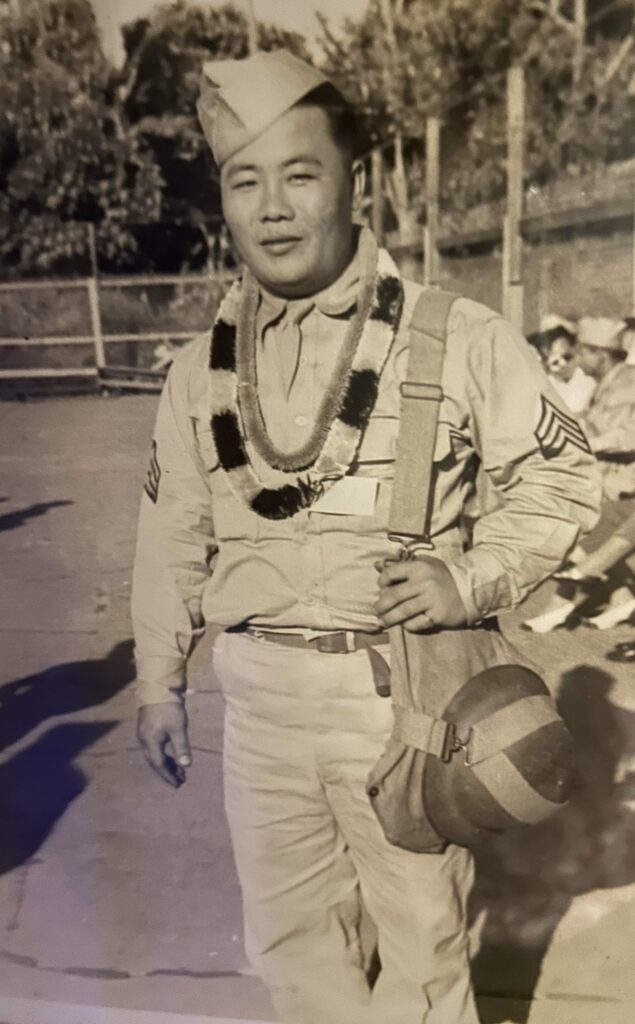 On October 1, 1943, Nishimura was inducted into the U.S. Army.  The photo (right) of Nishimura was taken either before or in early 1942, likely at Schofield Barracks.  Note his WWI-era helmet strapped to his bag.  These were in use until sometime in 1942, when the new "steel pot"-style helmet was issued by the Army.
He was trained at Camp Shelby, Mississippi, where he attended cooks' school in addition to regular basic training.  He served in France and Italy.
Nishimura was a cook for Company K. As he had been a tailor before the war, he had a "tailor shop" at one end of his cook's tent. A story he told his daughter was that in the Army he stored flour and sugar in the refrigerator. Once during an inspection he was asked where the flour and sugar were. He showed them to the fridge and explained he stored it there to keep it fresh and free from bugs. And because the Hawaii boys were not used to eating jelly with breakfast, every day he'd send out the jelly and it would all come back uneaten. So he had his workers boil it down to liquid, then add ice, and he sent it out to the men as juice, which they would drink – and he was able to use up the breakfast jelly that way.
He was awarded the Purple Heart and the Combat Infantryman Badge for his WWII service.
PFC Nishimura was one of 253 returning veterans and dependents who arrived in Honolulu on February 5, 1946, on the USAT Buchanan – most of the men scheduled for separation from the service. He was discharged from the U.S. Army on August 23, 1946.
After the war, Walter married on March 14, 1947, Teruko Ohashi, in Wahiawa. Their wedding notice in the Honolulu Advertiser stated that he had served in the European Theater and the Philippines. They had two children. Their son Wallace T. Nishimura died at the age of ten and is buried with his father. Their daughter contributed information and photos to this bio of her father.
A memory from his daughter: My Mom was working in Washington DC during the war. My Pop would always joke that she went to Camp Shelby to visit and take her sister's fiancé a birthday cake – Mitsuo Okinaga in F Company. Then she went to visit her brother Fumio Ohashi in L Company. But she never visited him in K Company! Well, they never met 'til after the war back in Wahiawa!!
Walter worked for the City & County Parks and Recreation Department, then went to Gentlemen's School of Tailoring in New York City on the GI Bill, and afterwards began a career at Kapalama Military Reservation where he was employed as a canvas worker. He was also in the National Guard.
Walter T. Nishimura died on December 12, 1992. He was buried at the National Memorial Cemetery of the Pacific at Punchbowl, Honolulu, in Section U, Site 1187-A.