Walter Takeo Nishimura
Technician 5th Grade
442nd Regimental Combat Team
3rd Battalion, Service Company
Walter Takeo Nishimura was born on October 1, 1915, in the Green Valley area of Punaluu, Oahu, Territory of Hawaii. He was one of five sons and four daughters born to Otokichi and Majiu (Yoshida) Nishimura. His siblings were: brothers Shigeo, George K., Harold M., and Donald S.; and sisters Fusae, Stella Shizuye, and Gloria H., and Mitsuo.
Otokichi and Maju (as Majiu was known) emigrated from Kumamoto Prefecture, Japan, in 1895 and 1906, respectively. They married on April 11, 1911. This was Maju's second marriage and her first married surname was Tsuruda.
In 1920, the family lived in Punaluu where Otokichi worked on the sugar plantation. By 1930, Walter and brother Shigeo lived on Castner Road on the Schofield Barrack post with their sister Fusae and her family. Walter worked as a tailor in a tailor shop. By 1940, the family lived on Muliwai Avenue in Wahiawa. In the household were the parents, who were retired, seven of their children, and one son-in-law with four grandchildren. Walter was working as a tailor.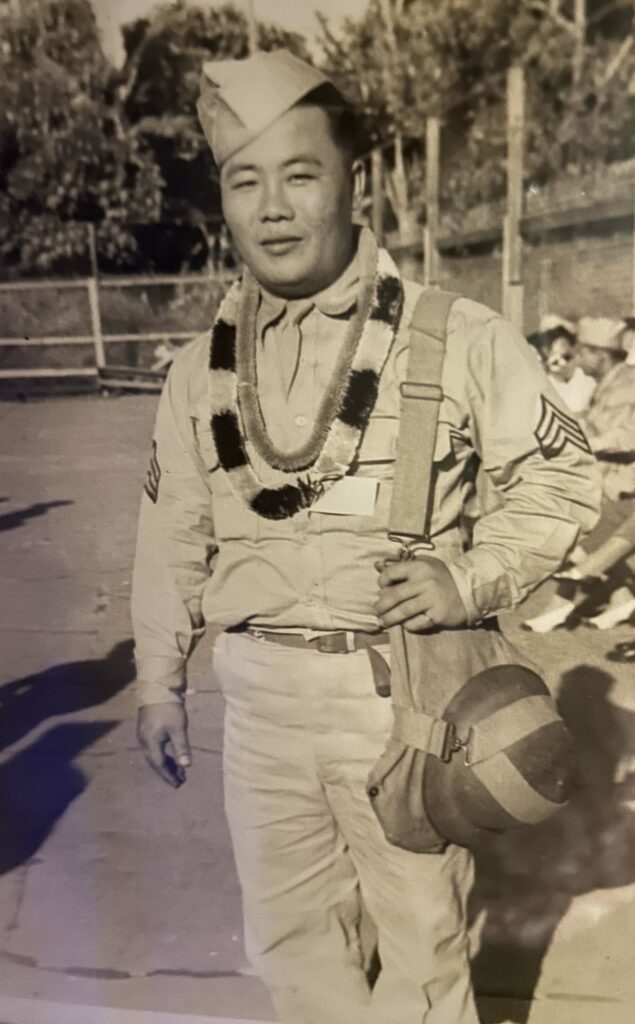 He signed his draft card on October 6, 1940, at Local Board No. 10 in Wahiawa. At the time, Walter was employed as a tailor at the 35th Infantry Tailor Shop at Schofield Barracks, and his point of contact was his father. Walter lived with his family in Wahiawa. There are two notations on the draft card that were added later in a different color of ink: a) 2/7/42, Wahiawa First Aid Station (ambulance driver); and b) 4/28/42 employed at U.S. Engineers Department at Wheeler Field. Walter was 5'6" tall and weighed 180 pounds.
Nishimura at Schofield Barracks, showing his WWI-era helmet strapped to his bag. These helmets were in use until sometime in 1942, when the Army issued the new "steel pot"-style helmet.
On October 1, 1943, Nishimura was inducted into the U.S. Army at Schofield Barracks.
Nishimura was sent to Camp Shelby, Mississippi, where he was assigned to 3rd Battalion, Service Company. In addition to basic training, he also attended Cooks and Bakers School.
Nishimura was sent to France while the 442nd was in combat during the Rhineland-Vosges Campaign from September 30 to November 19, 1944. Afterwards, he was with the 442nd during the Rhineland-Maritime Alps Campaign (the soldiers called this the Champagne Campaign) in southern France from November 19, 1944, to March 19, 1945. He also served in the Po Valley Campaign in Italy from March 25 to May 2, 1945. Following the surrender of German forces in Italy, he remained for the occupation.
He was assigned as a cook for 3rd Battalion, K Company. Nishimura later recalled to his daughter that, while in the Army, he stored flour and sugar in the refrigerator. During inspection he was once asked where the flour and sugar were. He showed the inspector to the fridge and explained he stored it there to keep it fresh and free from bugs. And, because the Hawaii boys were not used to eating jelly with breakfast, every day he sent out the jelly and it would come back uneaten. To solve this, he had his workers boil it down to liquid, add ice, and he could then send it out to the men as juice, which they would drink – and he was able to use up the breakfast jelly in this way.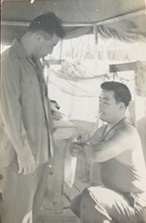 As he had been a tailor before the war, Nishimura had a "tailor shop" at one end of his cook's tent. He did alterations of over-sized, standard-issue uniforms to make them fit properly for the many 442nd soldiers with smaller frames.
The photo captions are from Nishimura's writing on the back.
Here I'm in my shop getting ready to pin the side of Lt. Katsumoto's shirt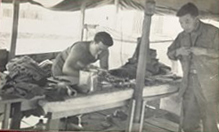 Here I'm finished pinning the side of Lt. Katsumoto's shirt and writing down what to be done with it.
Tec/5 Nishimura was one of 253 returning veterans and dependents who arrived in Honolulu on February 5, 1946, on the troop ship USAT Buchanan. He was discharged from the U.S. Army on August 23, 1946. He soon reenlisted, on October 10, and served until discharged on December 10, 1947.
For his service during World War II, Tec/5 Walter T. Nishimura was awarded the:  Bronze Star Medal, Purple Heart Medal, Good Conduct Medal, European-African-Middle Eastern Campaign Medal with three bronze stars, World War II Victory Medal, Army of Occupation Medal, Distinguished Unit Badge, and Combat Infantryman Badge.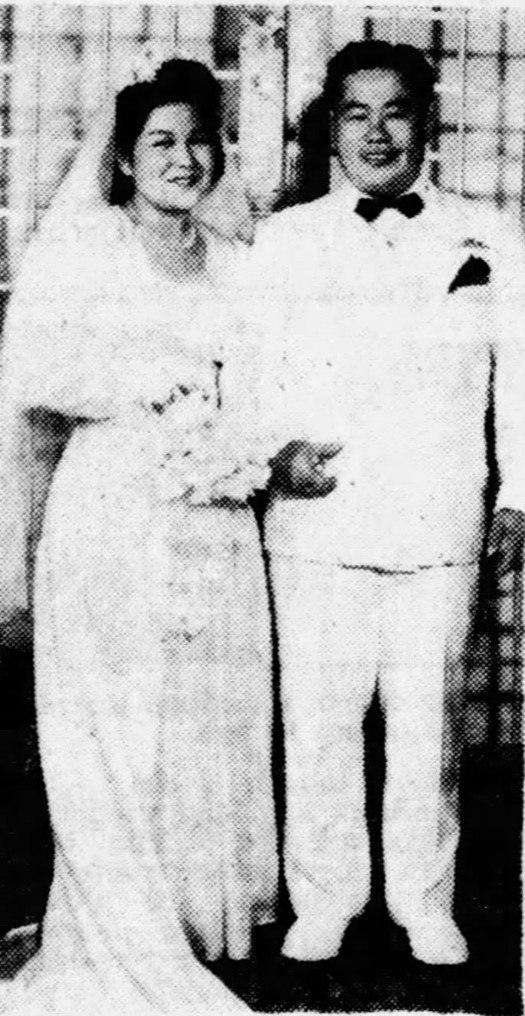 In early 1947, Walter was living at home in Wahiawa and on March 14 he married Teruko Ohashi, daughter of Mr. and Mrs. Choichi Ohashi of Wahiawa. Their wedding notice in the Honolulu Advertiser stated that they honeymooned in Kauai and Walter had served in the European Theater and the Philippines. Over the years, they raised two children.
His daughter later recalled how her parents met:
My Mom was working in Washington DC during the war. My Pop would always joke that she went to Camp Shelby to visit and take her sister's fiancé a birthday cake – Mitsuo Okinaga in F Company. Then she went to visit her brother Fumio Ohashi in L Company. But she never visited him in K Company! Well, they never met 'til after the war back in Wahiawa!!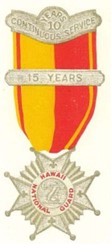 Hawaii National Guard Medal
In 1950, Walter and Teruko lived with their children in the family home at 680 Avocado Street with his widowed mother, and brother Shigeo and his family. Walter initially worked for the City & County of Honolulu Parks and Recreation Department. He then attended the Gentlemen's School of Tailoring in New York City on the GI Bill, and afterwards began a career at Kapalama Military Reservation where he was employed as a canvas worker. He also served in the Hawaii National Guard for over ten years.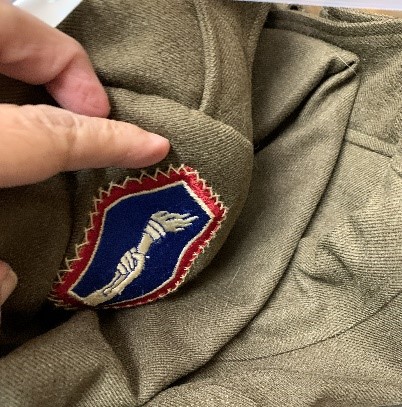 Walter was a member of the Rural Chapter, 442nd Veterans Club. In 1974, he and Teruko travelled to France on a 442nd Veterans Tour for the 30th Bruyères Anniversary of the Liberation of Bruyères.
Nishimura's carefully sewn-on 442nd patch on his preserved uniform
Walter T. Nishimura died on December 12, 1992. He was buried at the National Memorial Cemetery of the Pacific at Punchbowl, Honolulu, in Section U, Site 1187-A. Survivors included his wife; daughter; brothers Shigeo and Harold M. of Maui, George K. of Missouri, and Donald S.; and sisters Fusae Kamitono, Stella S. Suzuki, and Gloria H. Noche of New Jersey. His son, Wallace T. Nishimura, had died in 1960 at the age of ten and was buried with his father. Teruko Nishimura died on July 22, 2012, and was buried with her husband and son.
Researched and written by the Sons & Daughters of the 442nd Regimental Combat Team in 2020 with assistance from his daughter, who is a Lifetime Member.