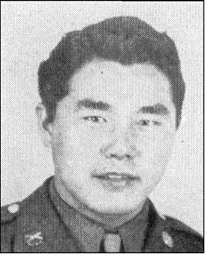 Wendell Shisuke Fujioka
Private First Class
442nd Regimental Combat Team
3rd Battalion, K Company
Wendell Shisuke Fujioka was born in Pahala, Kau District, Hawaii island, Territory of Hawaii, on December 1, 1921. He was the only child of Tsukasa and Isao (Kamimura) Fujioka. His father was born in Pahala, on July 4, 1898, to Hisanosuke and Rui (Okinaga) Fujioka. Hisanosuke was from the village of Ozu, Kuga District, Yamaguchi Prefecture. Isao Kamimura came to Hawaii as a picture bride.
Tsukasa Fujioka took his wife and son Shisuke to Japan in February of 1922 on the Persia Maru. He and the baby returned three months later on the Siberia Maru and his wife remained in Japan. They later divorced.
Tsukasa never remarried. He worked for many years as a sailor on inter-island steamers. He was working on a sampan in Kaneohe Bay (Oahu) on December 7, 1941. The crew remained on the boat all day, close to Mr. MacFarlane's house. The next day the Coast Guard arrived at the boat, and the crew was then taken off the boat by the Navy.
Wendell was educated at Kawananakoa Intermediate School in Honolulu, then attended Pahala High School for three years. In 1940, he was living in Pahala with his aunt and uncle, Densuke and Haruno (Fujioka) Taguchi. His uncle was a truck driver for the sugar plantation. Before entering the Army, he was a truck driver for the Hutchinson Sugar Plantation Company. He was also active in the Pahala Community Athletic Association's Senior Baseball League.
Fujioka registered for the draft on February 15, 1942, Local Board No. 6 in Pahala. His address was House 25, Mill Camp, Pahala. He was 5'7½" tall and weighed 156 pounds. His point of contact was his aunt, Masako Fujioka of Pahala. He was employed by the Hawaiian Agricultural Company.
Wendell Fujioka volunteered and was enlisted into the Army at Pahala on March 18, 1943. His civilian occupation was given as "Semiskilled chauffeurs and driver, bus/taxi/truck/tractor." He was sent to Boom Town, the "tent city" at Schofield Barracks, with the other recruits. They were given a farewell aloha ceremony by the community on March 28 at Iolani Palace. On April 4 the new soldiers left on the S.S. Lurline for San Francisco enroute to Camp Shelby, Mississippi.
After basic training, Wally, as he was known, was assigned to 3rd Battalion, K Company. Following months of additional training, the 442nd left Camp Shelby for Camp Patrick Henry, Virginia, on April 22, 1944. They shipped out to the Mediterranean Theater of Operations in a large convoy of troop ships on May 2 and arrived in Naples, Italy, on May 28.
The 442nd entered combat on June 26, 1944, near Suvereto, north of Rome. By late August, they had advanced north to the Arno River. The 442nd was holding the line along the Arno River just west of Florence. On September 1, Fujioka was seriously wounded by a mine while on a rescue mission along the front lines. He died of his wounds on September 7.
Wendell Fujioka was interred at the U.S. Military Cemetery at Castelfiorentino, Italy, in Plot A, Row 1, No. 2. His father held a memorial service for him on October 15. At this time, his father was living at 802 Ala Moana Road in Honolulu.
For his military service, Private First Class Wendell Shisuke Fujioka was awarded the Bronze Star Medal with one oak leaf cluster, Purple Heart Medal, Good Conduct Medal, American Campaign Medal, European-African-Middle Eastern Campaign Medal with one bronze star, World War II Victory Medal, and Combat Infantryman Badge. Wendell was awarded the Congressional Gold Medal on October 5, 2010, along with the other veterans of the 100th/442nd Regimental Combat Team. This is the highest Congressional Civilian Medal.
On December 9, 1944, at McKinley High School a memorial service was held for 226 soldiers of the 442nd. The ceremony was sponsored by the 100th Battalion Veterans Club 100, 442nd Veterans, the Women's War Service Association, and the Emergency Service Committee. The speaker was Lt. Gen. Robert C. Richardson. Pfc. Fujioka was among those soldiers memorialized during this service.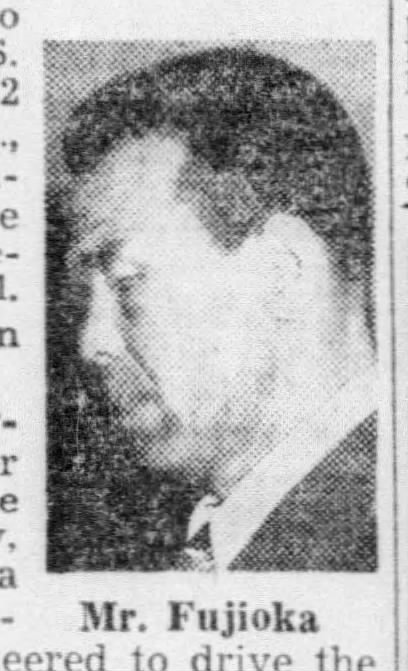 On January 8, 1945, it was reported in the Honolulu Advertiser that Pfc. Fujioka's father had received his son's Purple Heart Medal posthumously from Lt. Col. E.M. Blight, G-1 Section, Central Pacific Base Command, at the family home in Honolulu.
It was reported in the Honolulu Advertiser on May 11, 1947, that the Bronze Star Medal was awarded posthumously to Pfc. Fujioka for heroic achievement in battle. The presentation was made in a ceremony at Fort Shafter to his father, Tsukano Fujioka.
 Right: Tsukano Fujioka
The citation read in part: When an emergency call for medical aid came from his company, Pfc. Fujioka, a jeep driver, immediately volunteered to drive the aid party over a road not yet cleared of mines. After evacuating one patient under small arms fire, he returned a second time. While returning to the aid station, his jeep hit a mine and Pfc. Fujioka was mortally wounded. Pfc. Fujioka's courage and willingness to sacrifice his own life to aid his wounded comrades reflects highly upon himself and the military service.
In 1948, the remains of Americans buried overseas began slowly to return to the US, if the family so wished. Pfc. Fujioka's father chose to have his remains returned. He arrived on December 24, 1948, on the USAT Sinnett to Dock M-3 at Pearl Harbor with the remains of 122 Hawaii war dead. Over 700 family and friends were waiting on the pier where the 265th Army Band played Aloha Oe as the ship docked at 8:30 a.m. They were eulogized in a shipside service by the Secretary of Hawaii, Oren E. Long, who said, "We are proud to have had such sons. These men stood the test of action and added a new chapter of American heroism to our history." The caskets were taken to the Army mausoleum at Schofield Barracks awaiting burial arrangements.
On July 25, 1949, Private First Class Wendell S. Fujioka was interred at the National Memorial Cemetery of the Pacific at Punchbowl in Honolulu, in Section D, Site 106.
Researched and written by the Sons & Daughters of the 442nd Regimental Combat Team in 2021.