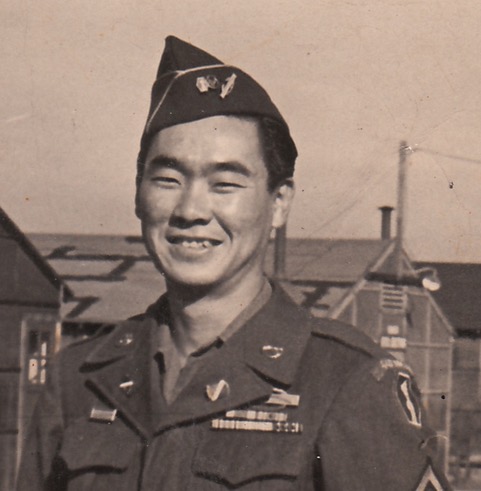 William Tadashi Kuwata was born in the Kakaako neighborhood of Honolulu, Oahu, Territory of Hawaii, on February 8, 1922. He was the son of Thomas Kazumori and Natsuyo (Kado) Kuwata who were from Hiroshima, Japan. Natsuyo immigrated as a picture bride for Kazumori. In 1968, for the 100th anniversary celebration of the arrival of the first Japanese immigrants to Hawaii, Kazumori was named "First Immigrant Father of the Year," and he received an award and a plaque for this honor.
Growing up, William enjoyed playing baseball, watching sumo (Japanese wrestling), pounding mochi, and training in the Japanese martial arts of judo (hand-to-hand defense) and kendo (sword fighting).
After he graduated from McKinley High School, William worked as a certified welder (combination welder) for Kewalo Steel Company where his hourly wage was 25 cents. Later he worked for the U.S. Army Engineers at Kapalama Military Reservation.
On March 25, 1943, William T. Kuwata enlisted in the U.S. Army. Three days later on March 28, he was among the 2,600 Japanese American enlistees who stood in formation in front of Iolani Palace for an Aloha send-off by the community.
A few days later the men were transported by cattle cars from Schofield Barracks to Pier 10 where they boarded the ship. The SS Lurline carried them to San Francisco, where they boarded trains to Camp Shelby for basic training. William remembered that no soldier was allowed to leave the train windows open throughout the entire trip across county to Mississippi. On arrival at Camp Shelby he was surprised to learn that the majority of the officers were Caucasian.
During training, the soldiers played a war game where the Hawaii boys were pitted against the mainland boys. The Hawaiians fought so hard that they won their objective and "captured the fort." After basic training ended, William was among a group of Hawaiian Nisei who were sent to Alabama to guard German prisoners of war. He called their camp the "Peanut Farm," as the POWs were growing peanuts.
The men were finally shipped to the Mediterranean Theater of Operations in a convoy of Liberty ships. It took 28 days to reach Naples. William was part of the 3rd Battalion's Headquarters Company and also its Ammunition Pioneer Platoon.
Kuwata fought in the Rome-Arno Campaign in Italy, the Vosges Campaign and the Maritime Alps (Champagne) Campaign in France, and the Northern Apennines and Po Valley Campaigns in Italy. He later recounted to his family that the Germans were always on the lookout for the 442nd as they had learned fear and respect for the combat team. The Hawaiians were not accustomed to the freezing weather that confronted them in France in 1944, and they suffered such maladies as trench foot from the cold, wet conditions. In the Vosges he experienced the fear of death, men turn pale white with terror, holding on to their religious faith while fighting the Germans. He felt very fortunate to survive.
While he was in the Army, Kuwata sent his paycheck home to Hawaii to support his parents. He was awarded the Bronze Star Medal, Combat Infantryman Badge, Distinguished Unit Badge, Good Conduct Medal, American Campaign Service Medal, European-African-Middle Eastern Campaign Service Medal, Asiatic-Pacific Service Medal, and World War II Victory Medal for his WWII service.
On December 6, 1945, Kuwata arrived back home to Honolulu on the ship USAT Aconcagua at Pier 26, along with a large contingent of returning war veterans. On December 21, he and many of these soldiers were discharged from the U.S. Army.
After the war, William married Yaeko Matsushima in Honolulu on June 11, 1949. She was born on August 6, 1928, in Lahaina and graduated from Baldwin High School in Wailuku, Maui. He worked for various welding
companies over the years. His final employment was as a shipfitter in Shop 11 at Pearl Harbor Naval Shipyard, from where he retired after 35 years of service.
William T. Kuwata passed away on April 7, 2012, and was buried in the Columbarium at the National Memorial Cemetery of the Pacific at Punchbowl. He was survived by his wife Yaeko, his three children, 5 grandchildren and 3 great grandchildren.