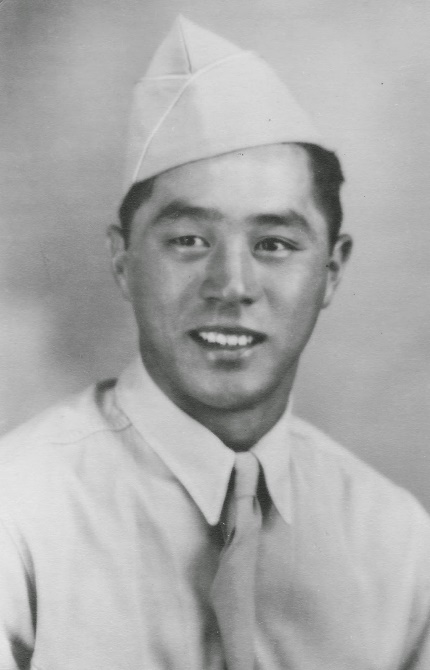 Wilson S. Ogawa
Staff Sergeant
442nd Regimental Combat Team
2nd Battalion, G Company
Wilson S. Ogawa was born on March 10, 1916, in Garden Grove, California. "Willie," as he was known, was one of eight children of Kirisuke and Taneno (Muraki) Ogawa. His siblings were: brothers Nagatoshi, Masami, Hidemi, John Norio, and Kenneth Yasuo; and sisters Yaeko Mary and Kimie Marie.
Kirisuke and Taneno were from the villages of Matsushige and Otsu, on Shikoku Island, Tokushima Prefecture, Japan. They were married on January 12, 1906, in Japan and arrived in San Francisco, California, on the Shinyo Maru on December 27, 1912. Their two eldest sons remained in Japan. Kirisuke was a vegetable farmer and a ranch manager in Orange County. Taneno became a US citizen on May 23, 1955.
Willie attended Garden Grove Grammar School. In 1930, the family lived in Huntington Beach and Kirisuke was the manager of a truck farm. Willie graduated from Garden Grove Union High School in 1935.
He registered for the draft on February 14, 1942, Local Board No. 172, City Hall, Santa Ana, California. His point of contact and his employer was his brother, Hidemi. They lived on Route 3 in Santa Ana. He was 5'4" tall and weighed 140 pounds.
On May 17, 1942, Willie, his parents, brother Hidemi (and wife Kiyoko) and two sisters were incarcerated at Colorado River WRA Center (also known as Poston) in Yuma County, Arizona. The family lived in Block 38. Willie was released on August 4, 1944, Yaeko on February 15, 1945, and parents and Kimie on October 30, 1945 – all to Denver, Colorado. Hidemi was released to Albuquerque, New Mexico, on October 12, 1944, and Kiyoko two months later.
On June 18, 1944, Willie enlisted in the Army at Phoenix, Arizona. His residence was in Polk, Iowa, and his civil occupation was "Semi-skilled chauffeurs and drivers." After training, he was assigned to the 442nd Regimental Combat Team.
He joined the 442nd in the Rhineland-Maritime Alps Campaign as a replacement in southern France late 1944/early 1945. He was assigned to the 2nd Battalion, G Company.
On March 20-22, 1945, he left with the 442nd when they were sent back to Italy for the Po Valley Campaign. After the war ended in Italy on May 2, he was there for the occupation duties processing and then guarding German POWs.
For his military service, Staff Sergeant Wilson S. Ogawa was awarded the Bronze Star Medal, Good Conduct Medal, European-African-Middle Eastern Campaign Medal with two bronze stars, Combat Infantryman Badge, and Distinguished Unit Badge. He was awarded the Congressional Gold Medal on October 5, 2010, along with the other veterans of the 100th/442nd Regimental Combat Team. This is the highest Congressional Civilian Medal.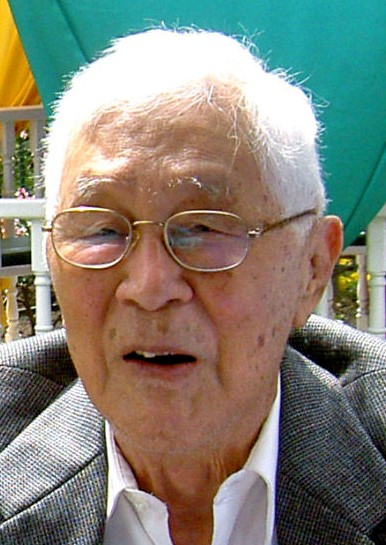 After his return to California, Willie worked as a shipping clerk for Tailor-Slack Company in Monterey, California. He married Rosa Saucedo Ramirez (known as "Rosie") on May 19, 1961, in Los Angeles. They had one daughter.
Left: Ogawa in his later years
Wilson S. Ogawa died on September 5, 2010, in Fountain Valley, California. Survivors included his wife, daughter, three grandchildren, and two great-grandchildren. He was interred in Riverside National Cemetery, Section BE, Row E, Plot 269. Rosie died on June 25, 2013, and was buried with her husband. He was remembered as a kind and loving man, sunshine and goodness, and always smiling and telling jokes.
Wilson's brother, John Norio Ogawa, served as a Sergeant in 3rd Battalion, I Company.
Researched and written by the Sons & Daughters of the 442nd Regimental Combat Team in 2022.