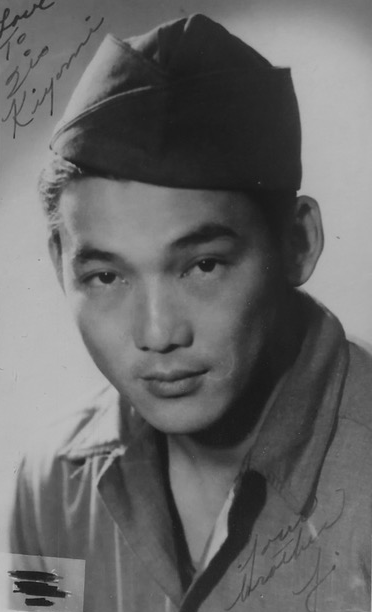 Yoshiaki Kobatake
Private First Class
442nd Regimental Combat Team
522nd Field Artillery Battalion, C Battery
Yoshiaki Kobatake was born on June 9, 1917, in Lahaina, Maui, Territory of Hawaii, to Gitaro and Toyo (Kodama) Kobatake. His parents had arrived from the village of Kawaguchi, Hiroshima Prefecture, Japan, in 1907 and 1915, respectively. "Nisan," as his close family called him, was the eldest of four children (three sons and one daughter). When he was seven years old, his father died from cancer – in 1925 at the age of 35. By this time, his friends and schoolmates called him "Sharkey," an easy-to-pronounce version of his name, and a name that stayed with him the rest of his life.
The following year in October 1926, Sharkey's mother married Tomosaburo Uda, a good friend of Gitaro's, who promised he would watch over the family when Gitaro died. He had arrived from Okayama Prefecture, Japan, in 1899 and was working in the pineapple fields of Lahaina. Two sons and one daughter were born to this marriage. Tomosaburo died in 1936, leaving Sharkey the man of the house with the responsibility of helping to care and provide for his family. Like his father and stepfather, he worked at Pioneer (Sugar) Mill on Lahainaluna Street.
With seven children and no husband, Toyo and her children struggled to make ends meet. She helped illiterate immigrants by reading the letters they received from Japan, and then writing replies for them to send. They gratefully gave her fabric in return. Thankfully, she was a skilled seamstress and the fabric was put to good use making kimono that she could sell. She also took in laundry, cooked for the plantation manager's family, and performed other jobs in order to feed her family. Her children all worked, too, from the time they were teenagers. In fact, Sharkey was forced to drop out of school to work.
In 1940, the family was living on Prison Street in Lahaina. Yoshiaki (age 23) and brother Yoshito (age 21) worked in the mill at the sugar plantation. On October 26, 1940, he signed his draft registration card, Local Board No. 1, at the Lahaina Courthouse. He was living with his family on Chapel Street, and was employed at the Pioneer Mill Company Ltd. His point of contact was his mother, Toyo Kobatake Uda, and he was 5'6½" tall, and weighed 140 pounds.
At the end of 1940, Sharkey moved to Honolulu and began working as a carpenter at Pearl Harbor. In Honolulu, Sharkey visited his sister Shizue, who was attending McKinley Technical School. The Department of Education coordinated housing for the schoolgirls, and she had been placed with Mr. and Mrs. Robert L. Shivers. Shivers had been assigned to open the FBI office in Honolulu by then-Director J. Edgar Hoover. At the Shivers' home at Black Point, the civilian and military leadership of Hawaii often met to plan for the likely war with Japan.
On Saturday, December 6, 1941, Sharkey and his co-workers at Pearl Harbor were told to take the day off, which at the time he found odd. But they were told to come in to work on Sunday, so they were at Pearl Harbor when the Japanese attacked. He later recalled the mayhem he witnessed as he stayed on the naval base all day helping out. He remembered how he grabbed a fellow by the arm to pull him out of the water and the man's skin totally came off his arm. Days later he was back at work, assigned to Barber's Point Naval Air Station, where he and another Nisei worked under the watch of armed guards.
When the Nisei became eligible to enlist in the Army in early 1943, Sharkey was surprised to find that he had been classified as III-A (Deferred for dependency reasons), as the eldest in a family with younger siblings who relied on his income. However, when he learned that his younger brother Tsutomu had volunteered and been accepted, he went into action. Through his connections with Shivers and the military leadership, he was able to take his brother's place and enlist on March 25, 1943. Tsutomu was furious, but Sharkey wanted him to stay home as long as possible with their mother. Tsutomu eventually served as an interpreter with the Military Intelligence Service with the occupation forces in Japan. Their half-brothers Mitsuru and Kengo Uda also served in the U.S. Army during the occupation of Japan and the Korean War, respectively.
Sharkey was sent to Boom Town, the "tent city" at Schofield Barracks where the new soldiers were gathered. On March 28, 1943, he attended a community farewell service at Iolani Palace along with the hundreds of other Nisei enlistees. They left on the S.S. Lurline on April 4 for San Francisco and the train ride across the US to Camp Shelby, Mississippi, to join the newly formed 442nd Regimental Combat Team.
During training, he was assigned to the 442nd's 522nd Field Artillery Battalion, C Battery. After a year of training, the 442nd departed Camp Shelby on April 22, 1944, for Camp Patrick Henry, Virginia. On May 2, 1944, they sailed from nearby Hampton Roads for the Mediterranean Theater. The 522nd arrived at Brindisi and Bari, on the east coast of Italy, on May 28. From there, they were sent by train in boxcars across the country to Naples, arriving on May 30. In Naples, they met up with the rest of the Combat Team, which had been attached to the 34th Infantry Division.
Sharkey was with the 522nd as it fought with the Combat Team up the Italian west coast from Anzio to the Arno River in the Rome-Arno Campaign. The Combat Team was next sent to France in late September for the Rhineland-Vosges Campaign, where they were attached to the 36th Infantry Division. In the Vosges Mountains, they liberated the towns of Bruyères and Biffontaine and helped to rescue the "Lost Battalion" – the 141st (Texas) Infantry that had been surrounded on three sides by the enemy.
The Combat Team was next sent to the Mediterranean coast of France for the Rhineland-Maritime Alps Campaign from November 1944 to March 1945. For the final battles of the war, the 442nd was sent back to Italy without the 522nd. In a decision made at the highest levels of the U.S. Army, the Nisei artillery battalion was attached to the Seventh Army for the final battles to defeat the Nazis on their home turf. The 522nd joined the battle on March 12, 1945, at Kleinbittersdorf on the Saar River.
The following is based on Sharkey's memories with the 522nd in Germany during the final two months of the war.
The 522nd units advanced quickly across the front in Germany as the enemy fled. By this time, the Germans were out of mechanized equipment – they were running or using horses, not trucks. The weather turned to snow and the 522nd trucks slid on the snow-covered ground. Sharkey remembered that the Germans fought hard in the Black Forest. The Stars and Stripes newspaper said that the Allies were making progress, but it did not seem that way to Sharkey.
On April 29, 1945, Sharkey and Pfc. Jensen Takasaki were assigned to accompany Captain Jack Andrews and his driver from 522nd Battalion Headquarters in reconnoitering an advanced area.  They came upon a concentration camp, later identified as a Dachau sub-camp.  The heavy wooden gates were open and they went in to investigate.  Sharkey remembered seeing 30'-long racks on stilts that were covered with blood, but no bodies.  On the backside of the racks was a platform where the prisoners had been forced to kneel.  He entered a building; Captain Andrews was already inside.  Just as Sharkey was about to take a photo, some American soldiers wearing AMG (Allied Military Government) armbands came in the building behind them and told them to leave immediately, not take any photos, nor say anything about what they had seen.
Then Sharkey entered a room and saw five emaciated people. He began to cry at the sight, but there was nothing he could do. He opened the door to another room filled with bones from floor to ceiling. "I didn't think anybody could be so cruel," he remembered thinking to himself. He went outside and took some photos of the buildings. In another building, he saw dog kennels and three dogs, but most of the cages were empty. The dogs were clearly starving, and he saw what he believed was a human bone in one of the kennels. On the way out, he vomited. And as he went out the gate he took some photos, including one of a man hanging by a wire from a tree.
Their unauthorized visit inside the concentration camp had lasted about 20 minutes, but these memories would haunt him for decades.
According to the book, Fire for Effect – A Unit History of the 522nd Field Artillery Battalion, Sharkey "toured the interior of Dachau camp 'when the ovens were still warm' and took photographs of the interrogation room with blood-splattered walls, incinerator ovens, and guard dog kennels, all known facilities of the Dachau camp." [Note: It was later acknowledged that the men were actually at a Dachau sub camp, not Dachau itself.] Captain Andrews also took photographs from the area, where he was not supposed to be. He showed the photos to two C Battery friends (2nd Lieutenant Susumu Ito and Staff Sergeant George Oiye), but they were "too atrocious for him to keep and to talk about." He kept their existence secret and destroyed them at some point after the war.
More of Sharkey's recollections follow.
After they left the concentration camp, C Battery headed for Bad Tolz, south of Munich near the Austrian border. The trip was nine to ten days – and all along the route they encountered released prisoners roaming in search of food. Men in grey-striped, pajama-like clothes with rags wrapped around their feet. At one point, Sharkey and a friend from C Battery went into the woods and came upon a German soldier who immediately surrendered to them. His friend did not want to take the prisoner; he threw his shovel at the prisoner and told him, "Dig!" Sharkey begged his friend not to kill the prisoner, saying "I cannot hate anybody – not after what happened. I hate the Nazis; but [referring to the prisoner] it wasn't his fault he was in the Army." Sharkey did not blame his friend for his feelings, as he knew his friend had been a Forward Observer and seen many horrible things that Sharkey had not seen. In the coming weeks, Sharkey experienced more incidents of chasing and capturing German soldiers, some of them as young as 14.
When the war ended on May 8, C Battery was in Bad Tolz. Just after the surrender, Sharkey and some other 522nd men went into a cave-like tunnel near town and climbed up a shaft, where they found 55-gallon drums of mustard gas. He believed the Germans had been planning to use it on the Allied soldiers. He reported the find to his superiors, but heard nothing more about it.
The 522nd was sent to the town of Donauworth for months of occupation duties. One of his pastimes while there was playing on the 522nd baseball team.
Finally, in October 1945, Sharkey was among a group sent to Nuremberg and transported by train on "40 x 8" boxcars to Marseilles. They were there for about three days and then boarded a ship with the 21st Division and sailed through the Mediterranean to New York. After spending the month of November at Camp Kilmer, New Jersey, he was flown on a C-47 to an Army camp in California, where he spent December and part of January. He finally arrived in Hawaii with hundreds of other returning veterans on January 15, 1946, on the troop transport ship USAT Mexico, and was discharged on January 21, 1946.
For his military service, Private First Class Yoshiaki Kobatake was awarded the Good Conduct Medal, American Campaign Medal, European-African-Middle Eastern Campaign Medal with four bronze stars, World War II Victory Medal, and Army of Occupation Medal. He was awarded the Congressional Gold Medal on October 5, 2010, along with the other veterans of the 100th/442nd Regimental Combat Team. This is the highest Congressional Civilian Medal.
After his discharge, Sharkey went home to Lahaina and worked for the pineapple cannery, and then, the sugar plantation. He next took a job as a blacksmith in a machine shop and worked there for about three years. He really enjoyed learning how to fashion various tools and equipment. He also resumed his love of baseball, and was a pitcher in the AJA Baseball League. His brother Yoshito played shortstop, and close friend Susumu "Peanut" Sodetani played third base.
Sharkey met Thelma Yamasaki of Kaanapali, who worked at Liberty Restaurant in Lahaina. They married and moved to Oahu, where Sharkey began work as an inspector for the U.S. Customs Service. In 1957, the family settled in Pearl City and raised four daughters. He was active in the community, and participated in the formation and management of Pearl City Little League baseball. Sharkey treasured his daughters and would do anything for them. He worked for the U.S. Customs Service for 27 years, retiring in 1977.
Sharkey loved baseball and golf; and he studied massage and practiced reflexology. He was known for helping friends and even strangers, using pressure-point massage. He had all types of "patients" from a woman having an asthma attack on an airplane, to folks at the driving range and the golf course, gaining fame locally for his ability to relieve people from pain.
Sharkey kept his story of the concentration camp to himself for 50 years. The memory was horrific and he wanted to forget it, but his nightmares would not go away. He also did not think anyone would believe his story. The AMG guards who ordered them out of the camp had told him not to say anything and he followed their order. Only many decades later, after attending a survivors' reunion in San Francisco and talking with fellow 522nd veterans, did he feel a weight lift from his shoulders. He finally decided to share his story with his family.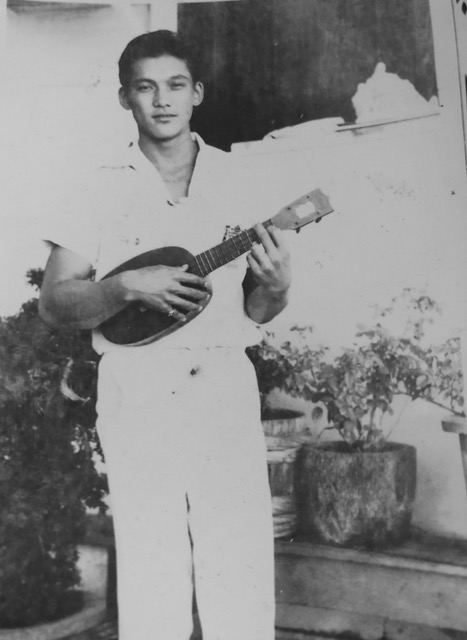 Sharkey was remembered by his siblings as the most caring and loving big brother one could have. His dear friend Peanut Sodetani always said that if Sharkey had the opportunity to obtain an education, he could have done anything and been successful at any profession he chose.
Yoshiaki "Sharkey" Kobatake died on December 11, 1993. He was inurned in the Columbarium at the National Memorial Cemetery of the Pacific at Punchbowl, Section Ct-3H, Row 600, Site 614. As of this writing (2021), his wife Thelma is living on Oahu.
Sharkey's oral history interview is on the U.S. Holocaust Memorial Museum Library Reference and Archives website at: https://collections.ushmm.org/search/catalog/irn87528
Researched and written by the Sons & Daughters of the 442nd Regimental Combat Team with assistance by the Kobatake family in 2021.