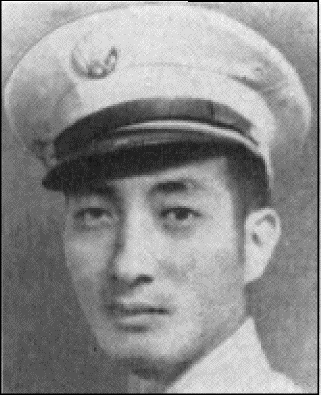 Yoshio Iwamasa
Private First Class
442nd Regimental Combat Team
3rd Battalion, I Company
Yoshio Iwamasa was born on January 14, 1915, in Niulii, North Kohala District, Hawaii island, Territory of Hawaii. He was one of nine sons and three daughters of Matsuemon and Tsugi (Hirotsu) Iwamasa. His parents arrived from Yamaguchi Prefecture, Japan, in 1898, after marrying the previous year. Matsuemon worked as a laborer for a sugar plantation.
Yoshio was educated at Makapala School, and Kohala Elementary and High Schools. He registered for the draft on October 26, 1940, at Local Board No. 4 in nearby Kamuela (also known as Waimea). His mother, Tsugi, who lived in Makapala, was listed as his point of contact and he was employed by the Kohala Sugar Company in Hawi. He was 5'6¾" tall and weighed 125 pounds.
Yoshio's name was among those of 30 volunteers who were selected from Local Board No. 4 for enlistment into the U.S. Army. At the Kohala Theater on March 16, 1943, the local community gave them a farewell before they left home. The event was hosted by J. Scott B. Pratt, Manager of Kohala Sugar Company. A lei was given to each volunteer, and a check from the company to their employees in the group. After Mr. Pratt gave a farewell speech, Kinichi Sakai, a U.S. Army captain in World War I, spoke of how he enjoyed Army life and expressed his wish to be able to go again. Yoshio was asked to say a few words on behalf of the young men. After thanking the event sponsors, he said, "We are proud to have been selected and we are sure your confidence in us will not be misplaced. To you folks who remain at home, we say, 'Keep in good spirits and keep the home fires burning until we meet again.'" After Mr. Pratt led the crowd in three rousing cheers, everyone sang God Bless America. The Walter Rodenhurst Troupe provided Hawaiian music during the evening.
Yoshio Iwamasa enlisted in the U.S. Army at Hilo, Hawaii island, on March 18, 1943. At the time he was working as a clerk at Standard Oil Company in Mahukona. He was sent to Boom Town, the "tent city" at Schofield Barracks, with other recruits. They were given a farewell aloha ceremony by the community on March 28 at Iolani Palace. On April 4, the new soldiers left on the S.S. Lurline for San Francisco enroute to Camp Shelby, Mississippi.
Following basic training, Yoshio was assigned to 3rd Battalion, I Company. He left with the rest of the 442nd for the Mediterranean Theater of Operations on May 2, 1944, from Hampton Roads, Virginia, and arrived in Naples, Italy, on May 28. They entered combat near Suvereto – in the Rome-Arno Campaign on June 26.
He served in the four major campaigns with the battalion: Rome-Arno Campaign in Italy, Rhineland Campaign-Vosges and Rhineland Campaign-Maritime Alps in France, and Po Valley Campaign back in Italy.
According to Pfc. Robert Masami Ito, in October 1944 during the Vosges Campaign, while on patrol with 2nd Platoon in Bruyères, a sniper in a building hit Pfc. Yoshio Iwamasa in the elbow.
I was walking just behind 'Grandpa,' his nickname, but ducked behind a building just in time. Later we all pulled back to the railroad tracks and stayed all night in a ditch full of water.
In April 1945, the 442nd was part of the Allied forces pursuing the German Army north in the Po Valley in Italy. On April 13, as they approached Mount Pizzacuto, north of Carrara, the Germans unleashed a fury of artillery. Although I Company was in reserve, they too came under a heavy barrage. On April 14, 1945, Iwamasa was shot by an enemy rifleman and hit in the general thorax region. He was taken to a field hospital where he died and was pronounced a battle casualty. The Germans surrendered in Italy on May 2, and on May 7 to the Allies in the rest of Europe.
Private First Class Yoshio Iwamasa was buried in the U.S. Military Cemetery at Castelfiorentino, Italy, Plot U, Row 56, No. 2825. On May 12, 1945, his family held memorial services for him at their home in Niulii and at the home of his brother, Sadaichi Iwamasa, at 2222 Young Street in Honolulu.
For his military service, Private First Class Yoshio Iwamasa was awarded the Bronze Star Medal, Purple Heart Medal with one oak leaf cluster, Good Conduct Medal, American Campaign Medal, European-African-Middle Eastern Campaign Medal with four bronze stars, World War II Victory Medal, Distinguished Unit Badge, and Combat Infantryman Badge. Yoshio Iwamasa was awarded the Congressional Gold Medal on October 5, 2010, along with the other veterans of the 100th/442nd Regimental Combat Team. This is the highest Congressional Civilian Medal.
In 1948, the Army began the process of closing the smaller military cemeteries in Italy, and offered families the choice of reburial of their loved one at the large U.S. Military Cemetery in Florence or returning him for reburial at a cemetery designed by the family. His family requested he be returned home.
Yoshio Iwamasa arrived on December 24, 1948, on the USAT Sinnett to Dock M-3 at Pearl Harbor with 121 other of Hawaii's war dead. Over 700 family and friends were waiting on the pier where the 265th Army Band played Aloha Oe as the ship docked at 8:30 a.m. They were eulogized in a shipside service by the Secretary of Hawaii, Oren E. Long, who said, "We are proud to have had such sons. These men stood the test of action and added a new chapter of American heroism to our history." The flag-draped caskets were taken to the Army mausoleum at Schofield Barracks awaiting burial arrangements.
Private First Class Yoshio Iwamasa was buried at 9:30 a.m. on July 22, 1949, in the newly opened National Memorial Cemetery of the Pacific, Section D, Site 213.  His burial was held at the same time as the burials of four other war dead from Kohala and was the first interment of 442nd soldiers at Punchbowl.  A total of 20 burials, mostly from the 442nd, were scheduled for that day.  A memorial service was held at the base of the cemetery's flag pole prior to the burials.  Present were Col. Charles W. Pence, Col. Farrant L. Turner, and Chaplain Hiro Higuchi, all from the 442nd.  Pfc. Iwamasa's mother, Mrs. Tsugi Iwamasa, was present for the burial (Photo below).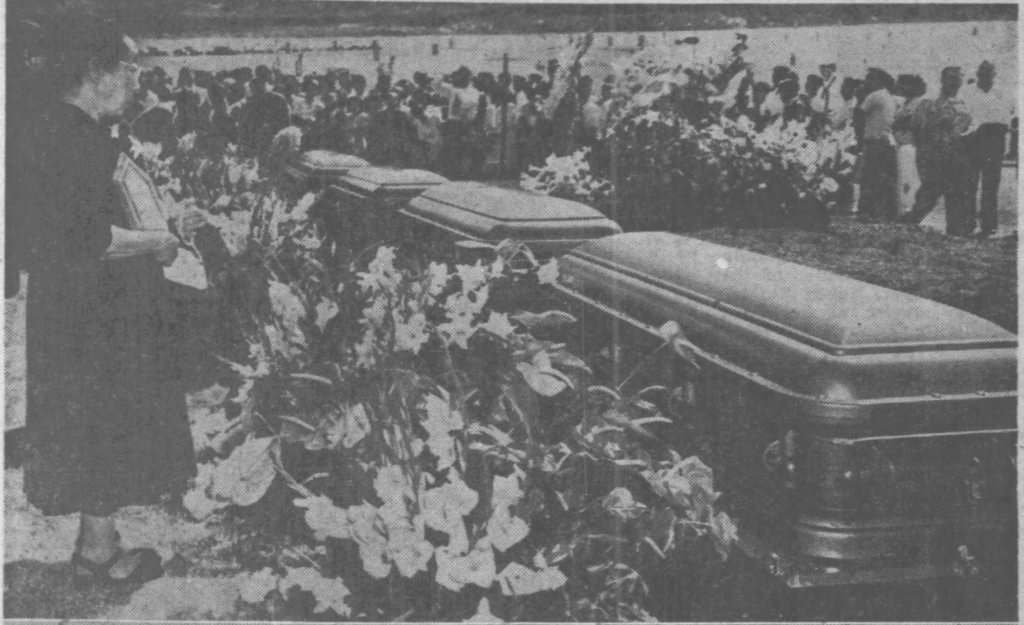 His gravestone was ordered on February 23, 1950, from West Chelmsford, Massachusetts.
Pfc. Yoshio Iwamasa's name appears on the wall at the Japanese American Memorial located at the intersection of D Street NW and New Jersey Avenue in Washington, D.C.
Yoshio Iwamasa had two brothers who served with the 442nd RCT: Haruto Iwamasa in the 522nd Field Artillery Battalion, B Battery; and Masao Iwamasa in 2nd Battalion, F Company.
Researched and written by the Sons & Daughters of the 442nd Regimental Combat Team in 2020, and updated in 2021.