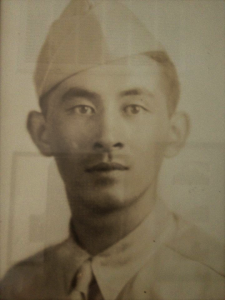 Yoshio Matsuoka
Private
442nd Regimental Company Team
2nd Battalion, F Company
Yoshio Matsuoka was born on August 17, 1922, in Walnut Grove, California, to Harry Tomio and Juyo (Iwanaga) Matsuoka. They arrived from Kumamoto Prefecture, Japan, in 1904 and 1920, respectively. He was one of five sons – Toshio, Yoshio, Shaw (Sho), Walter Nobuo, and David Kengo; and two daughters – Bessie Haruko and Rose.
In 1930 and 1940, the family was living in Walnut Grove and his father was the proprietor of a shoe shop.
In the Spring of 1942, the family was evacuated to the Merced Assembly Center at the Merced County Fairgrounds. On September 5, they were incarcerated at the WRA Camp at Granada, also known as Amache, in southeastern Colorado.
Matsuoka signed his draft registration card on June 28, 1942, Local Board No.28A. At the time he was living in unit J-4-19 at the WCCA Assembly Center in Merced, and he was a student. His point of contact was his father, Harry T. Matsuoka, of J-4-17, Merced Assembly Center. Yoshio was 5'8" tall and weighed 130 pounds.
On June 30, 1943, Yoshio was released from Granada so that he could enlist in the U.S. Army on July 10 at Fort Logan, Colorado. Nearly all of his family was held at Granada until July 10, 1945, when they were released back to Walnut Grove, California.
After his enlistment, Matsuoka was sent to Camp Shelby, Mississippi, as a member of the 442nd Regimental Combat Team, and assigned to F Company. After months of training, on April 22, 1944, he left with the Combat Team for Camp Patrick Henry, Virginia. The 442nd sailed in a large convoy of troop ships from nearby Hampton Roads, Virginia, on May 2. The ships carrying the bulk of the 2nd Battalion dropped out of the convoy and steamed into Oran, on the coast of North Africa to discharge cargo. The other ships arrived at Naples, Italy, on May 28. It is not known in which of these groups Matsuoka was traveling.
The battalion spent a week at a staging area in Bagnoli, near Naples, before leaving on LSTs for Anzio on June 6, where they marched five miles to a bivouac area. From Anzio the 442nd convoyed by truck to a large bivouac area near Civitavecchia, north of Rome, where they went through additional training and final preparations for going to the front lines. The ships that had stopped in Oran arrived on June 17, going through the same processing as the earlier units.
Events moved swiftly at this point. On June 22 the Combat Team moved to another bivouac near Gravasanno, stayed overnight, and on the following day marched thirteen miles to its final assembly area behind the lines. As they were assigned to the 34th Division, it was their mission to relieve a regiment of the 36th Division.
On June 26, 1944, the 442nd RCT moved forward from Gravasanno in the predawn hours to the front lines for their first combat engagement. The 2nd Battalion relieved elements of the 142nd Infantry Regiment and crossed the line of departure at 6:50 am, making contact with the enemy about 8:30 am. After driving about 1,500 yards, the 2nd Battalion met fierce enemy resistance. Matsuoka's F Company was now on the battle line with G and H Companies. When it was discovered that F Company was about 3 miles off the objective, they were ordered to move in behind G and H Companies. However, in moving due east, F Company moved in front of the other companies. They then encountered the Germans who swiftly attacked and overran part of F Company. There were numerous casualties and men captured. The battle raged on all day and by 5:00 pm the tide had turned and 2nd Battalion was advancing behind a curtain of mortar fire and driving the enemy into the waiting arms of the 100th Battalion. The 2nd Battalion reverted to reserve at this point as the day ended.
In the F Company action report of June 30, three men had been killed, twelve wounded, and ten missing in action. Three of those missing were soon recovered alive as the Germans were pushed north. The other seven became prisoners of war, and were not liberated until the end of the war.
Private Yoshio Matsuoka was one of those taken prisoner by the Germans on that first day of combat near Suvereto, June 26. In the local California newspapers, he was reported on August 4 as missing in action in Italy.
He was sent to Stalag VII-A, located on 85 acres on the outskirts of Moosburg, 22 miles northeast of Munich in Bavaria, Germany. It had been established at the beginning of the war in September 1939, and was Germany's largest prisoner of war camp. Originally planned for 10,000 prisoners, when it was liberated on April 29, 1945, it had over 70,000 Allied prisoners in the main camp and in its many arbeitskommando or subsidiary work camps. Over 150,000 prisoners passed through Stalag VII-A during the war.
The record also states that Matsuoka was in Work Camps 3324-46, located on Krumbachstrasse (Krumbach Street) in Munich, and Work Camp 3368 located on Hofmannstrasse (Hofmann Street) in Munich.
For further reading on Stalag VII-A, refer to the following websites:  moosburg.org; iwm.org.uk; and wartimememoriesproject.com.
Yoshio Matsuoka returned home to Walnut Grove in July 1945, as reported in local California newspapers, and his parents also arrived there in July from Granada.
Matsuoka was discharged from the U.S. Army on November 30, 1945.
For his military service, Private Yoshio Matsuoka was awarded the Bronze Star Medal, Prisoner of War Medal, Good Conduct Medal, American Campaign Medal, European-African-Middle Eastern Campaign Medal with one bronze service star, World War II Victory Medal, and Combat Infantryman Badge. He also was awarded the Congressional Gold Medal on October 5, 2010, along with the other veterans of the 100th/442nd Regimental Combat Team. This is the highest Congressional Civilian Medal.
After the war, Matsuoka married Shizue S. Uda.  They settled in the Berkeley area and raised a family of two daughters and one son.  His professional career was as a landscape gardener.  Yoshio was an active member of the Veterans of Foreign Wars, Golden Gate Nisei Memorial Post 9879 of San Francisco and the family participated in many VFW activities over the years.
Yoshioka did not talk to his family in detail about his wartime experiences – they only knew that he had been a prisoner of war.
Yoshio Matsuoka died on February 15, 1997, and was buried at Sunset View Cemetery in El Cerrito, California, next to his wife, Shizue (Susie).
Researched and written by the Sons & Daughters of the 442nd Regimental Combat Team in 2021.