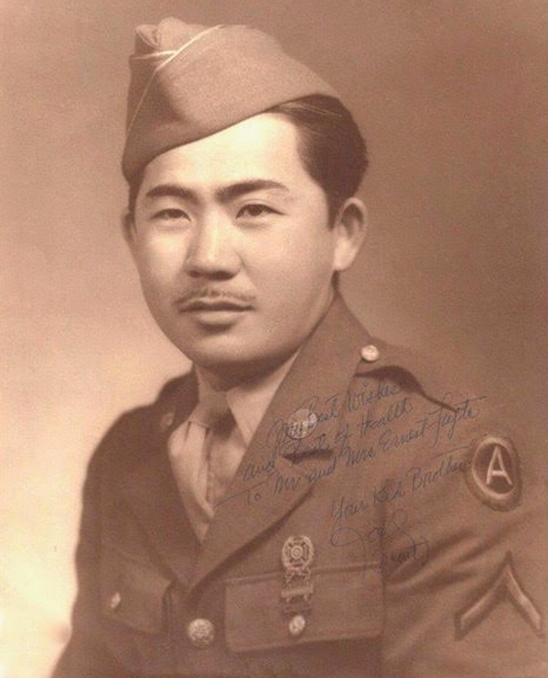 Yoshiyuki Joel Fujita
Technician 5th Grade
442nd Regimental Combat Team
Headquarters Company
Yoshiyuki Fujita (also known as "Yoyan") was born on February 4, 1920, in Ewa, Oahu, Territory of Hawaii. He was the youngest of the ten children of Tomojiro and Nao (Ogata) Fujita. Tomojiro and Nao arrived from Yamaguchi Prefecture, Japan, in 1899 and 1902, respectively. Tomojiro worked as a plumber foreman at the Ewa (sugar) Plantation. They raised a family of six sons and four daughters.
Fujita signed his World War II Draft Registration card on July 1, 1941, Local Board No. 9, August Ahrens School, Waipahu. He was living with his family in Ewa and was employed at M. McInerny Ltd. in Honolulu as a decorator/window dresser. His point of contact was his brother, Meneichi Fujita. He was 5'3" tall and weighed 130 pounds.
Fujita received his Draft Notice in 1943. He quit his job, telling off his boss in the process, and his coworkers threw him a going-away party and bought him a beautiful leather jacket. Then he received a letter from the Draft Board telling him to disregard the Draft Notice. So, he went to the Draft Board and volunteered. He was very honest about why he did this – he would later tell people he felt he had no other choice because it would have been too embarrassing to go back to his job and face his coworkers and his boss.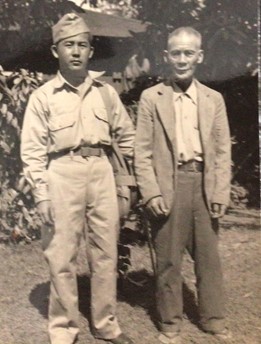 Yoshiyuki was enlisted into the U.S. Army as a Private on March 23, 1943. He attended the community farewell ceremony at Iolani Palace on March 28 and sailed from Honolulu with the other men of the 442nd on the S.S. Lurline on April 4. (right – Yoshiyuki with his father, 1943)
After arriving at Camp Shelby, Mississippi, he was assigned to Headquarters Company, Intelligence and Reconnaissance Platoon. After training, Yoyan shipped out to Italy with the rest of the 442nd on May 2, 1944. He was a tactical map specialist, responsible for creating and maintaining the critical tactical maps for Regimental Headquarters. He also served as a reconnaissance scout. In the lead-up to the Vosges Campaign in France, he reported vital details of German defenses to 442nd officers.
Fujita served in the campaigns of the 442nd: Rome-Arno in Italy; Rhineland-Vosges and Rhineland-Maritime Alps in France, and Po Valley back in Italy.

Fujita earned a Bronze Star Medal for "heroic achievement in action on 30 April 1945 in Italy." On that day, his Intelligence and Reconnaisance Platoon, led by Lt. Robert I. Wakaya, and a machine-gun section from Company H, made a wild dash for the city of Turin through 75 miles of country that was possibly still held by the enemy. The platoon made a thorough survey of Turin, which was held by the partisans, and returned to Genoa.
After the war ended, Joel arrived at Pier 24 in Honolulu on December 19, 1945, along with 850 other returning veterans on the troop ship USAT Evangeline. The soldiers were allowed to visit with family and friends gathered to welcome them home, before being taken to Fort Kamehameha for processing prior to discharge. He was discharged at the Fort Kamehameha Army Separation Center on Oahu on December 31, 1945.
For his wartime service, Technician 5th Grade Yoshiyuki Joel Fujita was awarded the Bronze Star Medal with one oak leaf cluster (second award), Good Conduct Medal, American Campaign Medal, European-African-Middle Eastern Campaign Medal with four bronze stars, World War II Victory Medal, Army of Occupation Medal, Combat Infantryman Badge, Expert Badge with Rifle Bar, Honorable Service Lapel Button, and Distinguished Unit Badge.
He was awarded the Congressional Gold Medal on October 5, 2010, along with the other veterans of the 100th/442nd Regimental Combat Team. This is the highest Congressional Civilian Medal.
Fujita married Frances Fumiko Ohori on August 7, 1948, and they raised a son and a daughter. Over the years he worked at different jobs, using his artistic talent at Ritz Department Store, Ross Sutherland, and Neon Hawaii. His last job was as a sign painter for the State of Hawaii, before retiring in 1985. The bulk of his work was painting and designing the logos of public-school signs. He was also one of several nominees for the State Employee of the Year in 1978.
On November 30, 2019, in a small, private ceremony, the Légion d'Honneur, France's highest award, was conferred on Joel Y. Fujita for his wartime service in France. The medal was presented by Mr. Guillaume Maman, French Honorary Consul in Hawaii.
Yoshiyuki Joel Fujita died on June 4, 2020, at the age of 100. He is buried at Hawaiian Memorial Park on Oahu. Survivors include his two children and four grandchildren.
Joel's nephew Mitsuyuki Fujita was also in Headquarters Company, 442nd RCT.