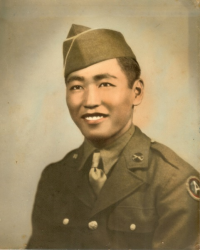 Zenyei Harold Afuso
Private First Class
442nd Regimental Combat Team
2nd Battalion, H Company
Zenyei Harold Afuso was born on December 1, 1924, at Puukolii, Lahaina, Maui, Territory of Hawaii.  He was one of nine children born to Zenhachi and Maka (Ginoza) Afuso.  His siblings were Zenichi, Teruko, Doris Itayo, Umeno, Joyce Toshiko, Richard Isamu, Elsie Yoshiko, and Kazue Gladys.  Zenhachi emigrated from Kunsan District, Okinawa Prefecture, Japan, arriving at Honolulu on March 7, 1909, on the Asia Maru.  Maka emigrated from the village of Kim, Okinawa Prefecture, arriving on November 21, 1913, on the S.S. Nile.  They were married on November 26, 1913, at the U. S. Immigration Station in Honolulu.,
Harold worked for the Pioneer Mill Company and lived in the Puukolii Camp. By 1920, the family was living at Honokowai, Maui. In 1930, they had moved to Molokai island where he worked on a pineapple plantation. By 1940, they were back on Maui working for a sugar plantation and living at 2141-B Algaroba Street, Puukolii Village. After his older brother, Harold, died when Zenyei was in the 9th grade, he dropped out of school to work and help support the family.
Harold registered for the draft on December 26, 1942, at Local Board No. 2, Lahaina Courthouse, Lahaina. He was employed at the Pioneer Mill Company, and his mother was his contact person. He was 5'4" tall and weighed 122 pounds.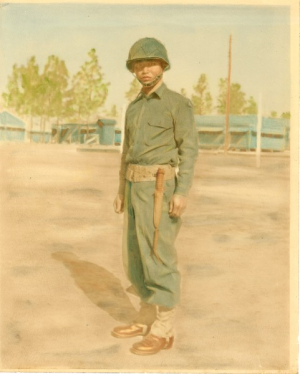 Afuso enlisted in the Army on March 23, 1943.  He had completed grammar school, and was listed as "gardener and grounds keeper."  He was sent to the "tent city" known as Boom Town at Schofield Barracks with the other volunteers.  On March 28, they were given a community farewell at Iolani Palace.  On April 4, they sailed on the S.S. Lurline to San Francisco.  After a train trip across the US, they arrived at Camp Shelby, Mississippi, for training.
Right: Harold at Camp Shelby, 1943
After basic training, Harold was assigned to the 2nd Battalion, H Company. Following over a year of training, he shipped out to Europe with the 442nd on May 2, 1944, from Hampton Roads, Virginia, in a convoy of over 100 ships.
After arriving at Naples, Italy, on May 28, the battalion spent a week at a staging area in nearby Bagnoli before leaving on LSTs for Anzio on June 6, where they marched five miles to a bivouac area. On June 26, 1944, the 442nd RCT moved forward to the front lines for their first combat engagement near Suvereto. Harold fought in the Rome-Arno Campaign. He was wounded in action, but able to return to his unit after his recovery.
The 442nd RCT left for France on September 27. Once they arrived in Marseilles, the Combat Team was in a bivouac area in nearby Septèmes until October 9, when they were transported north to participate in the Rhineland-Vosges Campaign. In October-November, the 442nd liberated the important road junction of Bruyères, followed by Biffontaine and the famous "Rescue of the Lost Battalion" – the 1st Battalion of the 141st (Texas) Infantry Regiment that had advanced beyond its support, become surrounded by the enemy, and was unable to extricate itself. Harold was wounded in action by shrapnel from an artillery tree burst during the rescue operation.
Following the tough battle through the Vosges Mountains, the 442nd was sent to the Maritime Alps and the French Riviera, in the area of Nice, Menton, and Sospel beginning on November 21. It was an easy assignment compared to what they had experienced in October. Little to no action occurred in the next four months as the Combat Team was restored to combat readiness. The 442nd guarded and patrolled a twelve- to fourteen-mile front line segment of the French-Italian border. The 442nd experienced additional losses as patrols sometimes ran into enemy patrols, or sometimes soldiers stepped on enemy and allied land mines.
The 442nd returned to Italy on March 25, 1945, for the Po Valley Campaign, leading to the end of the war in May.
After Germany surrendered on May 7, 1945, he remained in Italy for occupation duties.  Harold arrived back in Honolulu on December 19, 1945, on the USAT Evangeline and was discharged on January 2, 1946.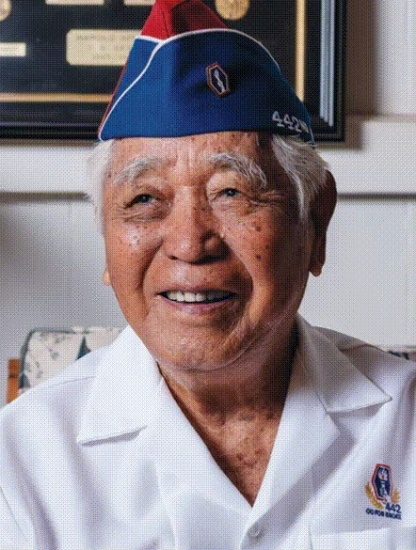 For his wartime service, Private First Class Zenyei Harold Afuso was awarded the Bronze Star Medal, Purple Heart Medal with one oak leaf cluster, Good Conduct Medal, American Campaign Medal, European-African-Middle Eastern Campaign Medal with four bronze stars, World War II Victory Medal, Army of Occupation Medal, Combat Infantryman Badge, and Distinguished Unit Badge. He was awarded the Congressional Gold Medal on October 5, 2010, along with the other veterans of the 100th/442nd Regimental Combat Team. This is the highest Congressional Civilian Medal.
Left: Harold in retirement, wearing his 442nd Veterans' white shirt and garrison cap
Harold married Patsy S. Oshiro on May 6, 1950. They lived at 412-A Halawa Veterans' Housing. Over the years, they raised a family of three children.
After the war, Harold attended technical school on the GI Bill to become an electrician; however, he had to drop out to support his family. He took a job as a federal security guard. He later became a firefighter on Hickam Air Force Base, and retired with 32 years of civil service.
During his retirement, Harold Afuso was an avid golfer, and active in the Hawaii United Okinawa Association where he served as President.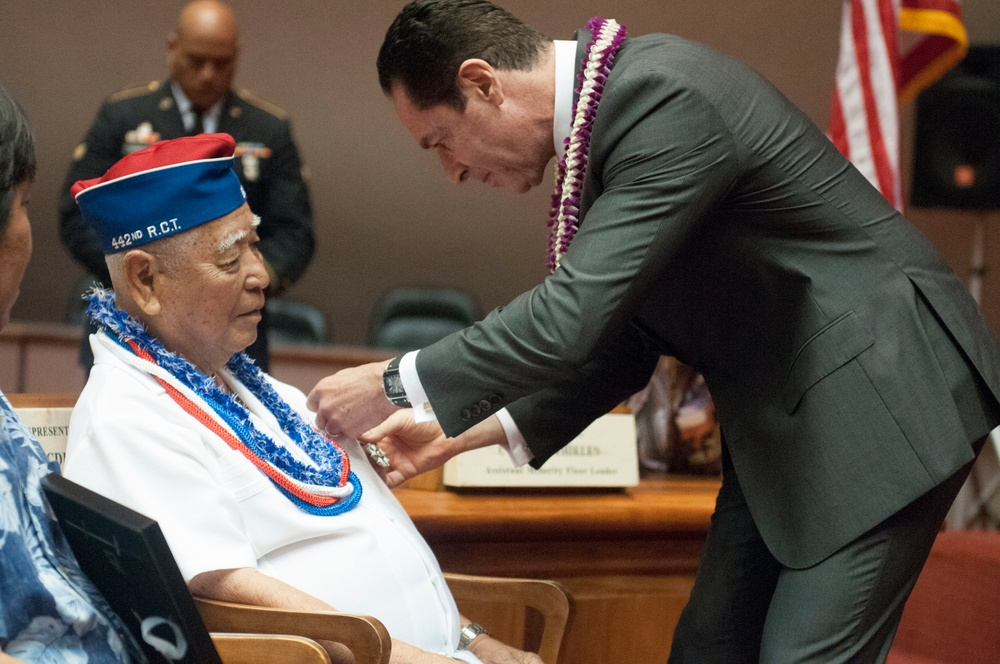 Harold was awarded the French Legion of Honor at the Hawaii State Capitol on September 21, 2017, by Honorary Consul of France, Guillaume Maman.
Researched and written by the Sons & Daughters of the 442nd Regimental Combat Team in 2022.