2016 Sons and Daughters Family Christmas Party.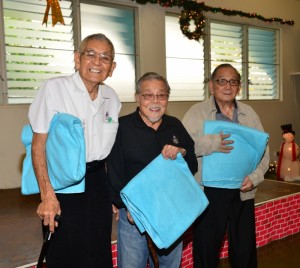 The annual 442nd Sons & Daughters Family Christmas Party was held on Saturday, December 10, 2016 at the 100th Infantry Battalion Clubhouse with the attendance of a little over 100 individuals. It was an event filled with merriment and memories for all. We were honored by the presence of three 442nd RCT veterans – Kenji Ego, Robert Kishinami, and Richard Nomura. Ann Kabasawa continues to amaze everyone with her organizational skills in chairing this event for the past few decades. Her dedication and commitment to the organization should be applauded by us all.
Lunch included an array of dishes such as tossed salad, fruit salad, a variety of sushi, rice, noodles, spring rolls, curry stew, and sweet sour spareribs. Dessert was on display on another table, with a beautiful Christmas cake centerpiece surrounded by brownies, various kinds of mochi, cupcakes, and other home baked goodies.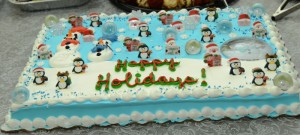 Following lunch, Gail Nishimura treated us with her challenging holiday games. I'm still figuring out whether I needed to pass the candy cane to the right or left? Next year, I need to remember to review my Christmas carols.
Santa made his grand appearance after the singing of songs with Ed Goto. Children were treated to candy sweets and Christmas gifts with a lot of "Ho Ho Hos"! It's not Christmas without Santa and his elves (AKA Curtis Sakamoto and sons, Jason & Justin).
No one went home empty handed. During lunch and following our Santa visit, Ann called out everyone's name to pick-up a grab bag gift, many generously donated by Carol and Mike Sullivan and much appreciated. In addition to the grab bag, several lucky people received donated gift cards before the ending of the event. If you want to join in the fun, plan to attend next year's event. It will be posted on the 442nd Sons & Daughters website sometime in November 2017.