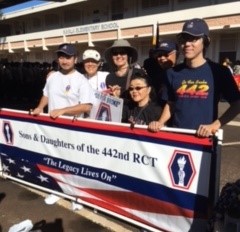 Sons & Daughters members march in 2016 Veterans Day Parade
On November 11, 2016 a group of Sons & Daughters of the 442nd RCT members and others community members marched with a group of descendants from the 100th Infantry Battalion Veterans (Rural Chapter) in the annual Veterans Day Parade in Wahiawa.
Friday, November 11, 2016 was a bright and sunny day, resulting in our umbrellas being unnecessary and left in our cars. Sun screen, hats and dark glasses were more in order for the day. About a dozen members of the Sons and Daughters chapter walked in the annual Veterans Day parade up California Avenue, the main drag in the former plantation town of Wahiawa. We joined a group of descendants from the 100th Infantry Battalion Veterans (Rural Chapter) at the invitation of president Stephen Saito, the Yonsei grandson of a Nisei veteran, Masaharu "Bull" Saito.
The Sons & Daughters group was coordinated by Grace Fujii, S&D Chapter President, and consisted of Bill Wright, Juanita Wright Allen, Laura Hirayama, Anita Nihei, her son Gavin and his friend Brant, Susan Yoshitomi, Laughlin Tanaka, Gail Nishimura and Byrnes Yamashita. Jeannie Ishikawa stopped by just before the start of the parade to say hello and to give us encouragement before heading off to march with her Neighborhood Board group.
We proudly carried the huge banner of the Sons & Daughters of the 442 RCT and a large poster created by S&D member Ron Takamoto, depicting the famous 442 RCT Liberty Torch with the words "GO FOR BROKE!" The tagline on the banner read "The Legacy Lives On." Grace had a frame made of PVC pipe which made the banner very easy to carry. Our combined group was given the honor of being the 10th marching group and we gamely fell in line behind the Veterans of Foreign Wars caravan. The parade route was just a little over a mile long and slightly uphill in places. The street was lined with many people who cheered us on in a spirit of patriotism and gratitude for all of the veterans that have served our country over the years.
Besides its deep plantation roots, Wahiawa is also strongly influenced by nearby Schofield Barracks and there was a lot of spirited support for the marchers. Several members commented on how nice it was to meet the 100th Infantry Battalion descendants and expressed the desire to have more joint activities with them. Stay tuned for news of any upcoming joint activities.