This Time in 442nd RCT History
After the Vosges: The Champagne Campaign in the French Maritime Alps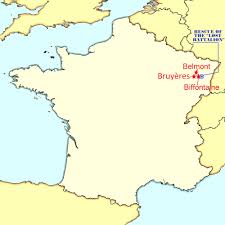 October 30, 1944 was a Monday but for many with a sense of history it is the day the 442nd RCT reached the 1st Battalion, 141 Infantry Regiment in what has come to be known as the "Rescue of the Lost Battalion."  This is a short summary of the movements of the 442nd following the brutal fighting in the Vosges Mountains, including the Rescue.
According to historical information in the National Archives, the 100th Infantry Battalion was detached from the RCT on November 10 and was sent to Nice on the southern coast of France.  The rest of the 442nd RCT was given relief on November 17 after the more than one month of fighting in the Vosges.  They traveled by truck a distance of 540 miles over four days to St. Jeannet, just a few miles west of Nice in the "Maritime Alps" of France, stopping in Docelles within the township of Bruyeres for one day.  One can only imagine the thoughts of some of the men as they rode in the trucks down from the eastern part of France to the southeast, after the fighting in the mountains and the liberation of the towns of Bruyeres and Biffontaine, and the loss of so many of their friends and comrades.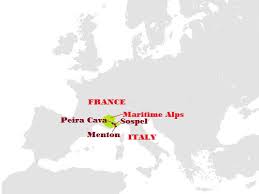 The RCT reentered duty on November 23, Thanksgiving Day in 1944, having been attached to the 44th Antiaircraft Artillery (AAA) Brigade, and the men provided defensive duty along the France-Italian border until March 1945.  The 100th rejoined the 442nd on November 28.  The duty for the 442nd was to patrol a stretch of the border.  But because the area is part of the French Riviera and the men were able to avail themselves of the comforts of the resort towns as the units were not engaged in battle, this period has been dubbed the Champagne Campaign.
In spite of the relative peace of this duty compared to front line battle, 11 442nd soldiers died, 96 were were wounded and others went missing or were injured.  A notable event that occurred in the town of Menton was the capture of a one-man German submarine.  This is reported to be the first time that the U.S. Army captured an enemy submarine, and it was accomplished by soldiers of the 442nd.  Read more details of the event in the link below to a transcript of stories by Antitank Company Shiroku Yamamoto.
Sources
https://www.goforbroke.org/learn/history/combat_history/world_war_2/european_theater/rhineland_maritime.php