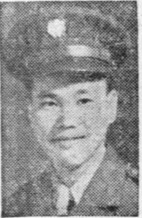 Masaharu Endo
Private
442nd Regimental Combat Team
3rd Battalion, L Company
Masaharu Endo was born on February 11, 1923, in Honolulu, Territory of Hawaii. He was the son of Kokichi and Ume (Watanabe) Endo. His parents emigrated from Japan. Kokichi arrived on the Kusuho Maru from the village of Noda in Fukushima Prefecture, Japan, on November 4, 1910. Ume arrived from the same village on February 19, 1918, on the Shinyo Maru. His siblings were: brothers Samuel Masakachu and Toru; and sisters Haruko Dorothy and Suzuko.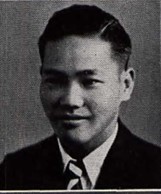 In 1930, the family lived in the village of Wahiawa and Kokichi worked as a retail merchant of general merchandise. Masaharu attended Wahiawa Elementary School and Leilehua Intermediate School. In 1940, Kokichi owned his own floral business and they lived on Midway in Wahiawa.
Right: 1941 Senior class photo
In high school, Masaharu was in the A Capella Club, Hi-Y Club, and Future Farmers of America, and he was active on the Wahiawa YMCA track team. In April 1941, Endo was among fourteen other graduating seniors of the Wahiawa Hongwanji Mission who were taken on a remembrance trip to Kauai. He graduated from Leilehua High School in 1941, and was then employed in defense work at Schofield Barracks.
Masaharu signed his draft card on June 30, 1942, Local Board No. 10 in Wahiawa. He was 5'6" tall and weighed 129 pounds. His address was P.O. Box 52 and he lied with his family on Midway. His point of contact was his sister, Mrs. Dorothy Tomasa in Kailua. He was employed by Hawaiian Construction at Schofield Barracks.
"Mac," as Endo was called, enlisted in the U.S. Army on March 21, 1943. His civilian occupation was "Carpenters apprentice." He was sent with other inductees to Schofield Barracks on Oahu where he was in the "tent camp" nicknamed Boom Town with the other new soldiers who would be part of the 442nd Regimental Combat Team. After a farewell aloha ceremony at Iolani Palace on March 28, they sailed on April 4 on the S.S. Lurline to San Francisco. Following a train trip across the US, they arrived at Camp Shelby, Mississippi, where Masaharu was assigned to the 442nd Regimental Combat Team, 3rd Battalion, M Company.
After over a year of basic, unit, and combat training and field maneuvers, Endo left Camp Shelby by train for Camp Patrick Henry, Virginia, on April 22, 1944, with the rest of the 442nd. They shipped out to Europe from nearby Hampton Roads on May 2, 1944, in a convoy of over 100 ships. L Company was aboard the Liberty ship S.S. George W. Campbell.
They arrived at Naples, Italy on May 28. The 442nd was in bivouac at nearby Bagnoli for a week, then they boarded LSTs for the overnight trip to Anzio, followed by a motor convoy around the recently liberated city of Rome. They arrived at their large bivouac near Civitavecchia, 50 miles from Rome, where they made final preparations for combat in the Rome-Arno Campaign.
In the early days of the fighting in Italy, Mac's best friend and Platoon buddy, Pfc. Yoshiji Aoki, was wounded. While he was recuperating in the 12th General Hospital in Rome, Aoki was called into the military censor's office to look at the letter that had just arrived for him from Mac Endo. It was written entirely in Pidgin English, and had confounded the censor so much that they accused Aoki of it being written in code. As he later recalled:
….he was my best friend, but he was forever up to antics like this, and with such an angelic face yet….I assured him that was standard English back in Hawaii, but of course he didn't know where Hawaii was. Anyway, I translated the letter for him. When I answered Mac's letter, I wrote in Pidgin also, and sure enough, I was again summoned to the censor's office as I knew I would be.
On September 25, 1944, it was reported in the Honolulu Advertiser that Pvt. Endo had been wounded in action in Italy. He was treated and returned to duty. His home address was given as 14 Wilikina Street, Wahiawa.
After serving in the Rome-Arno Campaign, where the Combat Team engaged in battles pushing the Germans north of the Arno River and liberating several towns including Livorno, Pvt. Endo left Italy on September 27, 1944, for the 442nd's combat in the Rhineland-Vosges Campaign in France.
After arriving on September 29, 3rd Battalion was moved from the staging area in Septèmes, just outside Marseilles, on October 10, 500 miles by rail up the Rhone Valley north to the Vosges Mountains. They arrived in the assembly area at Charmois-devant-Bruyères at midnight on October 13. On October 15, the Combat Team attacked the Nazis who were holding the important rail and road center of Bruyères.
Following the liberation of Bruyères,on October 23, the 442nd liberated the next town, Biffontaine. Finally, on October 24 they were taken off the front lines and put in reserve in nearby Belmont for a rest after eight days of heavy fighting, little to no sleep, harsh weather conditions, and many casualties.
On the afternoon of October 26, the short rest was abruptly ended when the 442nd was ordered to go into the lines the next morning and fight through to rescue the "Lost Battalion," the 1st Battalion of the 141st (Texas) Infantry Regiment. After moving too fast and over-reaching its support, they had become surrounded on three sides by the enemy and were unable to extricate themselves. The 2nd and 3rd Battalions of the 141st Infantry Regiment had tried to rescue them along with other units, but were thrown back each time they attacked.
The 442nd's 3rd Battalion moved out at 4:00 a.m. on October 27. The men were forced to march in column, with each man holding on to the pack of the man in front of him, as they could not see each other in the darkness. By 2:00 p.m. they were in line with the other two infantry battalions of the 442nd. The attack moved slowly and encountered heavy resistance from enemy infantry and incessant mortar concentrations. The fighting was severe. All units resumed the attack on the morning of October 28, with resistance as fierce as ever. Third Battalion encountered a series of manned roadblocks in its advance up the hill.
Private Masaharu Endo was killed in the fighting on October 28, 1944. His friend, Yoshiji Aoki of L Company, later recalled that night.
We were moving up under a cover of darkness, through a minefield when all hell broke loose. The Germans must've had this minefield zeroed in also because the barrage was concentrated in one area. Our 1st Platoon took some casualties, and two were badly wounded….We were ordered back from this area, regrouped, and assessed the damage. It was announced that Mac Endo from the 1st Squad and Tommy Kakesako from the 3rd Squad were left badly wounded. It was also announced that Doc Miyamoto, the medic assigned to our company, was the only one administering to them, so they called for one volunteer. I volunteered, thinking I would be helping Mac because he was from my squad. But when I arrived, Doc was helping Mac and asked me to help Tommy, whom he had just bandaged and left to help Mac. Mac was coherent and he also asked me to help Tommy, that he'll be alright and he'll see me later. Those words proved to be the last words he spoke to me; he later died of his wounds….Thank God medics finally showed up after the shelling subsided.
It was not until two days later that the Lost Battalion was rescued.
Pvt. Masaharu Endo was buried at the U.S. Military Cemetery in nearby Epinal. He was survived by his parents, both brothers, and sister Haruko Dorothy (Mrs. Masaru Tomasa).
For his military service in World War II, Private Masaharu Endo was awarded the Bronze Star Medal, Purple Heart Medal with one oak leaf cluster, Good Conduct Medal, American Campaign Medal, European-African-Middle Eastern Campaign Medal with two bronze stars, World War II Victory Medal, Distinguished Unit Badge with one oak leaf cluster, and Combat Infantryman Badge. He was awarded the Congressional Gold Medal on October 5, 2010, along with the other veterans of the 100th/442nd Regimental Combat Team. This is the highest Congressional Civilian Medal.
In early February 1945, a private ceremony was held at the Endo home for the posthumous presentation of Pvt. Endo's Purple Heart Medal. The medal was presented to Kokichi Endo by Lieutenant Colonel Corwin H. Olds, Chaplain, Pacific Base Command, on behalf of Lieutenant General Robert C. Richardson, Commanding General, U.S. Army Forces, Pacific Ocean Areas.
After the war, as authorities were closing most of the overseas U.S. Military Cemeteries, families were given the option of having their loved one reinterred at one of the few remaining cemeteries or returned home. The Endo family chose to have Masaharu's remains returned to Hawaii.
On September 1, Masaharu Endo was among 78 soldiers whose remains arrived in Honolulu Harbor from San Francisco on the USAT Dalton Victory at Pier 40 at 1:00 p.m. This was the first of the ships bearing Hawaii's fallen sons to return home.
Earlier that morning in waters off Diamond Head, the Coast Guard cutter Iroquois and the Navy destroyer escort George circled the choppy seas to meet the Dalton Victory. Four 442nd veterans were aboard the Iroquois and each dropped a giant orchid, rose, and anthurium wreath into the ocean next to the Dalton Victory. As the ship entered the harbor, a 21-gun salute was fired from Fort Armstrong, and Army, Navy, and Marine planes flew overhead. As the ship docked, church bells tolled throughout Honolulu.
Hundreds and family and friends were there to greet the ship. George Miki, President of the 442nd Veterans Club, and Earl Finch of Hattiesburg, Mississippi, were on the dock to welcome the soldiers home and talk to the parents who were awaiting the arrival of the ship. The flag-draped caskets were held at the Army mausoleum at Schofield Barracks pending burial arrangements. The following day there was a memorial processional with the caskets of two anonymous soldiers carried on caissons through downtown to a service at Iolani Palace, where they later lay in state in the Throne Room.
Pvt. Masaharu Endo was reinterred on July 26, 1949, at the National Memorial Cemetery of the Pacific at Punchbowl, Section D, Site 356.
On December 9, 1945, Pfc. Endo was among the 226 fallen soldiers who were honored at a Memorial Service held at McKinley High School auditorium at 2:00 p.m. Testimonials were given by veterans of the 100th Infantry Battalion and the 442nd Regimental Combat Team, and the main address by Lieutenant General Robert C. Richardson, commander of U.S. Army Forces – Pacific Area.
On March 17, 1946, at a Memorial Service held in Wahiawa during the visit of Earl Finch of Hattiesburg, Mississippi, the 21 Gold Star Mothers were each given a Gold Star pin by Mr. Finch. Reverends Hiro Higuchi and Masao Yamada, wartime chaplains of the 442nd, also participated in the service.
The first Armistice Day ceremony at Punchbowl was held on November 12, 1949. Masaharu's mother, sister, and two nieces attended and placed flowers and lei on his grave. Governor Ingram M. Stainback gave the keynote address at the ceremony that honored the fallen soldiers from all wars.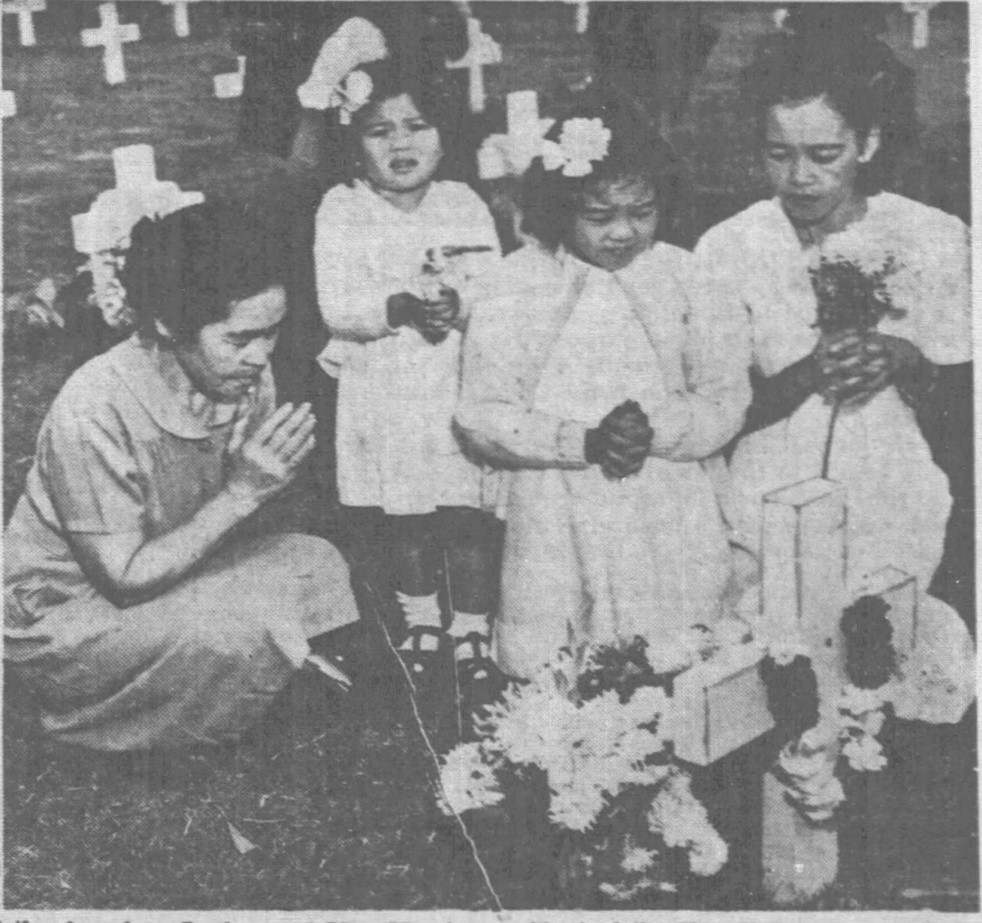 Ume Endo, Haruko Endo Tomasa, and her two daughters
On July 27, 1949, 3,000 local residents attended the dedication of the Memorial Swimming Pool at Wright Park in Wahiawa. A bronze tablet bearing the names of the 21 local men – including Masaharu Endo – who died in World War II was unveiled at the ceremony.
Masaharu's brother-in-law, Sergeant Masaru Tomasa, served in the 100th Battalion, A Company
Researched and written by the Sons & Daughters of the 442nd Regimental Combat Team in 2022.