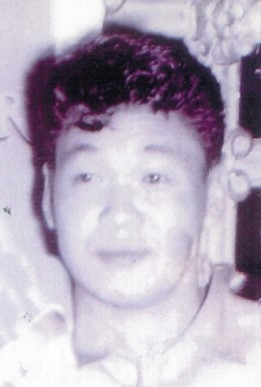 Thomas Saito Espineda
Private First Class
442nd Regimental Combat Team
3rd Battalion, L Company
Thomas Shigeo Espineda was born on March 4, 1924, in Waimanalo, Oahu, Territory of Hawaii. He was the son of Simeon Egmideo and Tsuru (Saito) Espineda. Thomas had three sisters: Maria Conchita, Elizabeth, and Josephine Saito. He later changed his middle name from Shigeo to Saito.
Simeon emigrated from the village of Gubat, Bicol District, Luzon Island, Philippines, about 1917. He was a plantation laborer for the Hawaiian Agricultural Company in Pahala on Hawaii island. By 1918, he had moved to Oahu and served as a Sergeant in E Company, 1st Hawaiian Infantry, from July 16, 1918, until discharged on July 17, 1919, during World War I. By 1920, Simeon was a Fireman Third Class in the U.S. Navy, based at Pearl Harbor on the U.S.S. Monterey. That year he married Tsuru Saito, who was born in Aiea, near Pearl Harbor. Her parents, Kichigo and Saku Saito, emigrated from Hiroshima Prefecture, Japan. By 1922 he was a Machinist's Mate at Pearl Harbor. In 1924, they were living in Waimanalo, on the Windward side of Oahu.
On January 21, 1926, father Simeon left for San Francisco, California, on the S.S. President Wilson. His family followed shortly afterwards, on March 4, on the S.S. President Pierce. They lived for a while at Pescadero on the coast. By 1930 they were living at 513 Lincoln Street in Watsonville, where Simeon was a day laborer doing odd jobs.
Simeon died in 1935 and was buried at the San Francisco National Cemetery at the Presidio. Tsuru married Jose (Joseph) Barangan Panoncialman in 1937. He had emigrated from the village of Carcar, Visayas District, Cebu Island, Philippines, arriving on the S.S. Nanking in Honolulu on April 9, 1922, as a contract laborer for the Hawaiian Sugar Planters Association.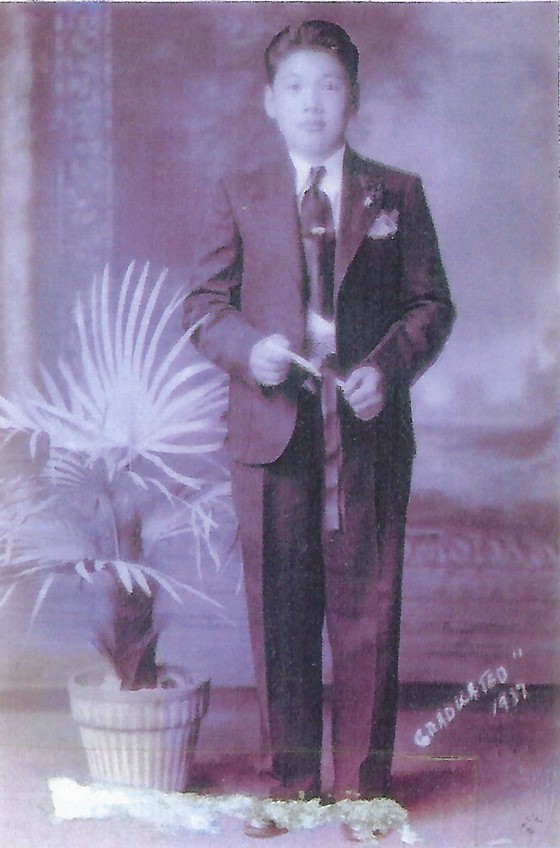 The family moved to Stockton, where Thomas graduated from McKinley Grammar School in June 1937. In high school, he was on a softball team and a member of the St. Aloysius Boys Club. During the summers he worked in the fields. By 1940 he had a half-brother, Franklin Panoncialman. They lived at 2049 South San Joaquin Street and Joe worked as a laborer on a state farm. Thomas graduated from Stockton High School in 1941 and enrolled in the local junior college.
Tom Espineda, 1941, high school graduation
In the spring of 1942, Tsuru and her children were evacuated to the Stockton WCCA Assembly Center located at the Stockton Fairgrounds. Joe remained at their home and took food to his family every weekend while he endeavored to obtain their release. While there, Thomas worked first as a busboy in the dining hall, then as a mailman, and finally in a warehouse. A few months later – just before the Assembly Center was closed and the other evacuees were sent to the WRA Internment Camp at Rohwer, Arkansas – the family was released and allowed to return to their home. The stipulation was that they were not allowed to go out at night and they had to wear a nametag.
Thomas S. Espineda signed his draft registration card on June 30, 1942, Local Board No. 37, at the First National Bank Building in Stockton, San Joaquin County. His point of contact was his mother and their home was at 2049 South San Joaquin Street in Stockton. At the time, however, they were living in Unit 7-135-E Stockton WCCA Assembly Center. Thomas was 5'4" tall and weighed 150 pounds.
It was announced on August 13, 1943, that Thomas Espineda was among 33 men from his Local Draft Board to be selected for induction. He reported to the Sacramento Buddhist Church, but was separated and placed with men being rejected as 4-F (physically unfit for duty) and told to report back to his Local Draft Board. His former teacher was the head of the Draft Board in San Joaquin County and told him his status was listed as "undesirable alien." She was able to have his status changed and he was sent to Camp Douglas, Salt Lake City, Utah, for processing. His induction date was September 6, 1943. He was assigned to the 442nd Regimental Combat Team and sent to Camp Shelby, Mississippi, where he was assigned to 3rd Battalion, L Company.
Espy, as Thomas was known, arrived at Camp Shelby when many of the men were in Alabama guarding German prisoners of war. He spent about six weeks undergoing "catch-up training" with other new arrivals After nearly eight months of training and field maneuvers, he left with the rest of the 442nd on April 22, 1944, for Camp Patrick Henry, Virginia. They left in a convoy of 100 ships from nearby Hampton Roads on May 2 and arrived at Naples, Italy, on May 28. L Company was aboard the Liberty Ship S.S. George W. Campbell.
The Combat Team entered combat in the Rome-Arno Campaign near Suvereto, north of Rome, on June 26, 1944. Espy later recalled that first battle and the sound of the artillery cannons. He also remembered one particularly hard night when he could hear a wounded comrade from K Company crying out for help and the men were unable to go to him as they would be instantly fired on by the enemy.
After pushing the Germans north to the Arno River, the 442nd was near Pisa in late July. They were called on to man the first Allied patrols into Pisa on a reconnaissance mission while the city was still in enemy hands. There were three patrols, two from G Company and one from L Company. Pfc. Espineda was among the twelve soldiers who were chosen from the many who volunteered for L Company. They set out at 11:00 p.m. on July 20, led by Lieutenant Edward E. Androvette and Lieutenant Norman F. Gilbert, and a partisan guide. Their orders were to determine if the Germans were pulling back across the Arno and evacuating Pisa.
The L Company patrol was almost given up for lost, but it finally returned about 12:00 p.m. on July 22, having spent most of the 21st hidden in the attic of a partisan's house as the enemy wandered around downstairs. The patrol had accomplished their mission – entering the southern part of the city, contacting the local partisan leader, and returning with a sketch of the entire enemy dispositions, including major minefields and river crossings being used by the Germans.
Pfc. Espineda was awarded the Bronze Star Medal for his actions, along with the other men who were on the patrol into Pisa.
The 442nd was pulled from the lines and shipped on September 27 to Marseilles, France, for combat in the Rhineland-Vosges Campaign to liberate France from the Nazis. The fighting in the Vosges was the most brutal the 442nd had encountered. The cold, wet weather, hilly terrain of heavily wooded forests, and tenacity of the enemy to not give an inch were all factors. Espy later recalled the only time he was scared. He had captured a prisoner and was ordered to take him to the Command Post. On his return back to L Company, he was caught in a fire of tree bursts caused by a heavy artillery barrage. He hid behind some large bounders and prayed. He was all alone and his greatest fear was being shot and no one would be able to find him. As he later remembered, in battle a soldier does not really think other than just "Let's get this over with." He finds an inner strength within himself that says, "You can do this."
That night, Espy finally made it up the hill and found himself in the area of the 100th Battalion. After passing the night there, he returned to L Company, which was in reserve at the time. Later, at the L Company sick call, it was discovered that Espy had a perforated eardrum. He was sent to a hospital in England for a few months to recover. When he returned to France, the 442nd had been in the Rhineland-Maritime Alps Campaign since the previous November. They were gathered in Nice for one final night, before shipping out for Italy over the next few days, March 20-22, 1945, for Italy. The return of the 442nd to Italy was a highly classified secret, with movements to the front lines in Italy done at night to keep the Nazis unaware of what they would soon be facing.
The 442nd RCT's mission in Italy for the Po Valley Campaign was to conduct a diversionary attack on the western end of the enemy's Gothic Line – the elaborate system of fortifications, hewn out of solid rock and reinforced with concrete. The objective was to draw off German reserve units from the center of the Gothic Line where the main Allied attack was to be launched.
Third Battalion moved into its assembly area the night of April 3 in the mountain town of Azzano. The climb to Azzano took five hours and the men were in full battle gear. The next day, the men slept. L Company took off downhill from Azzano at 10:00 p.m. on April 4. They reached the valley floor and began the 8-hour climb through the night to the saddle between the 3,000' Mount Carchio and the 2,800' Mount Folgorito, from where the attack was to be launched. By 6:00 a.m. on April 5 the attack was in full swing. L Company went along the saddle toward Mount Folgorito. The enemy's gun positions were seized almost without a struggle due to the total surprise of the attack. The ridgeline was secure by 7:30 a.m. As L Company drove from the saddle up to the peak of Mount Folgorito it was counterattacked by the observation post at the peak. They called in protective fire from field artillery positions as L Company stormed the summit.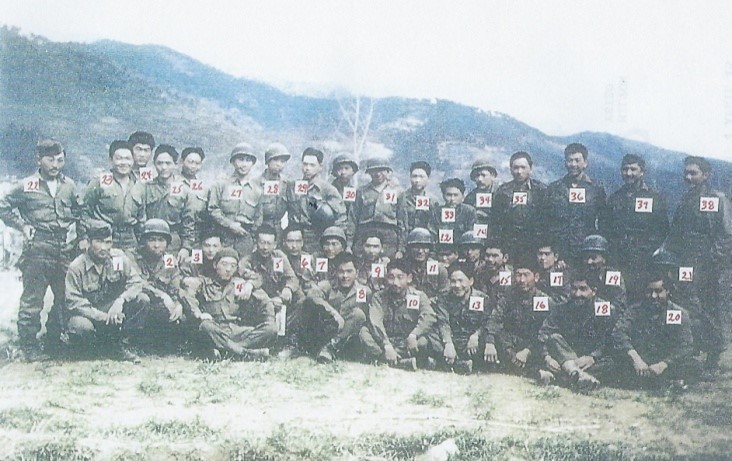 L Company, 2nd Platoon, April 4, 1945; Espineda is #23, 2nd man standing from the left
Pfc. Thomas Espineda was severely wounded in his shoulder during this action on April 5. He was evacuated first to the aid station, then the field hospital, and finally to a Division hospital. After some time, he was shipped to New York, where he stayed for a week before crossing the country on a hospital train to California. He had suffered nerve damage and healing was slow.
Thomas S. Espineda was discharged from the U.S. Army on October 5, 1945.
For his wartime service, Pfc. Espineda was awarded the Bronze Star Medal with one oak leaf cluster, Purple Heart Medal with one oak leaf cluster, Good Conduct Medal, American Campaign Medal, European-African-Middle Eastern Campaign Medal with three bronze stars, World War II Victory Medal, Distinguished Unit Badge with oak leaf cluster, and Combat Infantryman Badge. He was awarded the Congressional Gold Medal on October 5, 2010, along with the other veterans of the 100th/442nd Regimental Combat Team. This is the highest Congressional Civilian Medal.
After the war, Espineda attended California Polytechnic State University (Cal Poly) and studied engineering. He married Caroline Audrey Manalo, daughter of Paul J. and Frances Manalo of San Francisco. They lived in Stockton and raised a family of two daughters and one son. He was employed as a civil engineer for the City of Stockton Engineering Department.
Thomas S. Espineda died on April 28, 2005, in Point Arena, California. His ashes were scattered in the Pacific Ocean. His survivors were his wife Carol, three children, sisters Connie Bilar, Elizabeth Ordiz, and Josephine Paular, and half-brothers Frank and Fred Panoncialman. His wife died on February 29, 2016.
View the six-part interview for the Go For Broke National Education Center, which was conducted in Sacramento on January 30, 1999, available at https://www.goforbroke.org/.
Researched and written by the Sons & Daughters of the 442nd Regimental Combat Team in 2022, with assistance by his son, a member of the Sons & Daughters.