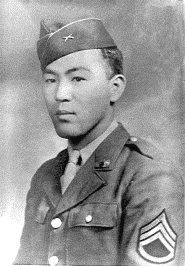 Akira Roy Shimatsu
Staff Sergeant
442nd Regimental Combat Team
3rd Battalion, Headquarters Company
Staff Sergeant Akira Roy Shimatsu, son of Katsuhei and Kuni (Izuno) Shimatsu, was born on November 1, 1919, in Fresno, California. He was the fifth child in a family of eleven children—Kazuko Watanabe, Jack Shimatsu, Masaaki Shimatsu, Fumiko Kuboyama, Akira Roy Shimatsu, Akiji Bob Shimatsu, infant sister (deceased in infancy), June Matsunaga, Yutaka George Shimatsu, Masaru Shimatsu, and Tomiko Hama.
His father, Katsuhei, was born in Japan in 1878, and immigrated to America in 1903. His mother, Kuni, was from Kasamura, Kamimashiki-gun, Kumamoto, Japan and arrived in Seattle in Dec 1909, on the SS Minnesota. They were married in Seattle on Dec 9, 1909, and moved to Fresno, California where they had a berry farm.
Akira graduated from Torrance High School in 1939 and, while growing up in Torrance, California, he enjoyed growing cut flowers on the family farm and selling them at the Los Angeles Flower Market. On his leisure days he enjoyed fishing in Redondo Beach as well as fishing up and down the coastline. He was a thoughtful and caring brother who always treated all of his younger brothers and sisters to movies on the weekends which they all looked forward to seeing.
Following Pearl Harbor, the family was interned at the Santa Anita Assembly, and then taken to the Rohwer Relocation Camp in Jerome, Desha County, Arkansas. They arrived on Dec 6, 1942, and were released on May 31, 1943.
Akira registered for the draft on July 1, 1941, at the Selective Service Board No. 280 in Torrance, California. He was self-employed; working from his home location at Vine & Maple in Torrance where he had a nursery and a landscaping business. He was 5'6" tall and 140 pounds.
He enlisted on October 15, 1941, and reported for duty at Fort MacArthur, San Pedro, California. He trained at Fort Bliss, Texas with the 12th Cavalry Division. When the 442nd Regimental Combat Team was formed, he joined them at Camp Shelby, Mississippi. He was assigned to 3rd Battalion, Headquarters Company. Akira was shipped overseas with the 442nd Regimental Combat Team. From July 6 to July 16, 1944, he volunteered on a temporary assignment in Italy as a litter bearer with the 3rd Battalion, F Company. He successfully evacuated three patients. Several days later, while evacuating a wounded comrade — Pvt Jimmy Y. Taketa — Akira was caught by an artillery tree burst during an extremely heavy enemy artillery barrage. He was killed instantly on July 16, 1944, near Luciana, Italy.
His family was notified of his death while they were in Rohwer Relocation Camp, and a memorial service was held in the camp for the family and friends who were there.
For his military service, Staff Sergeant Akira Roy Shimatsu was awarded the Bronze Star Medal, Purple Heart with two oak leaf clusters, Good Conduct Medal, American Campaign Medal, European-African-Middle Eastern Campaign Medal with one bronze star, WWII Victory Medal and the Combat Infantryman Badge.
Akira was awarded the Congressional Gold Medal on October 5, 2010, along with the other veterans of the 100th/442nd Regimental Combat Team. This is the highest Congressional Civilian Medal.
Akira Shimatsu was interred at Evergreen Cemetery in Los Angeles, California.
His brother, Akiji Bob Shimatsu, was a Private First Class in the 100th Battalion, A Company.
Researched and written by the Sons & Daughters of the 442nd Regimental Combat Team in 2021.