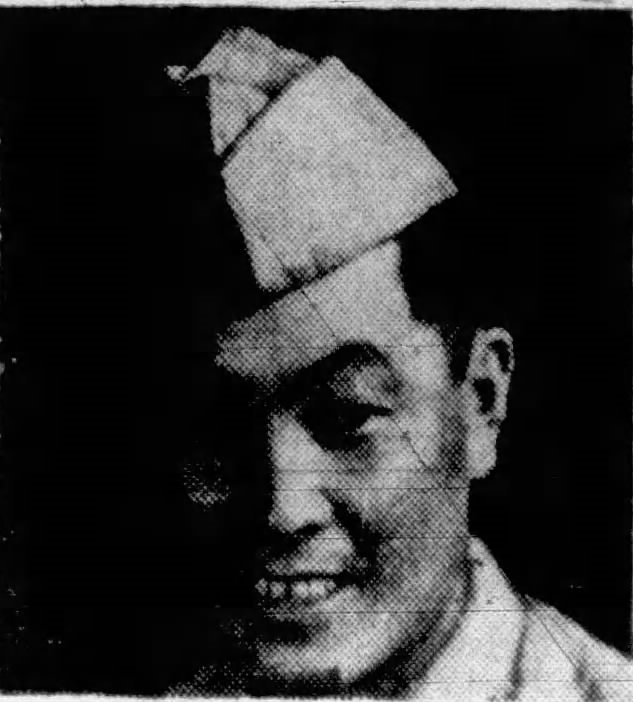 Atsushi Sakamoto
Technical Sergeant
442nd Regimental Combat Team
3rd Battalion, K Company
Atsushi Sakamoto was born on October 5, 1916, in San Pedro, California. He was the eldest of four sons of Uhachi Atsushi and Setsu (Iwasaki) Sakamoto. One record gives Uhachi's name as Atsushi Sr. and his son as Atshushi Jr. His brothers were Susumu, Tomochika (Tom), and Sueo. Uhachi and Setsu were married on May 10, 1912, in Kumamoto Prefecture. Uhachi emigrated from Shimomashiki District, Kumamoto Prefecture, Japan, arriving on April 10, 1913, on the Tamba Maru. Setsu was from the village of Toyokawa, Kumamoto Prefecture. She arrived in Seattle, Washington, on July 16, 1913, on the Sado Maru. Uhachi was a farmer. In February 1920, Uhachi was one of fourteen Japanese men who formed the Vegetable Growers' Association of San Pedro by filing Articles of Incorporation.
Atsushi graduated from San Pedro High School, where he was known as an outstanding athlete. He registered for the draft on May 14, 1941, Local Board No. 278 in San Pedro. He was self-employed and working in the Rancho Palos Verdes community. He was 5'6" tall and weighed 145 pounds. His point of contact was his father.
According to family friend Art Nakahara, the "family farmed in the San Pedro Hills above Western Avenue from the mid-1930s until the start of World War II."
Atsushi Sakamoto enlisted on February 21, 1942, at Fort MacArthur, San Pedro, California. He had completed four years of high school.
On July 7, 1942, the Sakamoto family – parents and three younger sons – were incarcerated in the Colorado River WRA Internment Center, known as Poston, in Yuma County, Arizona. They lived in Unit 226-8-B.
In the spring of 1943, Sakamoto was transferred to Camp Shelby, Mississippi, to the newly formed 442nd Regimental Combat Team, and assigned to K Company.
After a year of training at Camp Shelby, the 442nd left for Camp Patrick Henry, Virginia, on April 22, 1944. They shipped out to the Mediterranean Theater of Operations on May 2 in a large convoy of troop ships and arrived at Naples, Italy, on May 28. Moving to a nearby area, they went through preparations to move to the combat zone.
The Combat Team then boarded LST ships that took them to the beachhead at Anzio. From Anzio, the 442nd transferred to a bivouac area near Civitavecchia, just north of Rome. They went into combat near Suvereto, farther north, on June 26, in the Rome-Arno Campaign.
The 442nd moved north from Suvereto, liberating the towns of Belvedere, Sassetta, and Castagnetto. On July 1, they marched from Bibbona to an assembly area just south of the Cecina River. At that time of year, the river was hardly more than a trickle of water and very fordable in most places. Enemy artillery became increasingly heavy, indicating they would make some sort of a stand on the high ground north of the river. The regiment encountered fierce resistance from the Germans as they engaged near Castellina Marittima just north of the Cecina River on July 5, 1944.
By July 16, the 442nd had advanced as far north as Luciano. That morning 3rd Battalion relieved the 2nd Battalion, and prepared for an attack to liberate the town of Luciano from the Germans. There was heavy fighting throughout the day. On the 17th, K Company was engaged in house to house fighting in Luciano. By dusk, the Germans had been cleared from the town.
It was during this battle that Technical Sergeant Atsushi Sakamoto was killed on July 17, 1944. He was survived by his parents, Uhachi and Setsu Sakamoto, and his brothers, Susumu, Tom, and Sueo.
Technical Sergeant Atsushi Sakamoto was interred in the U.S. Military Cemetery at Follonica, Italy, Plot J, Row 101, Number 1207. His death was reported in a War Department casualty list for the European and Mediterranean Theaters as being among 13 killed in action from Arizona. His next of kin was listed as his mother, Mrs. Setsu Sakamoto of Poston.
On September 20, 1944, Sakamoto was posthumously awarded the Silver Star Medal for two separate actions 11 days apart. The citation reads as follows:
General Orders 96, 34th Infantry Division. For gallantry in action on 6 and 17 July 1944, in the vicinities of Molino A Ventoabbto and Luciano, Italy [respectively]. [First] As two platoons of an assault company fought their way up Hill 140, they were subjected to a concentrated mortar barrage, which killed one man and wounded several. Although the platoons were seriously disorganized, Sgt. Sakamoto gained control and successfully led his men through a deadly counter-attack by a superior enemy force, enabling the company to hold the hill until they were relieved by another company in the morning. [Second] On another occasion, Sgt. Sakamoto led his platoon in an attack on the village of Luciano, although he was aware of the fact that the enemy, consisting of approximately 30 men, was heavily armed with machine guns, machine pistols, rifles, and a tank. Approaching a bend in the road leading into the village, Sgt. Sakamoto moved forward alone, attempting to draw enemy fire. Sighting a machine gun nest, he crept forward to fire his sub-machine gun when he was shot and instantly killed by a machine-pistol sniper. The courageous leadership displayed by Sgt. Sakamoto is exemplary and a credit to the Armed Forces of the United States. Entered military service from Poston, Arizona.
For his military service, Technical Sergeant Atsushi Sakamoto was awarded the Silver Star Medal, Bronze Star Medal, Purple Heart Medal, Good Conduct Medal, American Campaign Medal, European-African-Middle Eastern Campaign Medal with one bronze star, World War II Victory Medal, and Combat Infantryman Badge. He was awarded the Congressional Gold Medal on October 5, 2010, along with the other veterans of the 100th/442nd Regimental Combat Team. This is the highest Congressional Civilian Medal.
On December 4, 1944, a memorial service was held at Camp Poston for the 13 Japanese American men who died in the war. Residents of all three units of the Colorado River WRA Center and appointed personnel participated in the service, which included a parade. The service was arranged by the Poston Ex-Service Club, composed of World War I veterans, 10 of whom were Japanese residents and 20 of whom were appointed personnel.
On January 6, 1945, it was reported in the News-Pilot of his hometown of San Pedro that the posthumous award of the Silver Star Medal was made to Atsushi Sakamoto's parents who were still incarcerated at Camp Poston.
In 1948, the remains of American soldiers buried overseas began slowly to return to the US if the family so wished. Sakamoto's parents, who lived at 1020 East 20th Street in Long Beach, California, decided to have their son's remains returned home. As a result, Sakamoto arrived aboard the USAT Corporal Eric G. Gibson, that dropped anchor off Staten Island in New York Harbor on January 20. He was among the 1,753 war dead from cemeteries in France and Italy, and nine from Long Beach, California. This was the third group to be returned since the Army's program began the previous October. The next day the ship docked at Pier 3 at Brooklyn Army Base at 2:00 p.m. and a brief public ceremony was held to welcome the ship. It was held in a swirling snowstorm with about 350 relatives and friends attending.
Sgt. Sakamoto was reinterred in the Evergreen Cemetery, Section A, next to the 442nd RCT Memorial, in Los Angeles, California.
On November 11, 1954, his father, Uhachi Sakamoto, became a US citizen in Los Angeles.
Researched and written by the Sons & Daughters of the 442nd Regimental Combat in 2021.