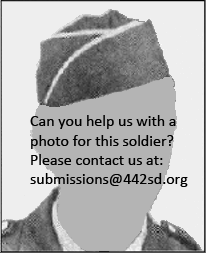 Bill Abe
Sergeant
442nd Regimental Combat Team
2nd Battalion, E Company
William Abe was born on July 1, 1925, in Santa Cruz County, California. He was the eldest son of Frank Sakai and Tokue (Tojoi) Abe. His siblings were: sister Frances, and brothers Donald and Stanley Waldo. His parents arrived from Fukushima Prefecture, Japan, in 1907 and 1920, respectively. Father Sakai arrived in California in 1902, and was employed in Santa Cruz County as a woodchopper at a lumber camp. Tokue arrived on the Taiyo Maru, leaving Japan on April 17, 1922, to join her husband in Santa Cruz County.
In 1930, the family lived on Reed Street in Santa Cruz township and Frank worked on a berry farm. By 1940, they had moved to Watsonville (Santa Cruz County) and Frank was a farmer.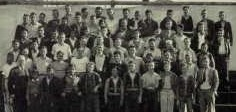 Bill attended Watsonville High School, where he was a member of the Future Farmers of America (FFA).
Right: 1940 Watsonville High School FFA; Bill is 3rd from right in 2nd row from bottom
At some point after high school, Bill left Watsonville. In the spring of 1942, Abe's parents and siblings were evacuated to the Salinas WCCA Assembly Center, located at the Salinas Race Track and Fairgrounds. They were incarcerated at Colorado River (Poston) WRA Internment Camp on July 5, 1942. Sister Frances was released on February 1, 1944, to Chicago. Brother Donald was released to Oregon on June 30, 1945. His parents and brother Stanley were released on August 30, 1945, to Bridgeton, New Jersey.
In 1943, Bill (who did not use the name William) was in New York City, where he signed two WWII Draft Registration cards within a few months. The Draft Board realized this, and on each card, the other card was cross-referenced. On March 2, 1943, Bill signed his first draft card with the following information: born February 24, 1925, Santa Cruz, California; point of contact his "sister" Betty Omori in Chicago; employed temporarily as a cook at a sandwich shop; height 5'5½", weight 127 pounds, scar under left elbow.
On July 1, 1943, he signed his second draft card: born July 1, 1925, in Santa Cruz; height 5'6", weight 126 pounds; scar under left elbow; employed at the Terminal Recreation Center at Grand Central Station; point of contact Bill Litchfield of Valverde Ranch in Watsonville, California. From the dates, it appears that Bill signed the first card in February before his 18th birthday, and the card in July on what he said was his actual 18th birthday.
Abe enlisted as a Private in the U.S. Army on June 7, 1944, at Fort Dix, New Jersey. At the time his residence was New York City and he was a cook. After basic training, he was sent to join the 442nd as a replacement during the Rhineland-Maritime Alps Campaign. By that time, due to battle casualties, there was an ongoing need for fresh soldiers to be sent from training to the battlefields of France. He participated in the Po Valley Campaign when the 442nd was sent back to Italy in March 1945.
Sergeant Bill Abe was awarded the following for his World War II service: Bronze Star Medal; Good Conduct Medal; European-African-Middle Eastern Campaign Medal with two bronze stars; World War II Victory Medal; Army of Occupation Medal; Combat Infantryman Badge; and Distinguished Unit Badge. Bill Abe was awarded the Congressional Gold Medal on October 5, 2010, along with the other veterans of the 100th/442nd Regimental Combat Team. This is the highest Congressional Civilian Medal.
After the war, he returned home, and in 1951 he married Misako Hamada in Cook County, Illinois. She was originally from Los Angeles. They were living at 4858 North Drake Avenue in Chicago in the 1990s. His parents and brother Donald lived for many years in Chicago and died there.
Bill Abe's death or burial record has not been found.
Researched and written by the Sons & Daughters of the 442nd Regimental Combat Team in 2021.