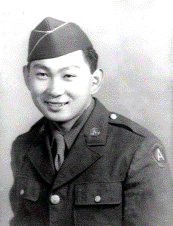 Calvin Tomio Saito
Private First Class
442nd Regimental Combat Team
3rd Battalion, K Company
Calvin Tomio Saito, son of Kiichi and Setsu (Umetsu) Saito, was born on August 9, 1923, in Los Angeles, California. He was the youngest child in a family of five children: Kazuo, George Seigo, Shozo, Mary Tsuyu, and Calvin. Kiichi and Setsu emigrated from Moraoka City, Iwate Prefecture, Japan. Kiichi arrived on the Nippon Maru, in San Francisco on May 7, 1903. Setsu arrived on the Shinyo Maru, arriving in San Francisco on January 4, 1915.
In 1917, father Kiichi was working as a waiter at a hotel. In 1930 and 1940, he was working as a gardener for Arthur M. and Madge Spang at Berendo and West 12th Streets, Los Angeles.
Calvin attended 37th Street Elementary School, and graduated from Foshay Junior High School. He graduated from John F. Francis Polytechnic High School where he was on the track team. He was a skilled carpenter/cabinetmaker and had plans to attend college.
In the spring of 1942, Calvin and his family were evacuated to the Santa Anita WCCA Assembly Center located at the Santa Anita Racecourse in Arcadia, 13 miles northeast of Los Angeles.
Calvin registered for the draft on June 30, 1942, at Local Board No. 190, Pasadena, California. At the time, his home address was 1517 West 36th Street, Los Angeles, and he was living as an evacuee at the Santa Anita WCCA Assembly Center. His point of contact was Mr. and Mrs. Spang at Berendo and West 12th Streets. He was 5'3½" tall and weighed 125 pounds.
On September 25, 1942, the family was incarcerated at the Granada WRA Relocation Center, also known as Camp Amache, in southeast Colorado. Calvin was released on April 6, 1943, to enlist in the Army at Fort Logan, Colorado. His brother George was released on June 11, 1943, to enlist in the Army. The brothers were among the first five men to volunteer from Camp Amache.
Calvin was sent to Camp Shelby, Mississippi, as a member of the 442nd Regimental Combat Team. Following basic training, he was assigned to the 3rd Battalion, K Company.
After over a year of training, Calvin left Camp Shelby with the 442nd left for Camp Patrick Henry, Virginia, on April 22, 1944. They shipped out to the Mediterranean Theater of Operations on May 2 in a large convoy of troop ships and arrived at Naples, Italy, on May 28. Moving to a nearby staging area at Bagnoli, they went through preparations to move to the combat zone.
The Combat Team then boarded LST ships that took them to the beachhead at Anzio.  From Anzio, the 442nd transferred to a bivouac area near Civitavecchia, just north of Rome.  They went into combat near Suvereto, farther north, on June 26, in the Rome-Arno Campaign.  The 442nd moved north from Suvereto, liberating the towns of Belvedere, Sassetta, and Castagnetto.  On July 1, they marched from Bibbona to an assembly area just south of the Cecina River.  At that time of year, the river was hardly more than a trickle of water and very fordable in most places.  Enemy artillery first became increasingly heavy, indicating the enemy would make some sort of a stand on the high ground north of the river.
The 442nd encountered fierce resistance from the Germans as they engaged near Castellina Marittima just north of the Cecina River on July 5, 1944. The 3rd Battalion came under an intense artillery barrage. From July 5 to July 7, major action was the assault on Hill 140, a German strong point. The hill was finally taken on July 7, with heavy casualties by the 442nd. In seizing Hill 140 (known as "Little Cassino"), K Company lost four of its men killed in action: Arnold Ohki, Yoshito Ogata, Benjamin Ogata – and Pfc. Calvin T. Saito.
Private First Class Calvin Tomio Saito was interred at the U.S. Military Cemetery in Follonica, Italy, Plot D, Row 38, Number 453.
Shortly after learning of Calvin's death, his brother George (2nd Battalion, H Company) wrote to their father, Kiichi Saito:
Dad, this is no time to be preaching to you, but I have something on my chest which I want you to hear. In spite of Cal's supreme sacrifice, don't let anyone tell you he was foolish or made a mistake to volunteer. Of what I've seen in my travels on our mission I am convinced that we've done the right thing in spite of what has happened in the past. America is a damn good country and don't let anyone tell you otherwise.
George Saito died in France just over three months after Calvin, on October 26, 1944.
For his military service, Private First Class Calvin Tomio Saito was awarded the Bronze Star Medal, Purple Heart Medal, Good Conduct Medal, American Campaign Medal, European-African-Middle Eastern Campaign Medal with one bronze star, World War II Victory Medal, and Combat Infantryman Badge. Calvin was awarded the Congressional Gold Medal on October 5, 2010, along with the other veterans of the 100th/442nd Regimental Combat Team. This is the highest Congressional Civilian Medal.
In 1948, the remains of Americans buried overseas began slowly to return to the US, if the family so wished. Calvin was brought home, and was reinterred at the Evergreen Cemetery, Section A, next to the 442nd Nisei Memorial, in Los Angeles, California. His father, Kiichi Saito, applied for his U.S. government marker on December 15, 1948.
Kiichi Saito, Calvin's father, became a US citizen on June 12, 1959, in Los Angeles.
Calvin T. Saito's name is on the 1983 memorial stone at Camp Amache dedicated to the 31 residents who volunteered and lost their lives in World War II.
His brother George served as a Pfc. in 2nd Battalion, H Company. His brother Shozo served in the Military Intelligence Service.
Researched and written by the Sons & Daughters of the Regimental Combat Team in 2021.