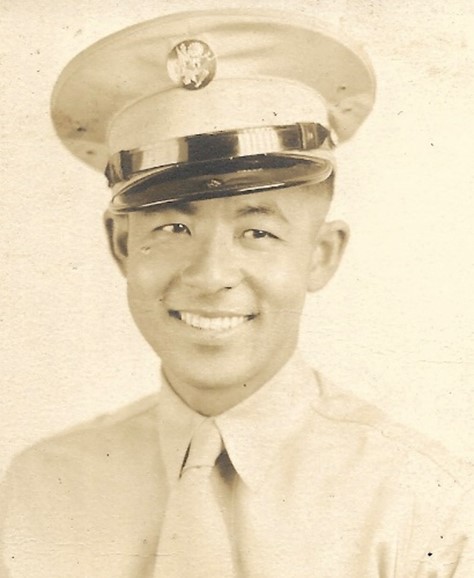 Conrad Choso Tsukayama
First Lieutenant
442nd Regimental Combat Team
100th Battalion, D Company
Conrad Choso Tsukayama was born on February 10, 1918, in Ewa, Oahu, Territory of Hawaii. He was the son of Choson and Kame (Nakaogi) Tsukayama, who emigrated from Yonabaru, Okinawa Prefecture, Japan, in 1906 and 1915, respectively. Choson married Kame upon her arrival at Honolulu. They raised a family of eight children: sons Conrad Choso, George Tomoyoshi, Albert Tomosuke, and Chomei David; and daughters Edna Hatsu, Janet Shizue, Edith Sumiko, and Shirley Asae.
In 1920, the family lived at the Ewa Plantation in the Japanese "B" Family Camp, and father Choson was a laborer on the sugar plantation. By 1930, they had moved to Kailua on the Windward side of Oahu, where Choson leased land from Kaneohe Ranch to grow corn, papaya, and watermelon. In 1940, they were still in Kailua, and Choson, in addition to farming, worked as a yard man for a private family. Son Choso, while in high school, was a delivery man for a fish farm located by Kaneohe Marine Base and a helper to a neon sign contractor. One of the signs that he installed is still in use today at the Wo Fat restaurant in China Town.
Conrad graduated from Honolulu's Central Intermediate School in 1934. He joined the ROTC while attending McKinley High School, but after two years due to family misfortune he left school and started working full time to help support his younger brothers and sisters through school.
On October 26, 1940, Conrad registered for the draft at the Kaneohe Court House, Local Board No. 1. He was living on the farm near what is now Kaha and Kainui Streets in Kailua and employed by Kanetake Appliances. He was 5'3" tall and weighed 118 pounds. After initially being rejected due to his flat feet, he was inducted into the U.S. Army on November 14, 1941, in Honolulu. At the time, he had completed two years of high school and his occupation was "semiskilled mechanic and repairman."
Tsukayama was in the 298th Infantry Regiment stationed at Schofield Barracks. As such, he was in the group of original soldiers, the Hawaiian Provisional Battalion, sent to Oakland, California, on May 5, 1943, on the S.S. Maui. Tsukayama recalled in the 1998 book, Japanese Eyes American Heart, there was "one elderly Japanese mother waving good-bye to us" when the train left Schofield Barracks, and a "handful of Nisei girls waved from the pier as the SS Maui pulled away from the dock."
Upon arrival in California, they were designated the 100th Infantry Battalion (Separate) and sent to Camp McCoy, Wisconsin, for training. Conrad was in D Company. After more training at Camp Shelby, Mississippi, the 100th left Camp Kilmer, New Jersey, on the S.S. James Parker on August 21, 1943, for the Theater of War.
Tsukayama at Camp McCoy
Following a brief time at Oran, Algeria, the 100th arrived at Salerno, Italy, for participation in the Naples-Foggia Campaign. They entered combat on September 23 and five days later Corporal Tsukayama was injured by a land mine – the first battle casualty of the 100th. He was treated at a field hospital and he then discharged himself to return to his company so that he could be with his comrades. During this campaign, he was promoted to Sergeant and was quoted in the newspaper as saying that his men were:
…as calm a bunch of fighting men as we'll ever round up. With fine spirit and courage, and with the cooperation of the fine unit with us, we'll take the Germans sooner or later. The Jerries can't whip us Yanks.
Tsukayama fought in all the subsequent campaigns of the 442nd Regimental Combat Team: Rome-Arno in Italy, Rhineland-Vosges and Rhineland-Maritime Alps in France, and Po Valley back in Italy. On November 28, 1944, while in France, he received a battlefield commission from Sergeant to 2nd Lieutenant due to his exceptional leadership.
After V-E Day on May 8, 1945, Lt. Tsukayama remained in Italy during the next three months of the occupation. At the time of his departure for the US in August, he was motor section leader for the 442nd.
For his wartime service, 1st Lieutenant Conrad Tsukayama received the following awards: Bronze Star Medal, Purple Heart Medal, Good Conduct Medal, Asia-Pacific Campaign Medal, American Campaign Medal, European-African-Middle Eastern Campaign Medal with silver star, World War II Victory Medal, Army of Occupation Medal, Distinguished Unit Badge with two oak leaf clusters, and Combat Infantryman Badge. He was awarded the Congressional Gold Medal on October 5, 2010, along with the other veterans of the 100th/442nd Regimental Combat Team. This is the highest Congressional Civilian Medal.
After the war, Conrad married Yoshi Shiroma of Hilo on May 1, 1947. She was a student at Oahu Business School in Honolulu, where she lived at 1855 Liliha Street.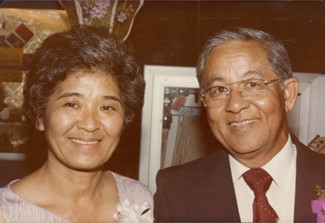 Yoshi and Conrad, circa 1980s
By 1950, they lived at the family home at 433 Kawainui Street, Kailua, and he was a technician for Kanetake's Appliances in Kailua. By the mid-1950s, he was an agent for the New York Life Insurance Company. He then returned to the Hawaii National Guard full time and became the commanding officer of G Company, 298th Infantry, where he was part of the command that manned the Nike Hercules Missiles in Hawaii.
Conrad was an active member of the 100th Battalion veterans organization, Club 100, where he served as President in 1978. He was also an active member of the Kailua Community Methodist Church, as one of its charter members; the Windward YMCA Men's Club; and the Veterans of Foreign Wars (VFW) Post 3824.
In 1954, he was chosen Outstanding Man of 1953 by the Kailua Junior Chamber of Commerce. In 1999, the Rotary Club of Windward Oahu awarded him its Windward Rotarian Person of the Year award for touching "thousands of lives" over 50 years of volunteerism. Also in 1999, Tsukayama was presented the Hawaii YMCA's Hero Award for his 50 years of service on Windward Oahu. As a member from his teenage years, he saw their facility grow from a log cabin to a modern building on the Pali Highway in Kailua. He spent hours volunteering on everything from construction and landscaping to maintenance and repair.
Conrad Choso Tsukayama died on July 2, 2001, and was buried in Kaneohe in the Hawaii State Veterans Cemetery, Section 49-E, Site 9, on July 12. He had retired from the Hawaii National Guard as a Lieutenant Colonel. At the time of his death he was survived by his wife Yoshi, four sons: Stephen, John, James and Alvin; five grandchildren: Harumi, Coral, Daniel, Kimi, and Ansje; brother Albert (Oscar), and sisters Janet (Jan) and Edith (Smac).
Conrad shared the spirit of the 100th Battalion in his contribution to Japanese Eyes American Heart:
We are all Hawaiian at heart. The basic 'ohana spirit came from Native Hawaiian people, an ethnic group filled with genuine aloha, the magic ingredient that brought together the hearts of all the oppressed immigrants' sons. We carried this spirit of aloha wherever we went, and it became the spirit of the 100th even more intensely after Pearl Harbor because we had been singled out as "Japs." In a society in which all minorities struggled to gain acceptance, we were determined to prove to the world that we were indeed loyal Americans.
Below: Tsukayama's original V-E Day Stars and Stripes newspaper signed by many of his Army buddies.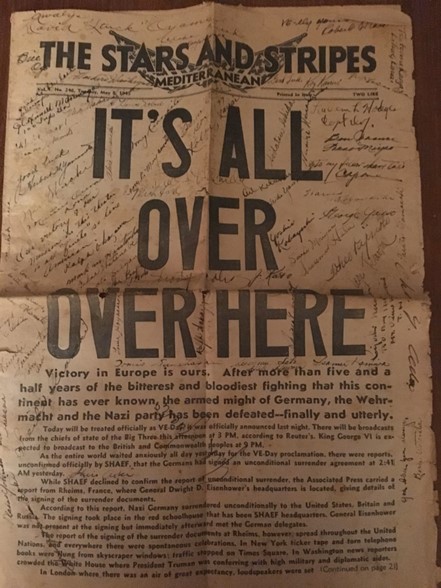 Researched and written in 2023 by the Sons & Daughters of the 442nd Regimental Combat Team with assistance by the family.