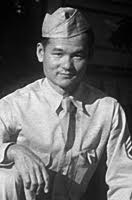 Elbert Arakawa was born in Paia, Maui in 1914 to Eigi and Uto Arakawa . His father owned his own sugar cane field but also worked for Maui Agricultural Company. His family returned to Onaha, Okinawa from 1918-1923. During that time, he attended school in Japanese but spoke Okinawan at home. After five years, his family returned to Hawaii.
When he was 16, he moved to Oahu and stayed with his brother-in-law in Aiea, working at first as a fish peddler in Wahiawa before landing a job as a live-in yardman in Manoa. He began attending McKinley High School. After graduation in 1934, he worked a variety of jobs including at a service station and at a soda fountain, until he was drafted into the Army in March, 1941. He was initially assigned to the 298th Infantry, but after the attack on Pearl Harbor was moved into the 370th Engineers, which eventually became the 1399th Engineers. He was assigned as a mess sergeant with the "Chowhounds", who served meals at the Engineers' work sites around Oahu.
In 1944, he met his wife Grace and they were soon married. He took a job with the Post Office, eventually becoming the superintendent of four postal stations before his retirement in 1976. He and Grace had two sons and two daughters. He died March 26, 2011.