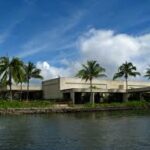 World War II Valor in the Pacific National Monument
August 8, 2010
The sons, daughters and friends who helped create the Honoring the Legacy exhibit at Central Pacific Bank are working with the National Park Service on an exhibit about World War II AJAs that will be part of the new USS Arizona Memorial Visitor Center.
The AJA Veterans Exhibit Committee includes sons, daughters and friends of the veterans from the 100th Infantry Battalion, the 442nd Regimental Combat Team, and the Military Intelligence Service. The exhibit Committee produced the exhibit on the four principal AJA units – the 100th Infantry Battalion, the 442nd Regimental Combat Team, the Military Intelligence Service, and the 1399th Engineer Construction Battalion – that opened at Central Pacific Bank's Main Branch in February 2009.
MIS veteran, James Tanabe and his wife Yoshie are outspoken advocates for the accurate public portrayal of Japanese Americans. They arranged for the Exhibit Committee to meet with National Park Service officials and we worked out an agreement to come up with a small exhibit for the Arizona Memorial Visitors Center, focusing on the impact to Hawaii's citizens of Japanese ancestry immediately following the bombing of Pearl Harbor.
In addition to construction of the new visitor center, the USS Arizona Memorial became a World War II Valor in the Pacific National Monument, under a new federal program. The new visitor center, while still focusing on Japan's December 7, 1941, attack on Hawaii, will tell a broader story about the entire war in the Pacific. Shari Tamashiro is the project leader for this exhibit, and Alvin Yoshitomi and Eileen Sakai are the 442nd Sons & Daughters on the Exhibit Committee.
The members of the AJA Veterans Exhibit Committee are grateful for the opportunity to inform visitors about the WWII experiences of Japanese Americans.