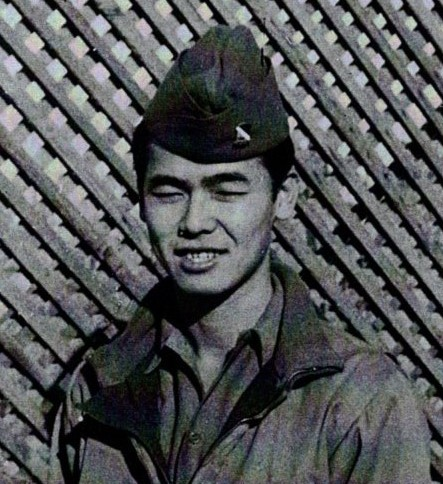 Frank Hidetsugu Suzuki
Private First Class
442nd Regimental Combat Team
100th Battalion, D Company
Hidetsugu Suzuki was born on April 29, 1923, in Honolulu, Territory of Hawaii. He was the son of Heita Kazuo and Hatsuko Suzuki. Heita arrived from Niigata Prefecture on December 11, 1906, at the age of 15 on the steamer Nippon Maru. Hatsuko arrived from Kumamoto Prefecture in 1912. His siblings were Ayako, Hideo, George Hidetoshi, and June T.
In 1920, the family was living on Mamane Street in Hilo and Heita was employed as a stevedore at the wharf. By 1930, the family had moved to Honolulu and were living on Desha Lane. Heita was a stevedore/longshoreman at the Honolulu docks. In 1940, the family was still living on Desha Lane and Heita was a stevedore.
Frank Suzuki signed his draft registration card on June 30, 1942, Local Board No. 2 in Honolulu. At the time he was living with his family at 3435 Kaau Street and was employed for the summer at Hawaiian Pineapple in Iwilei, Honolulu, in the cooker's department. He was also a student at Honolulu Vocational School. He listed Isamu Shiraishi of 1119 Desha Lane as his point of contact. Frank was 5'5" tall and weighed 120 pounds.
Suzuki graduated from McKinley High School and Honolulu Vocational School.
He enlisted in the U.S. Army on August 15, 1944. His civilian occupation was given as "skilled mechanic and repairman, motor vehicles."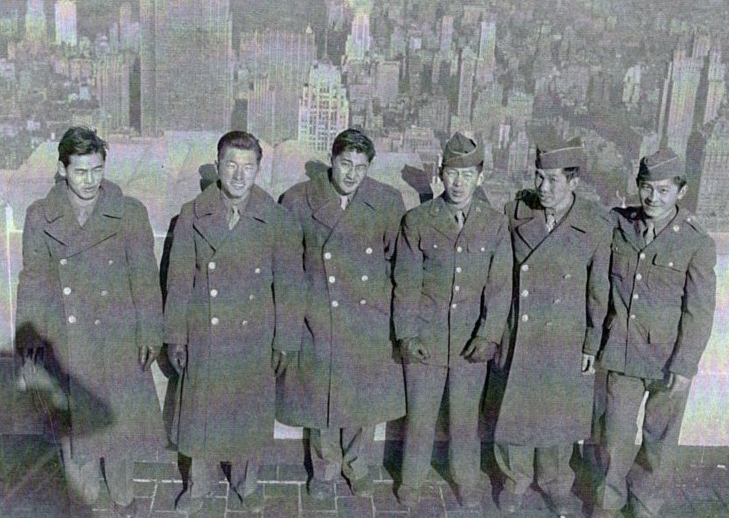 Above:  On leave in New York before leaving for Europe
After basic training in the fall of 1944, Frank was assigned as a replacement to D Company, 100th Battalion, 442nd Regimental Combat Team. He arrived in the Mediterranean Theater of Operations in early 1945 and served in the closing months of the war when the 442nd was in Italy during the Po Valley Campaign.
After the surrender of Germany on May 8, 1945, Suzuki remained for several months in Italy during the occupation. He was engaged in occupation duties with the 442nd in the area of Livorno.
For his military service, Private First Class Frank Hidetsugu Suzuki was awarded the European-African-Middle Eastern Campaign Medal with one bronze service star, World War II Victory Medal, Army of Occupation Medal, and Combat Infantryman Badge. He also was awarded the Congressional Gold Medal on October 5, 2010, along with the other veterans of the 100th/442nd Regimental Combat Team. This is the highest Congressional Civilian Medal.
He returned home on the USAT Evangeline, arriving in Honolulu on December 19, 1945.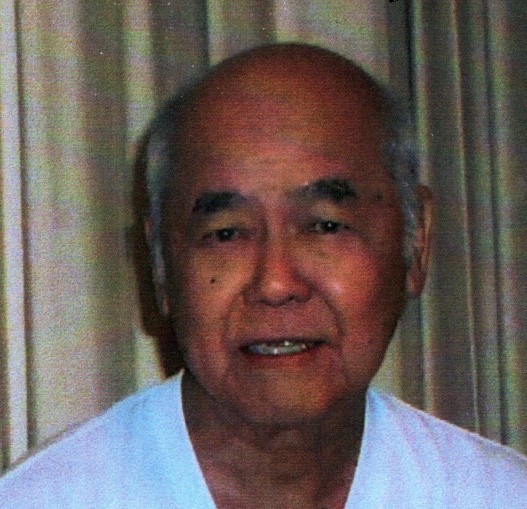 After the war, Frank Suzuki married Sumiko Kawahara of Koloa, Kauai, on October 27, 1951. At the time he was employed at Hickam Field and was a student at Honolulu Business College. They settled in Honolulu and over the years raised a family of two daughters.
Right:  Frank Suzuki in later years.
Frank was employed as a mechanic at several companies, such as Libby, McNeill & Libby, McCabe Hamilton-Renny, and Gasco Inc.
Frank's parents Heita (1891-1975) and Hatsuko (1894-1991) were buried at Hawaiian Memorial Park. In 1991, their surviving family members were: sons Frank and George Suzuki and daughters Ayako Nakamura and June T. Jacobs, ten grandchildren, nine great-grandchildren, and two great-great-grandchildren.
Sumiko Suzuki died on June 18, 2015. She was survived by her husband, two daughters, and one granddaughter.
Frank Hidetsugu Suzuki died in Aiea on September 14, 2020. He was inurned in the Columbarium at the National Memorial Cemetery of the Pacific at Punchbowl on July 24, 2021.
Researched and written by the Sons & Daughters of the 442nd Regimental Combat Team in 2021.