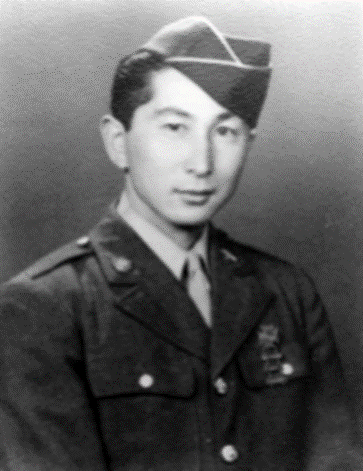 George Seigo Saito
Private First Class
442nd Regimental Combat Team
2nd Battalion, H Company
George Seigo Saito was born on July 6, 1918, in Los Angeles, California. He was the second oldest child in a family of five children – Kazuo, George Seigo, Shozo, Mary Tsuyoko, and Calvin Tomio – born to Kiichi and Setsu (Umetsu) Saito. Kiichi emigrated from Morioka, Iwate Prefecture, Japan, on the Nippon Maru, arriving in San Francisco on May 7, 1903. Setsu emigrated from Hamae, Wakayama Prefecture, Japan, on the Shinyo Maru; arriving in San Francisco on January 4, 1915.
In 1917, father Kiichi was working as a waiter. In 1930, he was working for the Spang family at Bekendo and West 12th Street, Los Angeles, as a gardener.
George attended 37th Street Elementary School, and graduated from Foshay Junior High School and Manual Arts High School. George belonged to Boy Scouts Troop 64. He was the owner of a produce market and had plans of going to college and becoming a pharmacist.
Saito registered for the draft on October 16, 1940, Local Board No. 233 in Los Angeles. He lived with his family at 1517 West 36th Street, and his father was his point of contact. George was self-employed, and his business address was 4684 Eagle Rock Road, Los Angeles. He was 5'5" tall and weighed 127 pounds.
A few months after the War broke out, in the spring of 1942, George, his father, and his brother Calvin and sister Mary were evacuated to the WCCA Assembly Center located at the Santa Anita Race Track. On September 25, they were incarcerated in the WRA Relocation (internment) Camp in Amache, Colorado (also known as Granada). On May 31, 1943, George was released from Granada in order to enlist in the U.S. Army.
On June 11, 1943, George was enlisted into the Army at Fort Logan, Colorado. He was sent to Camp Shelby, Mississippi, and assigned to the 442nd Regimental Combat Team, Following basic training, he was assigned to the 2nd Battalion, H Company.
After over a year at Camp Shelby, the 442nd left for Virginia on April 22, 1944. They shipped out to the Mediterranean Theater of Operations on May 2 in a large convoy of troop ships and arrived at Naples, Italy, on May 28. They soon went by LST to the beachhead at Anzio. From Anzio, the 442nd convoyed to a bivouac area near Civitavecchia, just north of Rome.
The 442nd went into combat near Suvereto, farther north, on June 26, in the Rome-Arno Campaign. They fought north from Suvereto, liberating the towns of Belvedere, Sassetta, and Castagnetto.
George's brother Calvin, serving in K Company, was killed on July 7 at Hill 140, known as "Little Cassino." The excerpt below, from George's letter to their father, appeared in the Pacific Citizen dated August 26, 1944:
"Dad, this is no time to be preaching to you, but I have something on my chest which I want you to hear. In spite of Cal's supreme sacrifice, don't let anyone tell you he was foolish or made a mistake to volunteer. Of what I've seen in my travels on our mission I am convinced that we've done the right thing in spite of what has happened in the past. America is a damn good country and don't let anyone tell you otherwise."
In the first week of September, the Regiment began withdrawing from the battle front, to an assembly area near Naples.  The Combat Team had been reassigned to fight in France in the Rhineland-Vosges Campaign.  On September 27, they left Naples by sea transport, going ashore 3 days later near Marseilles, France. They traveled 500 miles north through the Rhone Valley, by rail boxcar and marching afoot.  
On October 14, 1944, the 442nd began moving into position in the late afternoon preparing for the assault on the German-held hills surrounding the important rail and road junction of Bruyères. The 442nd had named the hills A, B, C, and D. Each hill was heavily guarded, as each hill was key to taking and securing the town. Hill A was located northwest of Bruyères, Hill B to the north, Hill C northeast, and Hill D to the east. The 442nd had experienced mainly prairie in Italy, but the Vosges Mountains provided a very different terrain. The unit – still in their summer uniforms – faced cold, dense fog, mud, heavy rain, heavily forested hills, and intense enemy gunfire and artillery, while moving through the Vosges. Hitler had ordered the German frontline to fight at all costs, as this was the last barrier between the Allied forces and Germany. On October 15, 1944, the 442nd began its attack on Bruyères. The 100th Battalion moved on Hill A, which was held by the SS Polizei Regiment 19, as George Saito's 2nd Battalion moved in on Hill B. Third Battalion was left to take Bruyères.
During this battle on October 15, 1944, to take Hill B, Pfc. George S. Saito was killed by fragments from an artillery shell. Private First Class George Seigo Saito was interred in the U.S. Military Cemetery at nearby Epinal, France.
For his military service, Private First Class George Seigo Saito received the Bronze Star Medal, Purple Heart Medal, Good Conduct Medal, European-African-Middle Eastern Campaign Medal with two bronze stars, World War II Victory Medal, and Combat Infantryman Badge. George was posthumously awarded the Congressional Gold Medal on October 5, 2010, along with the other veterans of the 100th/442nd Regimental Combat Team. This is the highest Congressional Civilian Medal.
In 1948, the remains of Americans buried overseas began slowly to return to the US, if the family so wished. George was brought home, and was reinterred at the Evergreen Cemetery, Section A, 442nd Nisei Memorial, in Los Angeles, California.
George's brother Calvin Tomio Saito served as a Private First Class in the 442nd's 3rd Battalion, K Company. His brother Shozo Saito served in the Military Intelligence Service.
Researched and written by the Sons & Daughters of the 442nd Regimental Combat Team in 2021, and updated in 2023.