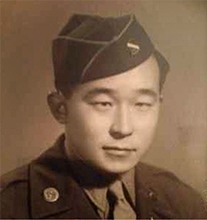 George Shogo Kanatani
Technician Fifth Grade
442nd Regimental Combat Team
2nd Battalion, E Company
George Shogo Kanatani was born May 31, 1918, in Redlands, California, one of three children of Kurataro and Himeyo Kanatani. His siblings were: sister Marian Yoshiko and brother Milton Tadashi. His parents emigrated from Yamaguchi Prefecture, Japan, in 1903.
In April 1940, he was employed as a waiter in the restaurant operated by his father at the Elks Club in Redlands.
On October 16, 1940, George signed his draft registration card. At the time he was still employed by the Elks Club; his father was his point of contact; and he was 5'2" tall, and weighed 117 pounds.
He was inducted into the U.S. Army on February 4, 1942, at Fort MacArthur in San Pedro, California.
On May 25, 1942, George's parents and younger brother and sister were incarcerated at Colorado River WRA Internment Camp. It was also known as Poston and was located in Yuma, southwestern Arizona. His sister and brother were released in May and December, respectively, for employment in Kansas City, Missouri. His parents were released June 6, 1945, to return home to Redlands.
After three months of basic training at Camp Robinson, Arkansas, Kanatani and other Nisei soldiers were sent to Fort Riley, Kansas, and attached to a service detachment. When 50 of these men were later sent to Camp Shelby, Mississippi, to serve as the training cadre for the incoming 442nd men, George remained at Fort Riley as the company clerk. Later, all Nisei were sent to Fort McClellan, Georgia, and Camp Blanding, Florida, for basic combat training. He was among the replacements sent to the 442nd Italy in 1944.
Kanatani participated in four campaigns of the 442nd: Rome-Arno in Italy; Rhineland-Vosges and Rhineland-Maritime Alps in France, and Po Valley back in Italy.
Kanatani was wounded in his back in Biffontaine, France, during the Vosges Campaign. After ten days in the field hospital, he was sent to Nice to rejoin his unit. In an effort to rebuild their strength and absorb the large number of replacements needed to be combat-ready again, the 442nd had been sent to southern France as part of the Rhineland-Maritimes Alps Campaign. This became known among the soldiers as the "Champagne Campaign." The mission in the Maritime Alps was to protect the east flank of the 6th Army Group and protect against enemy breakthrough down the southern coast of France.
During the Po Valley Campaign in Italy, April 1945, Kanatani was treated at an aid station for an ankle injury received in combat (no specific date given). He was a platoon scout, which meant he led the platoon, sought out the enemy, and drew fire. He also was a bazooka carrier and an ammo carrier.
For his wartime service, Technician Fifth Grade George Shogo Kanatani was awarded the Bronze Star Medal, Purple Heart Medal, Good Conduct Medal, European-African-Middle Eastern Campaign Medal with four bronze stars, World War II Victory Medal, Army of Occupation Medal, Combat Infantryman Badge, and Distinguished Unit Badge. Kanatani was awarded the Congressional Gold Medal on October 5, 2010, along with the other veterans of the 100th/442nd Regimental Combat Team. This is the highest Congressional Civilian Medal.
On September 3, 1950, Kanatani married Lillian Yuri Taira in Los Angeles. They had three daughters. George was employed by the Redlands Post Office for 35 years. According to his obituary, he "garnered tremendous respect from coworkers and clientele for his warmth and impeccable customer services."
After the war, Kanatani was an active member of the Friends and Family of Nisei Veterans and the Riverside Japanese American Citizens League. He loved to travel, go on cruises, and attend annual 442nd reunions, including trips to battlefield sights in Italy and France.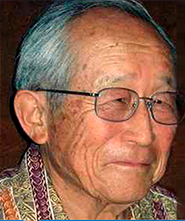 Kanatani also loved to fish in Big Bear and Jenks Lake in the San Bernardino National Forest. He belonged to a bowling league and enjoyed watching his favorite Los Angeles Angels of Anaheim.
In 2013, Kanatani was awarded the French Légion d'Honneur (Legion of Honor) for his participation in the liberation of France.
His wife Lillian died on October 27, 1984, in Redlands. George Shogo Kanatani died March 13, 2017, in Redlands. Survivors included, three daughters, two grandchildren, and one great-grandchild. He was buried at Riverside National Cemetery, Riverside, California, in Section 45, Site 2012.
To view his 2005 oral interview for the Hanashi Oral History Archives, go to:
Go For Broke National Education Center – Preserving the Legacy of the Japanese American Veterans of World War II
Researched and written by the Sons & Daughters of the 442nd Regimental Combat Team in 2021.