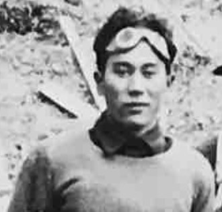 George Washington Suyama was born October 7, 1917, in Great Falls, Montana. He was one of two sons and three daughters of I. Harry and Tamie (Koda) Suyama. His father had immigrated from Japan in 1900 and worked on the Great Northern Railroad.
George grew up in the small town of Havre, named by its French Canadian founders for the city in France. Suyama was "smart as a whip" and excelled in high school. After his mother died in 1938 and his father in 1939, he and his brother Frank had to leave school and work in order to support his younger siblings. He worked for a while as a miner in a metal mine.
George signed his WWII Draft Registration card on October 16, 1940. He was delivering a truckload of produce when Pearl Harbor was attacked. He was fired from his job and upon his return to his boarding house in Havre, he had been evicted.
Suyama enlisted in the U.S. Army in Missoula, Montana, two weeks later on December 23, 1941. While serving as an MP guarding German POWs at Camp Joseph T. Robinson in Arkansas, he vigorously requested reassignment to a combat unit. He was successful, and was sent to Camp Shelby, Mississippi, for training as a member of the 442nd RCT. He was among the replacements sent to Italy for Company C prior to the deployment of the bulk of the 442nd. He fought in Italy and France. He received the following citation for his actions in the Vosges during the rescue of the Lost Battalion:
"AWARD, MISSING IN ACTION, OF THE BRONZE STAR MEDAL …for heroic achievement on 22 October 1944. Directed to establish contact with elements of their battalion entrapped in the vicinity of Biffontaine, France, Sergeant Suyama and his comrades started for their objective mounted on five light tanks. Encountering a hail of fire from well dug-in enemy positions on the road, Sergeant Suyama and the rest of the platoon fearlessly resisted with their individual weapons and the machine guns emplaced on the tanks, neutralized a considerable portion of the concentrated fire and enabled the tanks to reach friendly forces. By his heroic disregard for personal safety, Sergeant Suyama contributed immeasurably to the subsequent attainment of the objective and reflects honor on the United States Army." HEADQUARTERS SIXTH ARMY GROUP, U.S. ARMY, GENERAL ORDERS NUMBER 15, 30 December, 1944
During the engagement, Sergeant Suyama was hit and knocked off his tank, and was not seen again. He was declared Missing in Action, and per regulations, declared Killed in Action one year and one day later, October 23, 1945. His name is on the Tablets of the Missing in Action at the U.S. Military Cemetery in Epinal, France.
Suyama was awarded the following medals and decorations: Bronze Star Medal with Oak Leaf Cluster, Purple Heart, Distinguished Unit Badge, Combat Infantryman Badge, American Campaign Medal, European-Africa-Middle East Campaign Medal, World War II Victory Medal, Good Conduct Medal.