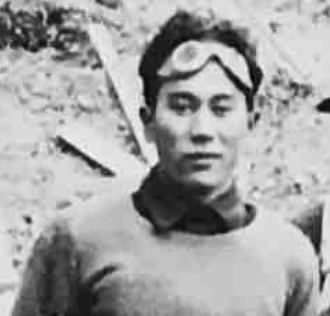 George Washington Suyama
Sergeant
442nd Regimental Combat Team
100th Battalion, A Company
George Washington Suyama was born on October 7, 1917, in Great Falls, Montana. He was one of two sons and three daughters of Ichiro Hyakubaru (known as Harry) and Tamie (Koda) Suyama. His siblings were: sisters Mary Kuniko, Montana Fusako (known as Tana), and Sumi; and brother Frank.
George's father emigrated from Fukuoka Prefecture, Japan in 1900. He was in Humboldt County, Nevada, in 1910, working as a cook at a boarding house. He later moved to Whitefish, Montana, and worked as the engineer at the Whitefish Steam Laundry. In 1914, he returned to Kora-ku, the village of Kajoi, Chikujo District, Fukuoka Prefecture and married Tamie Koda. They left on the Mexico Maru on July 8, 1914, and were admitted at Tacoma on August 10. He took her back to Whitefish. By 1916, when George was born, the family was living on the west side of Great Falls in a "shack" by the railroad on the southwest side of the bank of the Missouri River, according to official records. His father was a boilerman on the steam trains of the Great Northern Railroad.
By 1930, the family had moved 113 miles northeast, to a farm in Havre, located at 129 North Side. His 56-year-old father was a vegetable truck farmer. George was later remembered by friends as excelling in high school and being "smart as a whip." His mother died in Havre on August 21, 1938, age 55, of a brain hemorrhage. His father died a year later, on July 31, 1939, after several months of poor health. They were buried in Havre's Highland Cemetery.
George and his brother Frank dropped out of school so they could work and support their sisters. They moved to Brooks in Fergus County where they were lodgers at the home of Andre Franchie, a mining engineer from France. George worked as a miner in a metal mine and Frank was a mechanic's helper. Their employer was Clarence Dawson of Western Mines. They left in May 1940 when the mine ceased operations.
George signed his draft registration card on October 16, 1940, at the Local Board in Helena. At the time, he was living with his point of contact/employer, R. Ogata, on Phoenix Avenue in Helena. Ogata was a truck farmer and a supply man for the Northern Pacific Railway. George's home address was listed as the Fair Hotel in Great Falls. He was 5'5½" tall and weighed 126 pounds.
The following December, he was back in Havre and delivering a truckload of produce when news broke that Pearl Harbor had been attacked. He was immediately fired from his job and upon his return to his boarding house, he discovered that he had been evicted.
Two weeks later, Suyama enlisted in the U.S. Army in Missoula, Montana, on December 23, 1941. At the time, he had completed two years of high school and his civilian occupation was listed as "Semiskilled chauffeur and driver." Of the forty young men who were inducted that day, thirty-one were sent immediately to an Army Reception Center and the remaining were sent the next day.
While serving as a Military Police (MP) guarding German POWs at Camp Joseph T. Robinson in Arkansas, he vigorously requested reassignment to a combat unit. He was successful, and was sent to Camp Shelby, Mississippi, for training as a member of the 442nd RCT in the spring of 1943.
After months of training, he was sent in one of three waves of replacements to the 100th Infantry Battalion (Separate) in the early months of 1944. After suffering high casualties in the bitter fighting of the Naples-Foggia Campaign, they were in need of new soldiers to return the battalion to combat strength. The 442nd arrived in Naples on May 28, and on June 11 the 100th became part of the 442nd.
The 442nd was sent to Marseilles, France, on September 27, 1944, for participation in the Rhineland-Vosges Campaign. They were transported north to the Vosges Mountain and entered combat there on October 15. After intense fighting to liberate the important transportation town of Bruyères, Sergeant Suyama participated in the follow-on battles to liberate Biffontaine and the rescue of the "Lost Battalion," the 141st (Texas) Infantry Battalion that had been surrounded on three sides by the enemy.
For his actions in the Lost Battalion rescue, which culminated on October 30, 1944, he was among twenty 442nd soldiers awarded the Bronze Star Medal. The citation reads:
AWARD, MISSING IN ACTION, OF THE BRONZE STAR MEDAL…for heroic achievement on 22 October 1944. Directed to establish contact with elements of their battalion entrapped in the vicinity of Biffontaine, France, Sergeant Suyama and his comrades started for their objective mounted on five light tanks. Encountering a hail of fire from well dug-in enemy positions on the road, Sergeant Suyama and the rest of the platoon fearlessly resisted with their individual weapons and the machine guns emplaced on the tanks, neutralized a considerable portion of the concentrated fire and enabled the tanks to reach friendly forces. By his heroic disregard for personal safety, Sergeant Suyama contributed immeasurably to the subsequent attainment of the objective and reflects honor on the United States Army." HEADQUARTERS SIXTH ARMY GROUP, U.S. ARMY, GENERAL ORDERS NUMBER 15, 30 December 1944
During the engagement, Sergeant Suyama was hit and knocked off his tank, and was not seen again.  He was declared Missing in Action.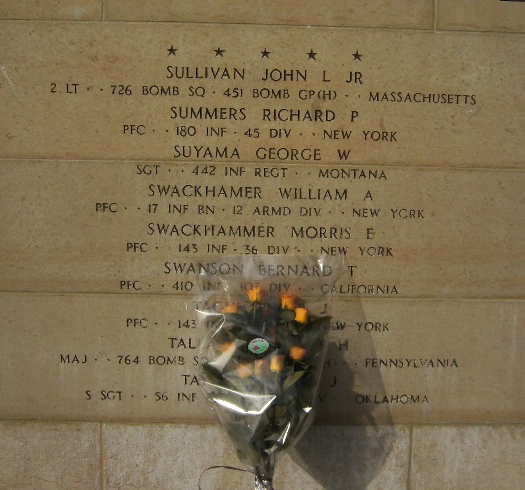 Above:  Suyama's name on the third row from the top on this section of the wall of the Court of Honor surrounding the Memorial building at Epinal U.S. Cemetery
Sergeant George W. Suyama was awarded the Bronze Star Medal with one oak leaf cluster, Purple Heart Medal, Good Conduct Medal, American Campaign Medal, European-Africa-Middle East Campaign Medal with one bronze star, World War II Victory Medal, Combat Infantryman Badge, and Distinguished Unit Badge.  He also was awarded the Congressional Gold Medal on October 5, 2010, along with the other veterans of the 100th/442nd Regimental Combat Team.  This is the highest Congressional Civilian Medal.
In accordance with regulations, Sergeant George W. Suyama was declared Killed in Action one year and one day after he was reported as Missing in Action – October 23, 1945. He was survived by his four siblings, who had moved to Chicago, Illinois, in November 1944.
Sudama's name is on the Tablets of the Missing in Action at the U.S. Military Cemetery in Epinal, France.
Researched and written by the Sons & Daughters of the 442nd Regimental Combat Team in 2022.