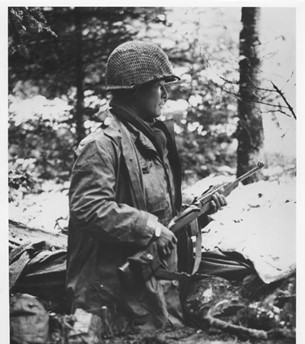 Goichi Suehiro was born on May 1, 1921, in Kaneohe, Hawaii. He was one of ten children of Sanjuro and Matsuno (Matsumoto) Suehiro. His father immigrated from Yamaguchi Prefecture and his mother from Hiroshima Prefecture in 1898 and 1910, respectively.
On February 15, 1942, Suehiro signed his WWII Draft Registration card. At the time he was employed by James W. Glover at Pearl City Salvage Area, his point of contact was his mother Mrs. Matsuno Suehiro, and he was 5'7", 140 lbs. His father had died in 1932.
When he was growing up, the family spoke Japanese at home and he attended Japanese language school for an hour every day after regular school. Goichi was named for the date he was born – go is five in Japanese (for May), and ichi is one (the day).
When the call for volunteers was issued, Goichi and his older brother Masato both volunteered, but his brother was chosen and he was not. He went to the local draft board and complained, and he was inducted five days after his brother on March 30, 1943. He and a few others were the last to arrive at Schofield Barracks, Oahu, for training and they were assigned the "last tent."
After arriving at Camp Shelby for further training, Goichi and other Hawaii soldiers met up with the mainland Nisei and there were many arguments among them, especially about their accents and manner of talking. However, after a visit by some of the Hawaiian men to a WRA Internment Camp where they saw first-hand the conditions which the Japanese American families were forced to endure, there were no more fights. The soldiers became friends from that point on.
Suehiro was in all the engagements of the 442nd in Italy, France, and back to Italy. He was a machine gun squad leader. The photo above became one of the most famous of the 442nd. It was taken in the area of St. Dié during the Vosges Campaign in FranceWhile there, he participated in the rescue of the Lost Battalion. He was slightly wounded in the stomach by a tree burst (many soldiers were killed or wounded when enemy mortars hit the trees above their foxholes). A medic tended to him and he did not leave the front line to be seen in a field hospital. Sometime after the battle, he was seen by a doctor, who wanted to send him to the hospital; however, he did not want to go and he remained with his company.
The men of the 442nd were relieved when they sent to Nice for what is termed the "Champagne Campaign" – relative rest from being on the front line. The official name is the Maritime Alps Campaign
Then orders were received to return to Italy for the final push on the Gothic Line. During that campaign Suehiro was again slightly wounded on the underpart of his left arm, but was seen by a medic and did not leave his company.
After V-E Day, his company remained in Italy for some time, and he was sent home by the point system – based on length of time in the theater of operations. Goichi spent some time in California before finally reaching Hawaii and his discharge on December 30, 1945.
The medals that Goichi earned are: Purple Heart with Oak Leaf Cluster, Distinguished Unit Badge with Oak Leaf Cluster, and Combat Infantryman Badge.
Suehiro met and married Yaeko Ibara, who had previously moved to Kaneohe from her home in Waimea, Kauai. They had two sons and remained in Kaneohe. He was employed by the Fire Department and worked at Pearl Harbor, Fort DeRussy, Fort Ruger, Fort Kamehameha, Tripler Army General Hospital, and Schofield Barracks.
Goichi Suehiro died on September 14, 2008, in Kaneohe. He was survived by his wife and sons. In researching for this bio, his obituary and burial place were not found.
His oral history interview may be seen at ndajams.omeka.net/items/show/1052470.