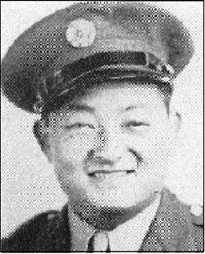 Gordon Satoru Shimizu
Private First Class
442nd Regimental Combat Team
3rd Battalion, I Company
Gordon Satoru Shimizu was born on December 23, 1918, in Aiea, Oahu, Territory of Hawaii. He was the second of three sons of Junichi and Fusa (Murai) Shimizu. His parents emigrated from the village of Junichi, Kua District, Yamaguchi Prefecture, Japan, in 1898. Junichi worked for the Honolulu Plantation Company sugar mill as a house carpenter. Gordon's brothers were Seiichi and Jitsumi Richard Shimizu.
Gordon was educated at Aiea Elementary and Intermediate Schools. He graduated from McKinley High School, where he was in the school orchestra and active in sports. He also played first base for the Aiea team of the Leeward Oahu Japanese Senior Baseball League.
Gordon registered for the draft on October 26, 1940, at Local Board No. 3, Honokaa District Court. He was living in Ookala on the Big Island of Hawaii and working as a "scaleman" for the Kaiwiki Sugar Company. He was 5'7½" tall and weighed 168 pounds. His point of contact was Miss Blossom Sadame Okino, a friend.
Gordon had returned to Oahu by the time he enlisted in the Army on March 23, 1943, in Waipahu. At the time he was working for the U.S. Army Engineers Department (USED) as a carpenter. He was sent to the "tent city" known as Boom Town at Schofield Barracks with the other recruits. They were given a farewell aloha ceremony by the community on March 28 at Iolani Palace. He married Vivian Kikue Yamada of Aiea on March 31. On April 4, the new soldiers left on the S.S. Lurline for San Francisco enroute to Camp Shelby, Mississippi. Following basic training, he was assigned to 3rd Battalion, I Company.
While at Camp Shelby, Pfc. Shimizu was on the 442nd baseball team. On October 25, at a banquet given by Earl Finch to honor the team for winning the non-divisional pennant for Camp Shelby, he was among the 21 teammates who were presented a "gold baseball award" by Mr. Finch.
After months of training, the 442nd left Camp Shelby for Camp Patrick Henry, Virginia, on April 22, 1944. They shipped out to the Mediterranean Theater of Operations in a large convoy of troop ships on May 2 and arrived in Naples, Italy, on May 28.
On June 26, 1944, the 442nd entered combat in the Rome-Arno Campaign near Suvereto. By mid-July, the Germans had been pushed north to Livorno (Leghorn), which fell on July 18. Third Battalion pushed farther north to the Arno River. There were "unconfirmed reports" that the Germans were evacuating Pisa and pulling back across the Arno. On July 22 and 25, the Combat Team moved to a rest area near Vada. On August 16, they were moved by truck east to Castelfiorentino.
The 5th Army was being regrouped south of Florence for another attack. The Combat Team was ordered to make a considerable show of strength, patrolling aggressively all along the front to keep the enemy off balance and worried about where the next strike would come from. On the night of August 20-21, the 3rd Battalion moved back on the battle line. Patrols were very active, and engagements with the enemy were frequent.
On August 25, Pfc. Shimizu was killed during one of these engagements west of Florence. Two I Company comrades later wrote about Shimizu's death. According to Sgt. Mitsuo Yakuma: Near Florence, Italy, Gordon Shimizu was writing a letter alongside a building and under a tree. A shell hit the tree. It looked like his body just turned around, his hand still holding a pen. Gordon died instantly. He was real close to me from B Company days.
Pfc. Mitsuo Oshiro later recalled several incidents that he considered significant to him personally. One was when he was on his way in the late afternoon to take a bath near a farmhouse. A shell directly hit their squad's radioman, Pfc. Gordon Shimizu. The burst also perforated Oshiro's left eardrum, and another shell burst perforated his right eardrum and wounded the right side of his neck.
Private First Class Gordon Satoru Shimizu was interred at the U.S. Military Cemetery at Vada, Italy, Section C, Row 3, No. 315. On September 7, 1944, his family held two memorial services for him. The first was at the Aiea Hongwanji Temple at 1:30 p.m., followed by a service at the Aiea Community Church at 3:30 p.m.
For his military service, Private First Class Gordon Satoru Shimizu was awarded the Bronze Star Medal, Purple Heart Medal, Good Conduct Medal, American Campaign Medal, European-African-Middle Eastern Campaign Medal with one bronze star, World War II Victory Medal, and Combat Infantryman Badge. Gordon was awarded the Congressional Gold Medal on October 5, 2010, along with the other veterans of the 100th/442nd Regimental Combat Team. This is the highest Congressional Civilian Medal.
In 1948, the Army began the process of closing the smaller military cemeteries in Italy and offering the families the choice of having their son reburied in the large U.S. Military Cemetery in Florence or returning home. Pfc. Shimizu's family chose to have his remains returned. He arrived on December 24, 1948, on the USAT Sinnett to Dock M-3 at Pearl Harbor with 121 other of Hawaii's war dead. Over 700 family and friends were waiting on the pier where the 265th Army Band played Aloha Oe as the ship docked at 8:30 a.m. They were eulogized in a shipside service by the Secretary of Hawaii, Oren E. Long, who said, We are proud to have had such sons. These men stood the test of action and added a new chapter of American heroism to our history. The caskets were taken to the Army mausoleum at Schofield Barracks awaiting burial arrangements.
On June 4, 1949, a ceremony was held in Aiea to unveil a bronze memorial plaque on a large boulder set on a square cement foundation in front of the local branch of the Bank of Hawaii. The plaque bears the names of the 14 Aiea soldiers who died in the war, including Pfc. Shimizu. Floral wreaths and bouquets presented by clubs and individuals surrounded the stone. The Royal Hawaiian Band played Onward, Christian Soldiers. Speeches were given in Japanese and English. The chairman of the service, 442nd veteran John Nakano (C Company), presented the memorial on behalf of the Aiea Community Association. Trees were planted on either side of the boulder as a "living monument to our boys." The Honor Guard were 442nd veterans Haruto Furoda (B Company), Richard Fuyumuro, Toshio Nakahara (L Company), Haruo Tanaka (C Company), Harold Ueoka (Headquarters Battery, 522nd Field Artillery Battalion), and Hajime Yamane (B Company). Boy Scouts from Troop 149 alternated holding the flag at the left of the plaque throughout the program. Gold Star parents and next of kin were seated in a special section. The service was attended by 900 residents.
Private First Class Gordon Satoru Shimizu was reinterred on July 28, 1949, at 1:30 p.m. at the National Memorial Cemetery of the Pacific (Punchbowl), Section D, Site 363 in Honolulu. His grave marker was ordered from West Chelmsford, Massachusetts, on January 13, 1950. In 2001, his wife Vivian Kikue Shimizu died and was buried with him.
Researched and written by the Sons & Daughters of the 442nd Regimental Combat Team in 2021.